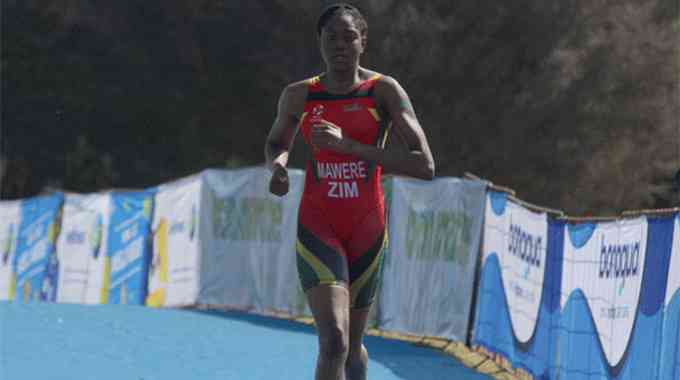 Triathlon Zimbabwe will be banking on the top junior athletes to raise the country's flag at the 15th edition of the Bonaqua Africa Triathlon Cup which is set for Troutbeck resort this Saturday.
There will not be any representation for the country in the elite class this time around and with focus on the male and female junior athletes at the flagship triathlon event.
Top female athlete Makanaka Mawere, who scooped a bronze Medal in the junior elite category back in 2021 remains a medal hopeful as she makes what is probably her final appearance in that class.
Mawere finished fourth last year after a technical fault with her bike as Brooklyn Tippett won the country's only medal after she finished third behind South Africans Kadence Ribbink and Mia Van Der Veen who took first and second place respectively.
Ribbink is back again this year to defend her title.
The Zimbabwean contingent of elite junior athletes include debutant Anje Van As, Makanaka's brother Matipa Mawere, George Ascott, Nicole Madya, Duwan Botha and the Mthethwa twins, Mandlenkosi and Inkosinomusa.
Last year, Mawere finished fourth in the junior men category and will be looking to get into the medal places this time around.
In the juniors, the event basically pits hosts Zimbabwe versus South Africa, with the two countries fielding 18 of the 19 athletes in the junior classes, eleven coming from South Africa and seven from Zimbabwe while one female athlete is from Mozambique.
The Bonaqua Africa Triathlon Cup has continued to grow in number of athletes attending since the interruption due to the outbreak of the Covid-19 pandemic three years ago.
There are four more juniors this year compared to last year and the figures in the elite categories have also jumped significantly.
At least 22 men from 13 different countries and 12 women from eight countries take to the starting line tomorrow, almost double the number of participants from last year.
In 2022 there were only 12 elite men athletes and six females from nine countries.
Veteran athlete Greer Wynn was the only Zimbabwean athlete in the elite women category last year but will not participate this year.
Returning athletes to the Troutbeck event include Dylan Nortje and Shaun Wolfaardt from South Africa.
Wolfaardt won the 2022 Troutbeck Africa Triathlon Junior Cup and has now moved up to Under-23 level.
Also returning is Badr Siwane from Morocco, Martin Demuth from Austria, Michal Oliwa from Poland, Meirlan Iskakov from Kazakhstan and Laurent L'Entete from Mauritius.
Elite Women returnees include Shanae Williams who was the runner up in 2022, Bridget Theunissen and Jamie-Sue Vermaas all from South Africa. There are other athletes from African nations such Togo, Mauritius and Mozambique.
The Troutbeck Africa Triathlon has also continued to grow in terms of the sponsor group after adding one of the top corporates in the country Simbisa Brand who were announced as new partners two weeks ago.
Last year, Triathlon Zimbabwe celebrated the involvement of Ecocash Zimbabwe as a new sponsor at the event and Simbisa Brands have joined the family of key partners for the 2023 edition of the event alongside Coca Cola, Schweppes, Cimas i-Go, CFAO Motor Group, Ecocash, Rooneys and African Sun Hotels and Troutbeck Inn Resort.
"We are very excited to have yet another blue-chip brand come on board for this event, now in its 15th consecutive year. We welcome Simbisa Brands on board and hope that this will be the start of a long relationship with the sport and the event. As with our entire Sponsor Group we value their loyalty and commitment to this event and we sincerely hope that they benefit exponentially from the branding, marketing and media exposure," Event Director Rick Fulton said.
Related Topics