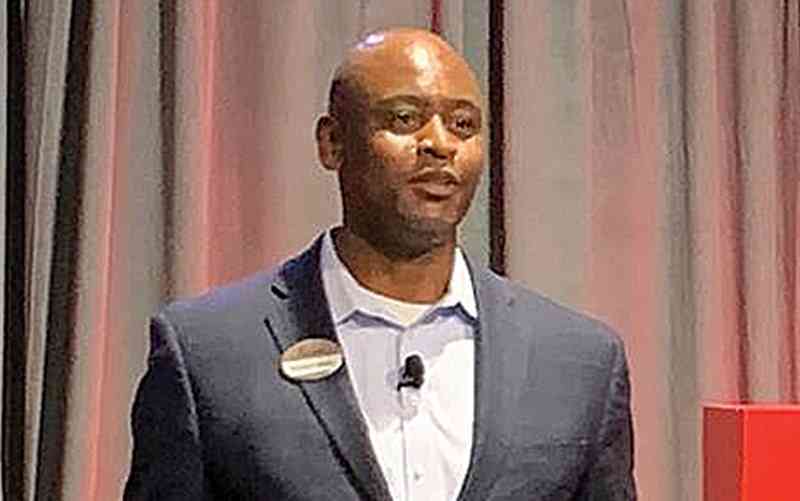 For Luveve born and bred Innocent Hadebe (49), relocating to the United States in 1999 enabled him to pursue his dream of giving back to the community.
After arriving in the US and working as a precision machinist using the experience acquired back home at Shabanie Mine, he later decided to branch into motivational speaking and business coaching giving him leverage to sharpen his public speaking skills and mentoring.
Today, he is living his dreams as a motivational speaker, business coach with a focus on operational excellence.
Growing up
I grew up in Luveve with no inkling or ambition that one day I would travel and live in the United States. Like every other boy I used to enjoy football on the streets during my primary school days at Induba before I went to Milton High School.
I then did my apprenticeship in Zvishavane at Shabanie Mine and it was really an eye-opening experience.
Relocating to US
I applied for a scholarship to go to America but when the acceptance letter came, I was undecided about leaving or stay at home.
That is because everything seemed to be flowing well. I was enjoying my time in Zvishavane, we used to travel to Bulawayo in a kombi every Sunday if Highlanders was playing. The trips were something I always looked forward to and the thought of missing all that nearly made me decide to ditch the scholarship but my parents prevailed on me.
Becoming a motivational speaker
I arrived in America and worked mainly in the operating sector. I also did football coaching but public speaking has always been my passion and with time I branched into that area.
I married that with coaching and eventually realized that my strength in that area was relatively big, so I decided to get professional qualifications.
I started off addressing my department at work. The number of people attending the meetings increased and I found myself enjoying the experience. I took up motivational speaking seriously, which was followed with leadership mentoring and business coaching.
This led me to register at ILG through which I'm focusing on assisting small, medium and large organisations drive excellence and provide tools for leaders who want to compete in today's global world.
I have spoken to staff of corporate organisations that include Wells Fargo, Chick Fil-A, United Technologies Aerospace Systems and also addressed business leaders during a recent workshop organised by Absa (South Africa).
I have also addressed Catholic Leadership Groups and was one of the high-profile speakers at the 6th World Annual Operational Excellence & Business Transformation Summit that was held in Orlando, Florida last year.
The topics I have address range from business optimisation keys for success, levers for successful business transformation, strategy fundamentals, transactional vs transformational leadership, developing (operational excellence) Opex Leadership, leveraging technology to drive Opex, challenges to achieving Opex, serve model and Lead with Heart.
Helping with the water crisis
I have always kept abreast of happenings at home, challenges being faced and all that, while at a certain point you want to be involved, you struggle where to start. The turning point was the diarrheal crisis that hit Luveve, it hit home and was close to the heart.
Initially, I donated to a cause on gofundme.com, but I realised it was not gaining traction and I decided to start my own effort and it worked smoothly, reaching the target in a very short space of time.
I engaged the local leadership, both residents and political leaders and what emerged was the need for alternative cleans sources of water. I used the money to erect a solar powered borehole for use by residents. The residents also indicated they wanted to do market gardening as water would now be available more consistently.
While I was building the borehole, I was also asking around how we can provide clean water closer to homes that people can drink from the tap and the idea of a filtration plant emerged. Upon realising that it will need an increased supply of water, I had to build more boreholes to provide water that will then go through purification.
The purification plant is expected to be costly and we hope to build more boreholes that will supply water on a constant basis.
I decided to create the Lot Water Project to pursue the venture and now we have drilled more than six boreholes and we are not stopping.
I also became part of the Water Mission as I was learning more and also to get institutional support as we go further with providing clean water.
Building boreholes in schools
I was motivated to shift the borehole project from the community to schools because agriculture is a critical part of the country's economy and we need more people to get attuned to the industry hence we realised it will be critical to build boreholes in schools where pupils can then learn without being affected by a lack of water.
However, the water will still be available to residents because when we build inside a school, we request them to give access to the surrounding community.
Again, it provides an element of security to the boreholes because the first one was in an open space and even before it was commissioned, the solar panels had been stolen and we had to replace them and put in an alarm system.
Advise to Zimbabwean businesses
I believe advances in technology are the silver bullet to the growth of the Zimbabwean economy and currently, there are a lot of organizations that are struggling to figure out and invest in technology; yet there are some that have taken advantage of advancing technologies.
I have developed some tools and frameworks that I believe can assist local companies.
I also hold a Six Sigma Black Belt Certification and am also a certified John Maxwell Leadership business coach.
Operational excellence is one of the key tools used in the corporate sector in the United States and I believe local industry should adopt this practice to enhance industry output and be able to be competitive on the world stage.
Through ILG I want to reach out to Zimbabwean entities and assist them in operational excellence and offer targeted seminars with company leadership as the focal point to ensure they grasp and appreciate the concepts which will then trickle down to driving the bottom line.
Follow Rejoice on twitter @rejoicephi1998
Related Topics