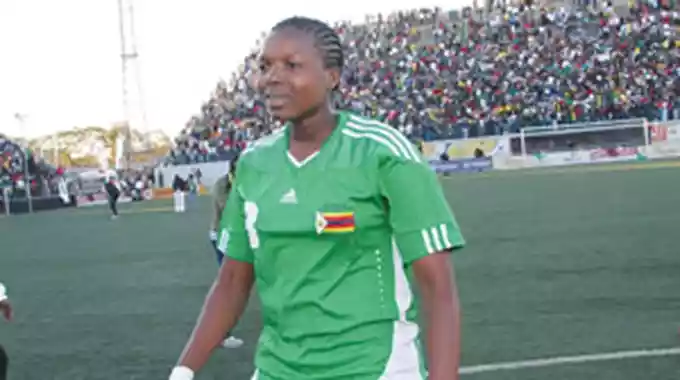 RUFARO "Mafidi" Machingura, the witty former Mighty Warriors player, who scored Zimbabwe's winning goal in their only Cosafa Women football trophy in 2011, died yesterday at her home in Harare.
She was 31.
Her death was confirmed by a family member Jimmy Mukangairwa, who said the former utility player passed on at home in Retreat, Waterfalls, after complaining of side pains.
She has been battling the illness for a long time.
Machingura is survived by a two-month-old baby boy.
Funeral arrangements were yet to be confirmed yesterday.
She was widely regarded as one of the finest women footballers in the country.
Machingura spent over a decade representing the nation in the Young Mighty Warriors and Mighty Warriors teams.
She achieved national celebrity status when she scored the only goal in the 2011 Cosafa Women final match as Zimbabwe defeated South Africa 1-0 in front of a packed Rufaro Stadium.
The now late former President Robert Mugabe was part of the crowd on the day, and he famously coined the phrase, "Rufaro atipa rufaro muRufaro".
Machingura finished the 2011 Cosafa tournament as the top goalscorer, having also scored five goals in the quarterfinals against Malawi.
Rosemary Mugadza, who was team coach at the time, yesterday said she was heartbroken by Machingura's death, which came barely a year after another former Mighty Warriors star Adelaide Bhamu passed on.
"It's sad to start a year like this," Mugadza said.
"Rufaro was a very talented footballer, she could play as a defender, a midfielder who we later turned into a striker during our time in the national team. When we won the Cosafa tournament in 2011, it was her goal that won us the tournament. Very disciplined by that time and full of energy. She was a person who could fit in any position you wanted her to play. It's rare to find such a talent nowadays. It's very heartbreaking that we have lost such a talent at a very young age," she added.
"I will always cherish the memories I shared with her personally in the Mighty Warriors set-up. I never had any problems with her in terms of discipline. It's sad to us as a nation that we have lost a great gem that we had."
Machingura started her footballing career at Aces Youth Soccer Academy before moving to Black Rhinos.
She left the army side in 2019.
The talented utility player was beloved by the fans and her peers alike.
Her former Mighty Warriors teammate Rudo Neshamba said Machingura would be celebrated for her talents on the field of play, while her sunny personality off it charmed everyone who interacted with her.
"There was never a dull moment in camp with you Mafidi," Neshamba said, adding that Machingura was "the team's clown".
"The jokes, the far-fetched stories, the songs and the dances, one would always wonder how you ever came up with all those. Ohh, I can even hear your voice teaching me one of your crazy statements, 'Kureba kuti twii, ndobva ndati MuWaterfalls' and we would burst out laughing.
"In the field of play, you were 'The General'. The most technically and tactically gifted player I have known. You were easy to work with, a team player. We won matches and cups together, from the Under 20s to the senior team. Those were the best days. Ohh, I have so much to say. I could write a book. You served your country well Rufaro 'Mafidi' Machingura. I will always cherish the good times that we had in the national team with you. May your dear soul rest in peace."
Condolence messages were also pouring in yesterday from football stakeholders.
Related Topics