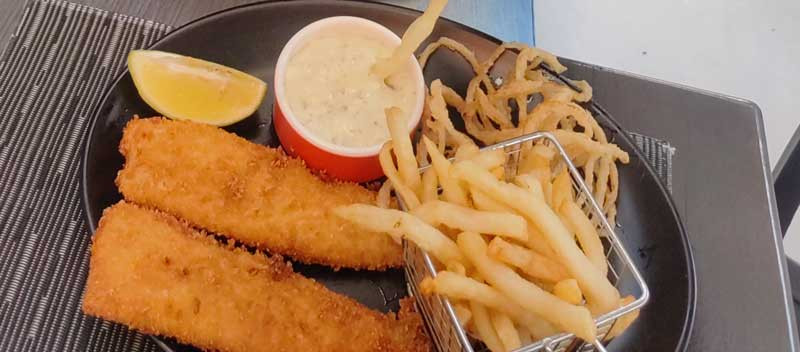 AS we navigate through the whirlwind of life, some memories remain etched in our minds with a vividness that transcends time.
For me, one such childhood memory is the joyous celebrations of our birthdays at Silver Spurs, which was nestled near the Holiday Inn.
The aroma of sizzling food, the laughter and games of friends, and the anticipation of indulging in scrumptious treats created an atmosphere of pure delight.
Years later, I found myself retracing those steps, eager to relive the magic and experience the culinary delights that made those childhood memories so special.
Join me as I delve into the world of Buffalo Creek Spurs by Sam Levy Village, reviewing their iconic fish with chips and wings with chips meals.
A culinary haven
When I entered Buffalo Creek Spurs, the welcoming and warm atmosphere immediately took me back in time.
The familiar rustic décor, adorned with sports memorabilia, reminded me of the countless hours spent playing arcade games and relishing the company of friends. The friendly staff welcomed me with open arms, their smiles mirroring the nostalgia that filled my heart.
Fish, chips: Classic delight
The first dish that caught my attention was their renowned fish and chips. Presented on a wooden platter, the golden-brown fish fillets were perfectly fried to crispy perfection, while the accompanying chips were thick-cut and flawlessly cooked.
The fish was tender and flaky, encased in a light and flavourful batter that provided a satisfying crunch.
The chips, cooked to a delightful golden hue, were wonderfully soft on the inside and had just the right amount of salt.
Accompanied by tangy tartar sauce and a wedge of lemon, each bite was a tantalising symphony of flavours that evoked memories of carefree days spent at Buffalo Creek Spurs.
Wings: A barbecue delight
Next on my culinary adventure were the delectable barbecue wings. Buffalo Creek Spurs prides itself on its array of wing flavours, ranging from mild to extra hot.
Opting for a medium spice level, my dad was not disappointed.
The wings arrived partially late and warm but their tantalising aroma filled the air.
Each bite revealed tender and succulent chicken, perfectly coated in a tangy and spicy sauce that left a delightful tingle on my taste buds.
The accompanying blue cheese dip and, unfortunately, no celery sticks provided a refreshing contrast, but there was a balance of heat with coolness.
The wings were a testament to Buffalo Creek Spurs' commitment to delivering bold and flavoursome dishes.
Verdict
Buffalo Creek Spurs continues to be a haven of gastronomic delights, combining nostalgia with a culinary experience that is bound to please even the most discerning palates.
The fish and chips and wings showcased the restaurant's dedication to quality and authenticity, allowing me to relive cherished memories while creating new ones.
From the warm and welcoming ambiance to the impeccable flavours that tantalise the taste buds, Buffalo Creek Spurs remains a timeless destination for celebrations and culinary indulgence. So, whether you are seeking to reminisce about the past or create new memories, a visit to Buffalo Creek Spurs near the Holiday Inn is a must.
Prepare to be transported to a world where flavours reign supreme and the spirit of celebration thrives.
Where these recommendations for eateries may take us is anyone's guess.
Continue reading as I investigate and assess some of the best and worst restaurants in Zimbabwe and beyond.
Muzamhindo is a young chef with seven years' experience in a professional kitchen and has enjoyed the concept of food since the tender age of two. She studied at the South African Chefs Academy in Cape Town and the Culinary Arts Academy in Zimbabwe to become a level three advanced chef. Her specialties range from indigenous ingredients to fine dining, gourmet food, food health and safety and food research and development. — [email protected].
Related Topics