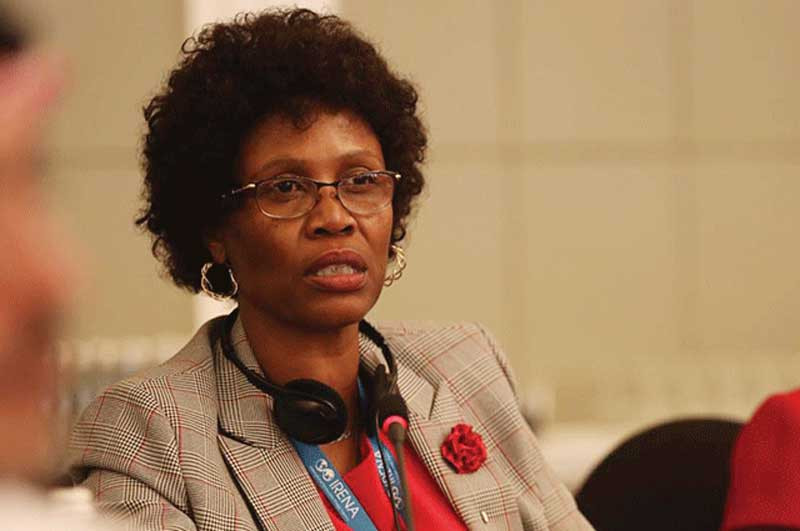 IN the past four months, the grueling power crisis that has pushed Zimbabwe to the edge has deepened. Current levels of deadly blackouts roiling markets since the Zambezi River Authority (ZRA), threatened in December to mothball Kariba hydroelectric power station were last seen bout a decade ago, before Zimbabwe invested US$550 million for a complete makeover of the power facility that lies on the Zambezi. This week, our senior business reporter, Freeman Makopa (FM) caught up with Gloria Magombo (GM), permanent secretary in the Ministry of Energy and Power Development, to get insights into how the power situation could play out in the coming year. Below are the excerpts of the interview:
FM: The country has been affected by power cuts for too long. Are we likely to see an end to this soon?
GM: As the country sees a surge in economic growth, with several energy intensive projects coming online, there will always be a need for us to increase our power generation capacity. This is because more customers are being connected, as we strive to increase access to energy by all citizens for us to achieve the 'Energy for All' goal. The Southern African Development Community (Sadc) region remains in deficit in general. However, nationally, various activities are underway to increase power generation from existing facilities. The Hwange thermal power station has managed to maintain five units, with over 425 megawatts (MW). The Kariba power station has increased generation from an average of 250MW to an average 350MW.
FM: What is the state of affairs in several independent power producers (IPPs), which have been licensed?
GM: More solar IPPs have been commissioned, and we have increased power imports from 300MW to 500MW. More solar IPPs are expected, as the government has extended the implementation agreements and standard power purchase agreements (PPAs) to all those who have progressed with bankable feasibility studies, signed PPAs and have approved environment and social impact assessments among other requirements. Engagements are ongoing. There are medium term plans to bring in IPP projects, the majority of which are ready, pending guarantees from the government.
These are under consideration, and a competitive procurement process will be launched later in the year, with a target of 300MW. Energy efficiency and demand side management remains key to reduce the supply — demand gap. Own generation by consumers is being encouraged and net metering is being expedited. More consumers are encouraged to install solar systems, which can be phased and scaled up overtime. Government has engaged IPPs to support Zesa in supplying power to the nation.
But it emerged that IPPs need government support on two fronts. They need to ramp up capacity in existing plants through access to foreign currency, and the government must facilitate IPPs to set up new plants and expand existing ones. IPPs were experiencing operational challenges, chief among them access foreign currency for capacity expansion and payment of loans.
Government will work closely with IPPs through a continuous engagement process to increase access to foreign currency at the foreign currency auction system.
The government has extended a package of support measures to IPPs that include expediting licensing of new projects, providing guarantees for projects to potential financiers to mitigate currency convertibility risks and tax incentives for capital goods for renewable energy projects.
FM: It then means the Hwange projects remain key to ending the current power crisis
GM: The commissioning of Hwange 7&8 units, which will add 600MW to the grid, is still underway and this will alleviate the challenges. Development of large projects, including Batoka, are still in progress and the ministry is working on an integrated energy resource plan, which will be completed this year, consolidating the solar integration plan, rural energy master plan and the national network master plan.
FM: At what stage is the Hwange rehabilitation project?
GM: Hwange Unit 7 is currently undergoing technical commissioning.
This is a process where the unit is synchronised and optimised to allow commercial operation and ensure safety and performance guarantees. The process takes some time and is expected to be completed by the end of the first quarter of 2023. However, once synchronised the unit will start feeding power into the grid. But the capacity and consistency will be erratic until the commissioning process is complete.
On full commissioning Hwange Unit 7 will inject 300MW into the national grid, which will go a long way in alleviating the power shortages. The commissioning is progressing to ensure that once complete the unit will be safe and able to perform to design capacity. At Kariba, restrictions to water use that we have experienced recently will be reduced, because as inflows into Kariba Dam improve due to the rains, ZRA is expected to review further upwards water allocations to the Zimbabwe Power Company and ZESCO (the Zambian power utility).Rains have been good in both the northern and southern catchment areas.
FM: You have recently had meetings with leaders of business organisations like the Zimbabwe National Chamber of Commerce (ZNCC). What are their concerns as business?
GM: Government has in the past year met various consumer groups including the ZNCC, CZI (Confederation of Zimbabwe Industries) the Chamber of Mines of Zimbabwe, REAZ (Renewable Energy Association of Zimbabwe) and the Consumer Council of Zimbabwe. The objective of these meetings was to discuss ways of alleviating the current power supply crisis and the role that consumer groups could play to assist the utility (power firm Zesa Holdings Limited).
We have also discussed the impact of power shortages on consumers and the economy at large.
FM: Do you feel that the interactions were fruitful?
GM: There were various interventions and proposals, which sought to determine how government and the utility and consumer groups can work closely together.
These proposals included direct importation of power — there was already a provision for direct importation of power by private companies through the intensive energy users' group, and net metering will be expedited. We also discussed more incentives for renewable energy imports, duty exemptions and other tax incentives.
Discussions also centred around the efficient use of electricity and retooling of industries in general including simply switching off switches when they are not in use and the timely payment of bills.
Consumers were encouraged to use alternative sources, mainly renewable energy, as these are cheaper and cleaner in the long run rather than petrol/diesel generators.
FM: What more issues were at the centre of your meetings?
GM: We also looked at the prioritisation of Zesa to access foreign currency for imports and critical spares including for local IPPs.
It was also agreed that whilst some companies were importing renewable energy products, emphasis should be on importing quality products, localising their assembling and the incorporation of local content to create local jobs. It was agreed that we meet regularly as the government, the utility and consumers to ensure that there is cross pollination of ideas in order to avoid information asymmetry.
The country has already been importing power from the region on a bilateral basis at a monthly cost of over US$20 million. It is important to note that the region remains constrained as demand grows in various countries. The country is working on short- and long-term plans to build new capacity through various project structures including IPPs, public private partnerships arrangements. In line with this, various projects are under consideration.
What is required, is the political will and public service leadership that will not seek to insulate those that wield power from robust public scrutiny but pursue a just and an inclusive society where all citizens enjoy fundamental freedoms and entitlements due to them..
Related Topics