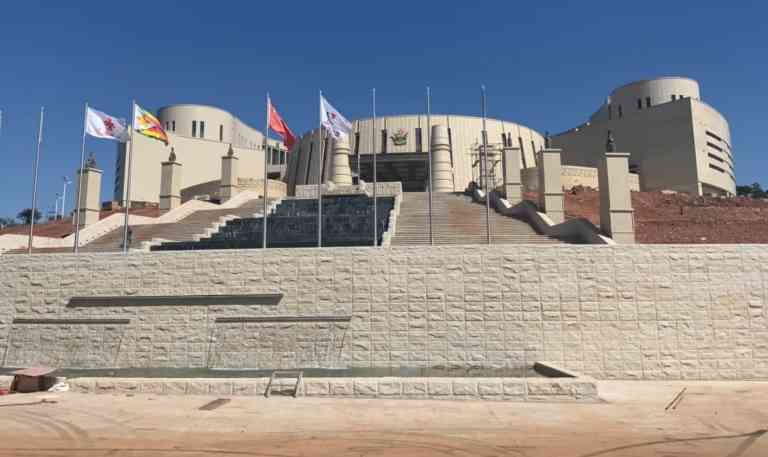 THE nation was in festive mood this week as millions around the country marked five years since army tanks rolled into town and freed us from our previous owners, installing a new set of owners.
There were surprisingly no galas or marches to mark this most auspicious of anniversaries, a treasonous omission on the part of the Department of Totally Pointless Gatherings, a department that we are sure exists in the government.
How could this remarkable week have passed without wall-to-wall state media coverage of how happy the people are, five years after our boys in uniform chased away the criminals surrounding that guy Robert Mugabe?
Instead, we were bombarded with propaganda from people who rolled out unpatriotic numbers, such as the fact that inflation is now higher than it was when the old criminals were still there, and that the number of people in extreme poverty has almost doubled since then, according to obviously twisted data from the World Bank.
Who needs such useless information from Western-sponsored donors when we all know we are speeding towards an upper middle-income economy by 2030, even though there is no plan whatsoever about how to get there?
West can't do without us
Speaking of these meddlesome donors, it was announced this week that one of them, the European Union had somehow decided to force about US$46 million down our throats.
The EU dragged our man from Oxford, Mthuli Ncube, to a press conference where they announced that they are giving Zimbabwe money for hospitals and the Zimbabwe Electoral Commission, the world's most credible elections management body.
The Herald saw the EU donation as "reaffirming that the engagement and re-engagement drive with the receptive international community is bearing fruit and that the EU is moving rapidly out of the sanctions orbit".
Clearly, the West is sorry for all the sanctions and they are trooping back, begging us to take their money. You wonder why the EU thought this announcement was such a priority as to bother our finance minister. Why drag Mthuli to take money for mundane things like medicines and elections when he, obviously, must have been occupied with more pressing matters, such as buying CD albums from obscure singers?
MPs priorities
Still on donations, it was a delight to see our shiny new Parliament finally being put to good use. The building was a donation from our friends in China who, out of the benevolence of their hearts, took US$40 million of their money to build us what we needed most – a new Parliament building.
It had been eagerly awaited. Members of Parliament were getting anxious. One of them, Temba Mliswa, ranted online that MPs had not yet been allowed near the building.
"The President visited, some ministers visited and so did the Speaker of Parliament. However, us, the legislators who shall be utilising the facility, were never taken there to see and proffer our thoughts. The level of disrespect for the office of the MP is gross," Mliswa, who is known far and wide for various levels of disrespect, said.
He was not alone, another MP, Chalton Hwende, complained that the government was yet to finish building the car park at the new Parliament. Where are MPs supposed to park their big cars, surely?
Clearly, our elected representatives could hardly wait to get into the new Parliament. After being useless in the old, small Parliament, they are eager to be useless in a bigger, new venue.
Growth? What growth?
Speaking last weekend, our current owner, President Emmerson Mnangagwa, took time to remind everyone that there has been rapid economic growth under his watch. He needs to keep reminding people of this fact, because people need to be reminded about things they do not seem to see.
According to Mnangagwa, "the country is experiencing rapid modernisation, with modern structures sprouting" all across the country".
We are sure these modern structures include those innovative, prehistoric bread ovens we commissioned recently on behalf of the people.
He went on: "It is important that all our growth points are serviced by modern and efficient reticulation systems".
This is confusing. Up to now, judging by his actions, we were sure that the whole idea of his rule was not to make sure that rural growth points become modern cities and towns. It is more about making sure that more cities and towns become rural growth points. He has been exceedingly successful in that regard.
Liable patriotism
Patriots around the country welcomed the news that Cabinet is now seriously drafting laws to make people more patriotic than ever.
It was announced: "Cabinet approved the Criminal Law (Codification and Reform) Amendment Bill, 2022. This enhances provisions relating to the country's sovereignty through criminalisation of conduct that undermines Zimbabwe's sovereignty, dignity, independence, and national interest."
Of course, some unruly elements are beginning to ask silly questions. By threatening to arrest those who undermine our dignity, will we soon start arresting those who are making sure our professionals leave the country to be refugees where they are not wanted? Surely that would leave our high offices empty.
Also, this business of making it illegal to sell the country is puzzling to the masses. We were all sure it was legal to sell the country to our friends from the East, given how enthusiastically our owners have gone about the task.
Chamisa right man for job
This week, Muck read a comical piece on a news website, claiming that Nelson Chamisa is under fire from senior officials in his party. They accuse him, said the report, of having a 'dictatorial' approach and ignoring 'sober and genuine' criticism from his lieutenants.
Surely, if that were true, that would make him a real Zimbabwean leader.
The report went on, claiming that "some in the opposition party are already angling for a Tendai Biti takeover if Chamisa fails to steer the ship to victory, while an unexpected turn of events could see Crisis in Zimbabwe Coalition chairperson, Peter Mutasa taking over".
If it is true that some officials in the party want to drop Chamisa for Biti or Mutasa, it means they have stopped taking their party seriously.
Related Topics