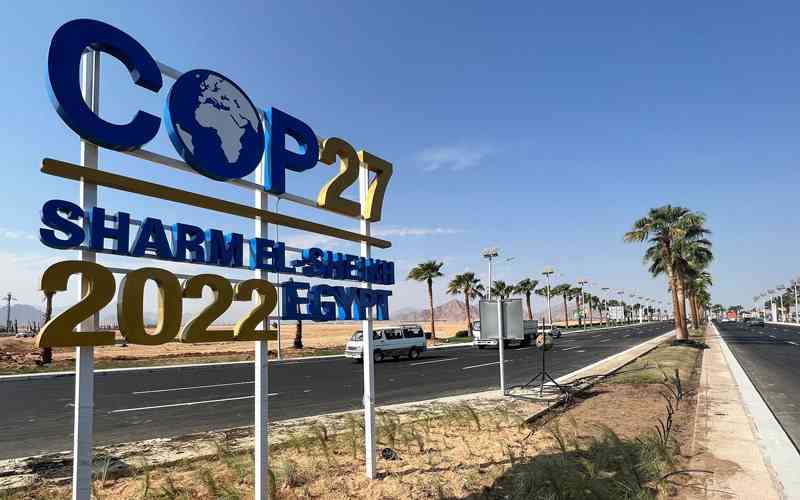 THE 27th United Nations (UN) Climate Change Conference- COP27 is being held from November 6-18 2022 in Sharm El Sheikh, Egypt with more than 90 heads of state and representatives of 190 countries in attendance.
The event is a build up from last year's precursor; COP26 (held in Scotland in November) where global leaders reached agreements inter alia; to secure global net zero emissions by mid-century and keep a maximum of 1,5 degrees celsius of warming within reach.
Notably, the pact was the first climate deal to explicitly commit to reducing the use of coal. It highlighted more urgent greenhouse gas emissions cuts and promised more climate finance for developing countries to adapt to climate impacts.
With the 2022 conference held on African soil, there are several factors to bring into consideration against the backdrop of how third world countries are being financed to help them meet new standards and cease coal production.
According to a report published ahead of the climate change conference; third world countries need the assistance of the global investor community, rich countries and development banks to secure US$1 trillion per annum in external financing for climate action over the next decade; buttressed with their own funds. Meanwhile, Africa accounts for only 2–3 per cent of the world's carbon dioxide emissions from energy and industrial sources, a reflection of the lagging industrialisation on the continent. Also crucial to the matrix is that as a resource; coal accounts for more than 60% of Africa's electricity production.
According to the "Tracking SDG 7: The Energy Progress Report;" only 48.4% of Sub Saharan Africa's population had access to electricity in 2020. Overall, sub-Saharan Africa accounts for 75 percent of the world's population without access to electricity
Africa's most industrialised economy and the world's third largest greenhouse gas emitter, South Africa was recently offered US$8.5 billion to cease coal production toward meeting its climate targets.
This comes at a time when South Africa is grappling with; incessant power cuts, over 30% of its population lacking access to electricity; a 34% unemployment rate, notwithstanding RSA is the most economically unequal nation the world over. While the multi-billion dollar financing maybe noble, there are socio-economic considerations with the shutting down of coal plants in South Africa.
Tens of thousands will go jobless in Mpumalanga, crippling power cuts will be sustained, plus it will take some time before South Africa majorly shifts toward renewable energy.
Most importantly, should not the strides to combat carbon emissions be stronger among the greater emitting nations and less firmer among the lesser emitters like Africa which genuinely still need to industrialise in order to afford their people a basic livelihood? If Europe backtracked its COP26 commitment to cutting coal production this year and yet European states are greater emitters, simply because their power supplies had been affected by the Russo-Ukranian conflict, how much more Africa?
For perspective, China's annual emissions have ballooned in recent decades, placing it first among polluters, with the US second, the EU and India coming next. In 2015, when countries signed the landmark Paris Agreement to curb greenhouse gas emissions, the Africa's emissions stood at 0,12 tonnes/person, compared to 16 tonnes/person for the US.
Faced with gas shortages this year, several EU states, announced the reopening of coal-fired power plants that were closed in response to climate change issues.
At the end of June, Germany indicated it would restart 27 coal-fired power plants until March 2024. Austria, Italy and the Netherlands also resolved to restart power plants that were shut down.
Should Africa not participate in global efforts to reduce carbon emissions? Certainly not! However; clear pro-rated strategies maybe necessary, based on the quantum of current and historical emissions.
Mabunda is an analyst and TV anchor at Equity Axis, a leading financial research firm in Zimbabwe. — [email protected].
Related Topics