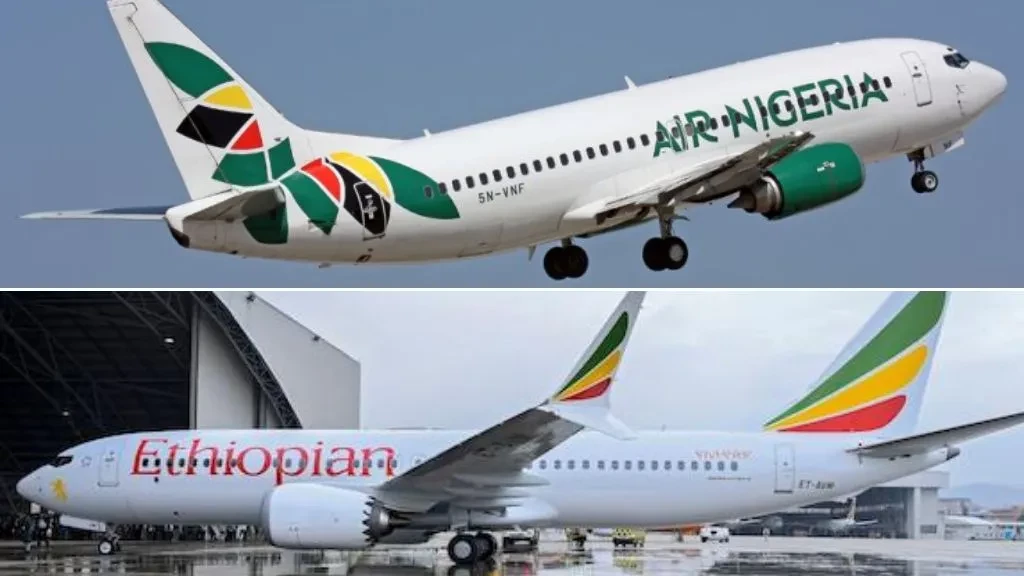 AFRICA'S most profitable airline Ethiopian Air is set to take up a controlling stake in Nigeria's new flag carrier "Nigeria Air." This as the new airline seeks to leverage the expertise and experience of Ethiopian Airlines.
Information released by Nigerian authorities reveals Ethiopian Airlines will own a 49% stake in the new airline, while the Nigerian Sovereign Fund will take 46%, and the Nigerian government the remaining 5%.
According to aviation minister Hadi Sirikas; the airline will be launched with three Boeing 737-800 planes with plans to own 30 jets and operate international flights in two years. Backed by an initial investment of US$30 million, Nigeria Air will commence flights between the capital Abuja and Lagos.
Nigeria's national airline, Nigeria Airways ceased operations in 2003 plagued by mismanagement, a poor safety record, corruption, and over-staffing. At the time of closure, the airline had debts totaling US$528 million (equivalent to $733,8 million in 2019).
For several years, Ethiopian Airlines has operated profitably and sustainably and is often touted as a model for African airlines for its efficient operations. Ethiopian Airlines, is the flag carrier of Ethiopia and is wholly owned by the country's government. EAL was founded on December 21 1945 and commenced operations on April 8 1946, expanding to international flights in 1951. Stats released by Ethiopian Investment Holdings this September reveal that Ethiopian Air posted $5 billion in revenue this financial year, a 79% growth compared to last year. Similarly, profit grew by 90%, reaching $937 million despite the headwinds of the worsening global economic outlook, rising fuel costs, and the global pandemic.
Meanwhile, four years ago, Zambia's Industrial Development Corporation (IDC) and Ethiopian Airlines signed a shareholder agreement that saw Ethiopia Airlines acquiring a 45% stake in Zambia Airlines.
Ethiopian Airlines also owns 49% of Guinea Airways, 100% of Ethiopia-Mozambique Airlines, 49% of Chad Airlines and 49% of Air Malawi.
Notably, start-up Nigerian airlines barely last 10 years due to a multitude of factors that contribute to their collapse within a short period, but chief among these factors is a lack of corporate governance, and failure to compete with international operators in the domestic market. The Ethiopian Airlines-led consortium could change the bad precedence.
Elsewhere on the continent, Kenya Airways, Egypt Air, Air Zimbabwe, and others continue to swim in perennial losses. This necessitates a shift in policy and approach; beckoning even the adoption of the modus operandi of Ethiopian Airlines.
The airline has traditionally been unshackled by government intervention, even during times of much turbulence and local conflict. It has remained professionally run and managed. The Ethiopian government reorganised the airline as a fully owned aviation holding group in July 2017 to maximise efficiency, enhance customer service to a global standard, and guarantee ease of long-term planning.
Meanwhile, Kamil Alawadhi, IATA's Regional Vice President, Africa & Middle East, has clamoured for the implementation of the much talked about reforms in African aviation by African governments over the past decades.
According to Alawadi: "The industry does not require state bailouts. Relief from rising statutory charges and taxes on fuel and aviation would be far more effective. The release of blocked funds is crucial, as is the guarantee of secure, reliable, and efficient fuel supplies. Lifting caps on foreign investment and equity in African airlines would also bring much-needed liquidity."
"At an intra-Africa level, the biggest and most achievable wins require all African governments to demonstrate their political will by removing the barriers to market entry and ensuring fair and equal treatment for all carriers in each market. This is the basis for the African Union's Single Africa Air Transport Market (SAATM)."
Mabunda is an analyst and TV anchor at Equity Axis, a leading financial research firm in Zimbabwe. — [email protected]
Related Topics