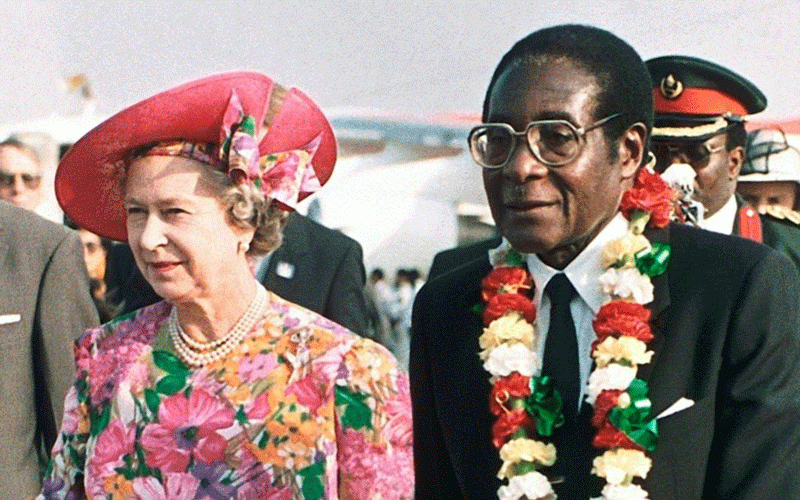 Our President was in Kenya this week to witness a peaceful transfer of power, a field in which he is a leading international expert.
Witnessing William Ruto taking the instruments of power from his predecessor, Uhuru Kenyatta, must have been quite an experience for him.
Upon his return, President Mnangagwa gave the traditional airport interview, saying: "There were a number of Heads of State indicating that there is solidarity among the current crop of African leaders; solidarity among the current heads of government in Africa, where there is peaceful transition of power. There's continuity of leadership between one party going in and another one going out."
It is an outrage that the Kenyans did not give him the podium to teach people that there are other ways of transferring power. He would have told them that, in case the incumbent is stubborn and does not want to hand over the instruments of power, one can peacefully roll out a few rusty armoured tanks and guns to encourage them to be sensible.
The Queen meets Mugabe
The entire nation remained in mourning this week after the death of Queen of England, Elizabeth II. She suffered an untimely death at the youthful age of 96, just a year older than the age another youngster, Robert Mugabe, reached before his own surprise death.
Of course, the two will be having a good cup of tea together, reminiscing about old times. In 1994, Mugabe, after butchering his way through Matabeleland and the Midlands, was rewarded for good behaviour with an honorary knighthood. The Queen stripped Mugabe of the knighthood in 2008, as a "mark of revulsion" at the human rights abuses and "abject disregard" for his own people. No doubt Mugabe will be asking the Queen why she did this. Why the sudden change of heart? Killing a few thousand people did not seem too much of an outrage for the royal friend.
Meanwhile, for us the living patriots in Zimbabwe, the only queen we know is our owner, Queen Bee.
Missing words
Back in the land of the living, the Zimbabwe government, known all around the world for its defence of press freedom, was livid this week after a journalist was harassed at an opposition party rally.
Overzealous security guards of the CCC assaulted journalist Ruvimbo Muchenje, obviously as part of the party's rehearsals to be a proper African government.
This drew condemnation from Monica Mutsvangwa, who said: "Political parties should remember they are responsible for mishaps that happen at their rallies and should at all times restrain their supporters and security officers. The attacks on female journalists' border on gender-based violence."
She went on: "We have seen this trend of harassing and assaulting reporters growing in recent weeks and as the Government we do not condone any acts of violence against journalists."
Clearly, this "trend" does not include recent attacks on journalists in Gokwe, or the many other journalists that suffer at the hands of the police. Muckraker can confirm that the press release had a few missing words. She meant to say "we do not condone any acts of violence against journalists, unless we are doing it ourselves".
The opposition should stop beating up journalists. That's Zanu PF's job.
Splitting hairs
While in Kigali recently, our owner made a stop at the Kigali Genocide Memorial, where victims of the 1994 genocide are remembered.
He wrote: "I pray that this sad and dark period of the history of this country should never be allowed to happen again, not only in this country, but on our continent Africa and the human race."
Of course, some detractors pointed out that, back home, attempts to remember those killed in the Gukurahundi have been thwarted. A memorial plaque at Bhalagwe has been vandalised multiple times, and there is no acknowledgement of crimes.
But these detractors need to realise that some people go to the Kigali Genocide Memorial for the same reason soccer-loving tourists visit famous stadiums.
Law abiding citizen
Many Western sponsored people have been appealing to the government to free Job Sikhala and other activists, who were jailed for the treasonous crime of asking Zanu PF to stop killing its own people.
In response, the government has reminded people that it is a government that respects the judiciary. We cannot be going around trying to undermine the courts.
According to Nick Mangwana: "The President cannot go into conflict with the courts. He respects the principle of separation of powers. The courts themselves are not citing political reasons for their decisions but purely legal ones."
Of course, this did not count that time when Mnangagwa was still trying to impress the West and said he had intervened to have Tendai Biti freed from jail. We also remember the time, when Mnangagwa was still the country's deputy owner, when he told a rally that Zanu PF is everything, from the army to the courts.
Food for work, or school
Patriots around the country are surprised that people are whining about the addition of a few worthless Zimbabwe dollars to the tuition fees at the University of Zimbabwe, the country's alleged top university.
Asked to explain how students could possibly afford these fees, the Permanent Secretary in the Ministry of Allegedly Higher Education, one Fanuel Tagwira, had a message for these lazy kids of today. They should try cleaning toilets and so forth, he said.
"They (UZ) will give you work to do, like working in the canteen, cleaning toilets and classrooms, and they will assist you with the fees," he told the Daily News.
What a good idea. How come nobody in this country ever thought of this bright idea before?
High rate
Of course, the UZ itself is at a loss as to how it is that people cannot afford fees.
The Herald, the world's most believable newspaper, quoted the UZ acting registrar as saying that "students in the faculties of humanities pay the equivalent of US$466, natural sciences US$526, and life sciences US$661".
In other words: "We raised the fees by over 1 000% because we are speculating that the Zimdollar will keep falling".
Naturally, the country's owners are wondering why there is so much pointless noise from all these people about these fees. People should stop being lazy and just send their children to other universities around the world like our leaders have shown them how. What is the problem?
Dancing in the dark
This week, the nation was yet again told to celebrate the worsening of power cuts. According to ZESA, power cuts got worse this week because the economy is improving.
Zesa announced what it called an increase in "load curtailment", a fancy term for "we are incompetent so we will have to cut off power to most of you".
According to Zesa: "This is due to depressed generation on the grid coupled by increased electricity demand as a result of increased economic activities."
This is good news. We propose that there be a national music gala to celebrate these power cuts. A national holiday must be declared, on which we all dance well into the night – without lights – as we celebrate this great progress the nation is making.
Related Topics