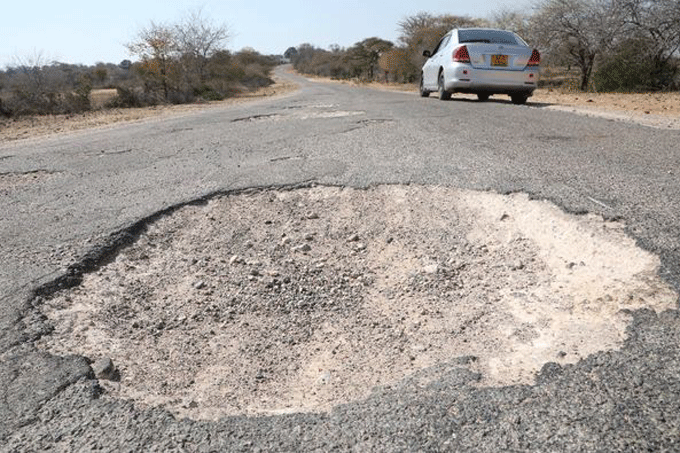 BY BOKAMI MUDIMBA
Waterlogging and potholes along the 153km Cross Dete to Binga road are making driving a nightmare to motorists and commuters, who describe it as a death trap.
The deterioration of the road is attributed to ageing, neglect and damage caused by heavy rains that have been pounding Hwange district lately.
One commuter omnibus driver plying the route, Nkosi Sibanda said the same road which he used to make several return trips in a single day now takes an average of four hours because of a slow drive around the potholes.
"It used to take two hours to drive between Binga and Cross Dete because the road was trafficable," Sibanda said.
For commuter omnibus operators like Sibanda, it no longer makes any business sense to continue plying the Cross-Dete to Binga route because of the poor road network.
"It's no longer wise to operate on this road because of constant breakdowns that chew into our profits," he added.
As a tourism destination sitting on untapped tourism opportunities especially with regards to sand beaches and hot springs along Zambezi River where fishing and boating is practiced, Binga has a potential of becoming an economic hub but risks isolation from the rest of the country because of its poor road network.
The district is accessible via Cross-Dete off the Bulawayo-Victoria Falls highway and through the Siabuwa-Binga road.
It also provides a link between Gokwe in Midlands and Karoi in Mashonaland West via Siabuwa.
Even after the rehabilitation of Binga airstrip last year, a move which was aimed at improving accessibility of the sleeping tourism giant, road travel still remains the reliable transport mode.
The Cross Dete — Binga road is often busy with fish traders from Bulawayo and other parts of the country travelling between the two centres.
It is one of the targeted roads for rehabilitation under the US$400 million Emergence Road Rehabilitation Programme (ERRP2), which was launched by President Emmerson Mnangagwa a year ago.
The ERRP2 is in four phases spread over three years.
However, an estimated 28 kilometre stretch between Cross-Dete and Kamativi as well as Siachilaba and Manjolo is trafficable.
The rest of the Dete-Binga stretch is non trafficable because of potholes, and motorists have in some areas created detours to avoid the rough road.
In 2021, a section of the road near Binga centre was swept away by rains.
Matabeleland North was allocated $700 million in 2021 through the ministry of Transport and Infrastructure Development for road rehabilitation of an estimated 2 937km road network in the province.
Works involved pothole patching, grading, regravelling, spot dumping, wash away repairs, culverts construction, reseals and rehabilitation.
Nonetheless, the Binga community felt the government deliberately marginalises the district by neglecting infrastructure, including the road network.
The Transport and Infrastructure Development ministry's Matabeleland North provincial roads engineer Xolani Ncube said only 25km of the 153km Cross-Dete to Binga road will be resealed this year.
"There are plans on the way for this Cross-Dete-Kamativi-Binga road and 25km of it will be resealed this year," Ncube said.
Matabeleland North minister of Provincial Affairs and Devolution, Richard Moyo said his office will push for prioritisation of the Cross-Dete-Binga, Bulawayo-Nkayi and Bulawayo-Tsholotsho roads this year.
"With the 2022 budget passed, we are going to look at priority projects that need to be completed this year and we are happy that contractors are remobilising to go back on site on the Bulawayo-Nkayi and Bulawayo-Tsholotsho roads, which are also key," Moyo said.
The Binga Rural District Council has so far regravelled the 97km Binga-Siabuwa stretch after receiving about $30 million, which was allocated to the local authority under devolution funds.
"Some roads fall under the Ministry and we have no jurisdiction as council.
"We received some devolution funds and attended to some roads especially to Siabuwa and Lusulu among other projects," said council CEO Joshua Muzamba.
*This article was originally published by The Citizen Bulletin, a nonprofit news organisation that produces hard-hitting, hyperlocal reporting and analysis for the southwestern region of Matabeleland.   
Related Topics