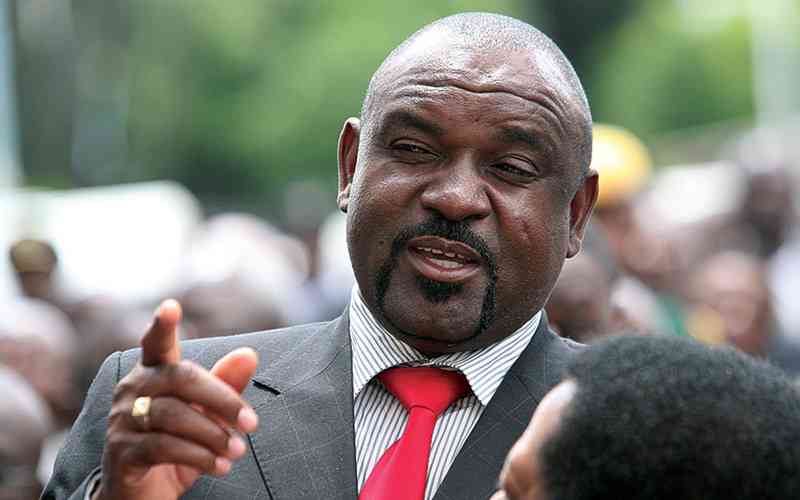 OPPOSITION United Movement for Devolution (UMD) leader Lovemore Moyo has accused government of failing to deal with corruption saying graft has hindered financing of development projects.
Moyo is former Speaker of the National Assembly.
In a statement, he said corruption by high-ranking government officials had hindered funding of crucial infrastructure projects, procurement of medicine and provision of efficient service delivery to communities.
"We vividly remember the promise and public commitment to extinguish corruption by President Emmerson Mnangagwa, which has significantly died down. Sadly, the recent corruption scandals and deals allegedly implicate the First Family and its close associates, which further complicates the fight to end corruption in the country," Moyo said.
"The recent mention of ownership of 21 farms and multi-million-dollar properties locally and internationally, allegedly by the former President's daughter, Bona Mugabe and her husband, Simba Chikore, is an eye-opener. If this is true, one wonders how much land, properties, and natural resources are in the hands of the First Family members, relatives, friends and associates."
He said land corruption must be investigated.
"There's an undeclared monopoly in the mining sector, where vast mining claims are under the control of a few individuals who are holding the claims for speculative purposes. It must be noted that corruption undermines the character and integrity of government, institutions, and the entire leadership of the country. Further, corruption seriously affects and negatively erodes the revenue collection base." Moyo said corruption discouraged foreign direct investment and promoted black market activities.
"Resultantly, the government will fail to meet its obligation to satisfy the needs of its citizens in the form of unfulfilled service delivery promises. Therefore, it's incumbent upon the Zanu PF government to up the game in the fight against corruption, looting, and theft of State resources," he said.
On General Notice 635 of 2023, which sought to decree that procurement of selected government goods not be subjected to public scrutiny but was later withdrawn, Moyo said it was a pre-emptive government strategy to conceal corruption, in particular the acquisition of helicopters by Mnangagwa.
"The sad reality is that corruption is embedded and incubated in the political fabric of Zanu PF dating back to the early years of independence in 1980."
He said the consequences of corruption were dire as it was citizens who suffered as a result of the looting of public resources.
Moyo implored government to investigate corruption scandals in the mining sector.
l Follow us on Twitter @NewsDayZimbabwe
Related Topics