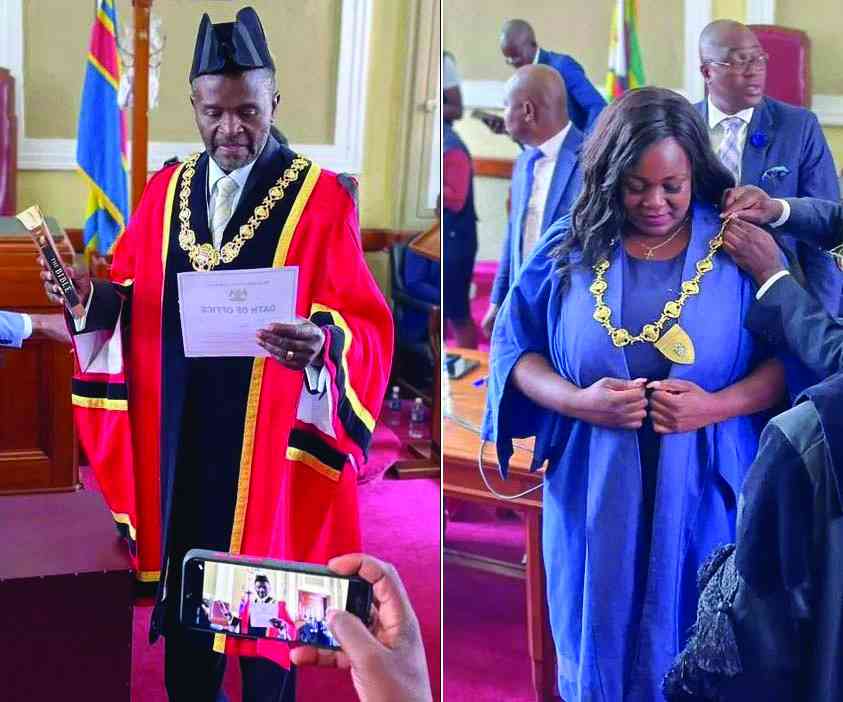 THE man, who this week took over the reins of Zimbabwe's scandal-ridden Harare City Council talked tough on Monday, vowing to bring sanity to a metropolitan that has been failing on all fronts.
Ian Makone, secretary for elections at the Nelson Chamisa-led Citizens Coalition for Change (CCC), emerged victorious following a poll by Harare City councillors, winning 46 votes — way ahead of his Zanu PF rival Temany Utete, who polled seven.
Makone will be deputised by Kudzai Kadzombe, another CCC councillor, who was given the mandate after beating Zanu PF's Susan Chuma by a massive margin.
The CCC's victory was generally expected as cities are opposition strongholds.
But what made this week's event different was Makone's rise to a seat, where millions of residents expect him to deploy decades of private sector experience to help Harare achieve its hyped 'sunshine city' status by 2025.
Monday's elections came more than two weeks after an August 23 plebiscite that has divided southern Africa. The tightly-contested polls were slammed by the international community.
CCC rejected the outcome after Chamisa was beaten by President Emmerson Mnangagwa by 52,6% to 44%. On Monday, attention swung from confrontations over results to pushing for ideas to deal with Harare's potholes and 'mountains' of stinking refuse — uncollected for many months. Harare has a huge say in how Zimbabwe's economy performs, given that it sits on a gross domestic product (GDP) estimated at US$9,2 billion in 2015, or 30% of the country's annual output.
Makone and his team know the seat from which he will call the shots is hot. He will be living in the shadows of threats of expulsion, as the Zanu PF government has powers to suspend or remove him.
In an interview with the Zimbabwe Independent after his election, Makone was quick to pick corruption, among factors holding Harare back, before he declared total war.
"We will not have mercy for anyone involved in corruption," Makone said.
He is a veteran of opposition politics, who was among leaders in the late Morgan Tsvangirai-led Movement for Democratic Change (MDC). The MDC split severally into many factions. But Makone drifted towards CCC on its formation last year, where he is said to command substantial influence.
He said eradicating corruption will require a sharper Zimbabwe Anti-Corruption Commission (Zacc) to fish out and cage criminals.
"We will work side by side with the deputy mayor to bring life to this city and monitor all the cash flows," Makone said.
"We will not have mercy for anyone involved in corruption. Arrests and dismissals will be made. But we encourage Zacc and other institutions responsible for investigations to do their work thoroughly so that no one is wrongfully charged.
"We need to look at issues around water distribution and waste collection. People need to understand that the water infrastructure was constructed a long time ago and can no longer accommodate a population, which has grown from less than half a million to more than four million people," he said.
Many of Harare's top brass, including mayors, have been arrested over allegations ranging from corruption to abuse of office.
Confidence in the city's ability to deliver has hit rock bottom.
Writing on his Facebook page as he canvassed for votes for Harare's Ward 18 in 2018, Makone promised better leadership.
He was chief advisor to Tsvangirai, and chief secretary in the prime minister (PM)'s office when the MDC leader joined government as PM in 2009. Recently the former Grain Marketing Board (GMB) general manager chaired a team of councillors that investigated the controversial Pomona deal.
Commenting on his experience on Facebook, Makone said: "I bring decades of private and public sector experience… As the first generation of post-independence professionals, I was honoured to serve my country as general manager of the GMB.
"I am proud of my record of success in expanding the network of marketing services to smallholder farmers.
"I subsequently led a multi-million-dollar regional organisation as chief executive of Manica Group. I believe the people and financial management skills I acquired during this period will be crucial should I win your vote to be your Ward 18 representative and councillor.
"My time in the private sector taught me to be a "doer" and not a "talker" — to be fully accountable".
Makone further stated that: "On a macro scale, I was able to make a direct impact on the lives of not just Ward 18's residents but those of Harare and the nation as well".
Kadzombe promised to work closely with the mayor in providing lasting solutions for the City of Harare.
"I believe our city has great potential," she said in an interview with the Independent.
"I am excited to be part of a team that is dedicated to realising that potential. I will work to ensure that our city is a place where everyone can thrive regardless of their background or circumstances."
Related Topics