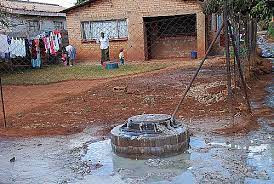 ALMOST 146 000 mega litres of partially treated raw sewerage are flowing back to Lake Chivero annually, exposing Harare's estimated 3,5 million consumers to grave danger, official data showed this week, as the Environmental Management Authority (Ema) raised more red flags.
This translates to about 400 mega litres of toxic sewerage flowing back to Lake Chivero daily.
Ema, the City of Harare and other local authorities have clashed over water pollution for many years.
Several local authorities have been fined by the agency for leaving partially treated sewerage to flow into water sources.
The data demonstrates why Harare residents have abandoned drinking or cooking with Lake Chivero's water, preferring to buy purified water.
In an interview with the Zimbabwe Independent, Amkela Sidange, environmental education and publicity manager at Ema, said apart from the raw sewerage, the decimation of wetlands has also compounded the situation.
Across cities, wetlands have been invaded by people setting up homes, following a rapid rise in urban population.
In cities, Zimbabweans hope for a better life as the country's economy relapses.
Illegal settlers in Zimbabwe's wetlands have been receiving support from politically connected land barons, who collect money and parcel out swaths of land to home-seekers, promising them protection from government and local authorities.
On several occasions, local and state authorities have threatened to demolish illegal structures.
But even after such drastic actions, settlements have continued to grow.
Environmental campaigners have been piling pressure on government and local authorities to protect wetlands, which form an integral part of the ecosystem, acting as sponges that filter and purify groundwater.
Sidange said there was hope that under the National Wetland Masterplan, some of the factors driving the construction of houses on wetlands would be addressed.
Still, some experts argued this week that while it was important for authorities to take action, extensive damage had already been inflicted on Zimbabwe's wetlands.Countrywide, there are at least 1,2 million hectares of wetlands and Harare has about 29 wetlands covering a total area of 23 000 hectares, most of which have been invaded by land barons.
"Surveys by Ema indicate that an estimated 399 mega litres of raw and partially treated sewer are discharged into Lake Chivero (daily), which is one of the most pronounced drivers in pollution of the lake thus contaminating and polluting both terrestrial ecosystems and water bodies," Sidange told the Independent."Wetland utilisation should only be done under a licence from Ema, failure of which can result in prosecution. Commendable government efforts have been recorded recently, including the gazetting of the National Wetland Master Plan."Increasing wetland area under sustainable management is one of the key objectives of the National Development Strategy. To date, an estimated 252 000 hectares against a target of 500 000 hectares have been put under sustainable management," she said.The latest spate of wetlands invasion has forced local authorities to use more chemicals than normally required when purifying water, which is an expensive undertaking.Apart from raw sewerage, Lake Chivero has also been taking enormous amounts of pollution from industries.Hope Chizuzu, acting head of communications at Harare City Council, said the local authority's growing population was also piling pressure on the city's capacity to provide water."The obvious growth in population in and around Harare informs that the water demand is higher than can be availed," Chizuzu said."The infrastructural capacity of the waterworks was designed to serve a population of under a million."But Harare has a day population of over 3,5 million where people require services during business hours, meaning demand is at an optimum always. "The structural capacity to supply more water to consumers also informs that the source should be increased, which is impossible at the moment, hence the need to defer to other sources like the Kunzvi Dam Project," he said.Zimbabwe became a signatory of the Ramsar Treaty in 2011. The Ramsar Convention on Wetlands of International Importance is an international treaty for the conservation and sustainable use of wetlands.It is also known as the Convention on Wetlands and is named after the city of Ramsar in Iran, where the Convention was signed in 1971.Zimbabwe has seven wetlands that are designated as Ramsar sites under the convention notably: Monavale Vlei, Cleveland Dam, Mana Pools, Lake Chivero and Manyame, Chinhoyi Caves, Victoria Falls National Park and Driefontein Grasslands.Environmental Impact Assessment and Ecosystems Protection Regulations of 2007, which falls under Ema, provides for the protection of wetlands.Ema is a statutory body established under the Environmental Management Act, and is responsible for ensuring the sustainable utilisation of natural resources and the protection of the environment.
Related Topics