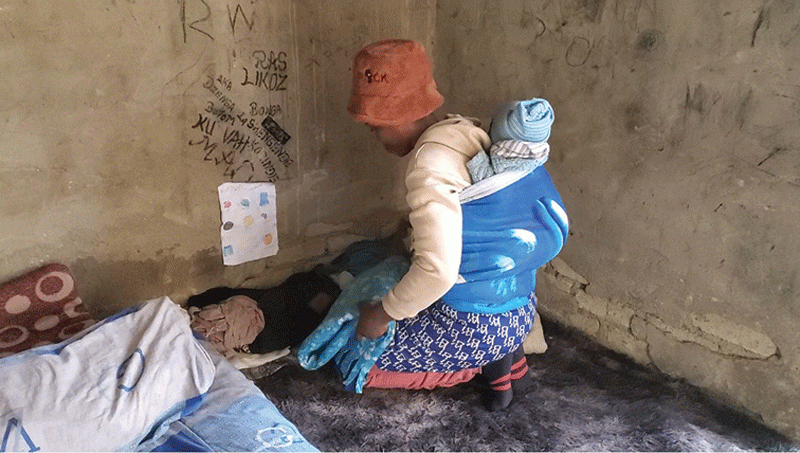 IT was a dream of 15-year-old girl, Lessie to escape the harsh realities of poverty and find a better life in the big city.
In 2022, at the age of 14, she ran away from her home in Zvamatobwe village, Chivhu, Mashonaland East province, leaving behind her maternal great-grandmother who was her only guardian since the age of one.
"All I wanted was to find a job so that my great-grandmother could at least have a decent meal," said Lessie.
Just like many other children in rural Zimbabwe, Lessie had grown up in poverty all her life.
This is the first of a three-part series, Breaking the stigma: Zimbabwe's teenage mothers speak out about family abandonment and societal challenges; Lessie (15) and Grace (17) share their stories.
World Vision Zimbabwe said in 2018 that 4,5 million children lived in rural areas with 1,6 million of them living in extreme poverty.
This has seen more children adopt survival strategies in an attempt to change their narrative, thereby exposing some of them to a world that would make them even more vulnerable.
"How I ended up on the streets of Harare"
"After I finished my Grade 7 in November 2021, my grandmother told me that she could not afford to finance my secondary education to further my studies. Considering our situation at home, my great-grandmother had always been struggling to put food on the table, I then decided to leave for the city to earn a living," said Lessie.
One afternoon in May 2022, Lessie's grandmother sent her to the shops to buy a few items for the house. On her way to the shops, she decided to board a van that was heading to Harare, the capital city of Zimbabwe.
Harare is located about 142km south-east of Chivhu.
She hoped to find a job and quickly send the money to "gogo" (great-grandmother) as she dreamt of being able to care for her in the future.
Upon arrival in Mbare, Harare's major and oldest suburb that connects different cities, towns as well and suburbs, reality snapped at her as she realised that she had nowhere to go. Mbare is also associated with all sorts of illegalities.
Lessie said: "The area was so crowded that I was even confused. I didn't know what to do, where to go, or who to ask for employment.
"Although I was feeling uneasy with this new environment, the movement of people with so many activities was eye-catching that I even forgot I had no place to sleep when night came."
In no time, darkness covered the Mbare sky and the streets seemed deserted as most people had left for the night.
Reality struck her as she was now on her own without any idea of where to go and who to ask for help.
"When I was busy looking for a small corner behind the shops to spend the night, three girls approached me and offered me a place to sleep. I quickly agreed thinking that my prayers have been answered," she said.
"I never knew that this was going to be the worst nightmare of my life. I was taken to a house where I was told that I got a job; they gave me food and a cold drink.
I do not know what happened thereafter, but when I woke up the next day, I could not recall what had happened but what I realised was that my private parts were swollen," Lessie said.
She had been sexually abused.
This is how Lessie joined other girls on the streets who are taken advantage of and sexually exploited for money.
It is now her daily routine, to sleep around with men so that she can at least have a day's meal.
The young girl ended up living on the streets of Mbare, where she was sexually abused and exploited by ruthless predators.
Struggle of the girl child
While the rise in girl child sexual exploitation may show a lack of responsibility on the part of certain families, it also exposes deeper issues brought about by Zimbabwe's dire economic conditions.
Although Zimbabwe is one of the countries which have ratified most child rights instruments including the United Nations Convention on the Rights of the Child and the African Charter on the Rights and Welfare of the Child among others, Unicef says the country is one of the top five countries worldwide with high prevalence of child sexual abuse.
Statistics from Childline Zimbabwe, a telephone hotline that works with the Zimbabwean government to address child abuse issues, showed that child abuse cases have risen over the years as it had received about 25 000 reports in 2018, with sexual abuse accounting for 26% of those, physical abuse for 20%, neglect for 17%, emotional abuse for 17% and other forms of abuse for 20%.
However, Unicef (2022) notes that it may be challenging to provide precise numbers of the children who have been sexually abused on the streets as it is difficult to ascertain the actual figures, due to the high mobility of these children.
A survey conducted by this writer in different parts of Harare including Hopley Farm, Epworth and Mbare reveals that most children are sexually exploited for as little as 50 cents (ZWL$3 000) to US$3 (ZWL$18 000) at the prevailing local exchange rate.
This means that to raise a reasonable amount the young woman must sleep with several men.
Sadly, in the blink of an eye, Lessie's dreams and hopes were shattered as she found herself being sexually exploited to earn a living.
She fell pregnant within two months of being in Harare. This was before she could return to her great-grandmother.
"It's not like I do not want to return home, but what would the people say about me having this baby? I am not sure if 'gogo' will accept it or not," she says.
"Zvamanje manje handione zvichiita (I feel that it's still early to bring this news to her), so I will stay here with my baby and continue hooking up with men so that I can take care of my baby."
Lessie is now 15 and nursing a seven-month-old baby alone in a rented room in Mbare.
"I was sold off to a Harare trader by my grandmother"
In a related sad incident, Grace (17), did not run away from home in Makonde district, Mashonaland West province, but was sold off to a Harare-based peddler by her grandmother at the age of 14.
Grace struggles to talk about her loss and betrayal but after a therapeutic session organised by RhoNaFlo, a maternal health-focused organisation that seeks to promote and enhance safe births for adolescents, she opened up.
Grace grew up with her paternal grandmother after her parents separated when she was six years old.
Just like most people in the Makonde area, Grace's family survives on subsistence farming. Her father had taken another wife while her mother left just after their separation.
Both parents would come and visit the young girl, but she remained in the custody of her grandmother.
When she finished Grade 7, she dropped out of school due to financial constraints.
Grace says: "One day a man who often visited our home selling clothes and shoes passed through our house. To me, this trader was not a stranger since he often passed through our house whenever he came to Makonde to sell clothes but on this fateful day, I saw him handing a US$100 note to my grandmother after a long conservation.
"Little did l know that it was my bride price."
Her grandmother later told her that her regular uncle from Harare would take her to the city for shopping and return home.
"I was so excited that the day had finally come for me to go and see the big city."
From Makonde to Harare it is about 146km.
"The next day, on a Monday, we boarded a bus to Harare and upon arrival, my uncle said that we needed to buy blankets so that I could have something to use for the night.
After that, we boarded a kombi (commuter omnibus) to Epworth which is about 17km from Harare central business district.
"When they got to Epworth, the man got a room to rent along Chiremba Road in Epworth.
"Uncle told me that I was no longer going back to Makonde since I was now his wife," said Grace.
Confused, she tried to call her grandmother to inform her about what was transpiring, but the man snatched the phone away from her and told her that her grandmother was aware of everything as he had already given her US$100 as a token of marriage.
After a few days of living together, the man left her and never came back.
"I was left all alone, pregnant in the city, said Grace with a broken voice.
Fortunately, RhoNaFlo identified her and supported her throughout her pregnancy.
However, in February this year, Grace's child died after a short illness.
"The death of my baby left me with such a void in my life, and after such a huge betrayal from my family, I feel so angry, hurt, and yet so empty. Sending me away with some man to the city caused me so much pain. I have sworn to myself that I will never set foot in Makonde ever again," said Grace with teary eyes.
"Here in Epworth, I am being labelled an irresponsible girl who left home at a young age to become a child bride.
"This did not happen intentionally or willingly, but I was sold and cheated by my own family and right now I have to do something so that I can survive alone in Harare," she said.
Grace found a job in the neighbourhood as a shopkeeper in a tuckshop.
With this job, she can get a meal and a place to sleep in the tuckshop.
New reason to smile
"Recently, I met this other man here in Epworth whom I fell in love with. We go along very well, and I am expecting another child," she said.
Grace is now five months pregnant with a second child and hoping that fate will smile at her this time around given the hardships and heartache she experienced during her first pregnancy.
She is optimistic that at the end of the tunnel, there is some light.
"Being part of the RhoNaFlo family has given me hope and the needed support to stay strong and healthy as a young expecting mother," said Grace.
This story is the reality of the two teenage mothers who were forced to leave their homes and their families because of poverty. Now, they are trapped in a cycle of abuse and exploitation on the streets of Harare.
But their story is not unique.
Many teenage mothers in Zimbabwe face a similar fate, as they are abandoned by their families and stigmatised by society.
Find out in the next episode how the young mothers are coping with the challenges of raising a child in such conditions.
Related Topics