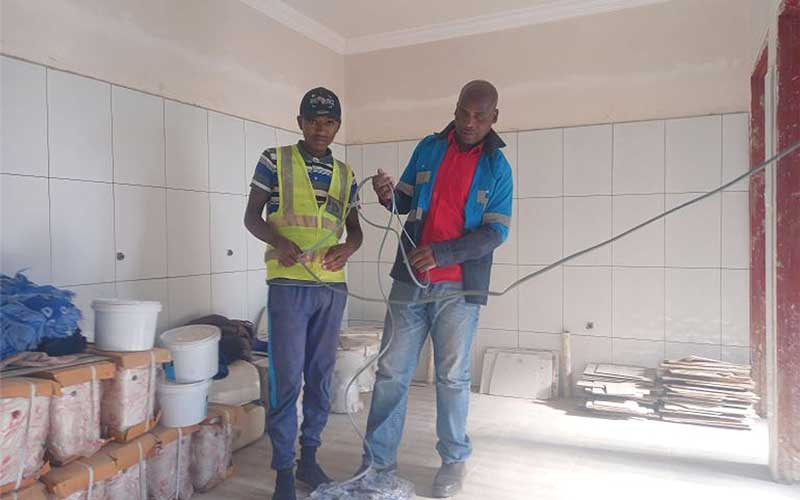 ON a scorching day in April 1985, a food truck had barely stopped in front of the supermarket in the Mozambican port city of Beira when hundreds of hungry people zigzagged into a queue outside the shop.
It was wartime on the island and the truck was one of the few food deliveries that had come into the coastal city in days. So Luciano Chataika, an electrician in Beira, knew he had to get food that day or starve.
When the shop doors opened, hordes of people charged towards the entrance to get their hands on the limited food stock. And in the fracas, several people fell.
"We just kept moving," Chataika, now 61, told Al Jazeera. "I was lucky to get some food in that chaos."
As he left the store, several people lay on the ground writhing in pain and some motionless in the aftermath of the stampede. An ambulance wailed in the distance ready to ferry the injured to the hospital.
Such scenes had become the norm: a few weeks before, there had been a slew of machine gun fire from armed dissidents — backed by the apartheid South African regime — who were fighting the Mozambican military, at Beira's airport where Chataika worked.
But this was the turning point for Chataika. "I decided then that I didn't want to leave in a country like that," he told Al Jazeera.
Independence and refuge
In 1975, the southern African state of Mozambique became independent of Portuguese colonial rule after more than three centuries.
But the administration of Samora Machel, the country's first Black leader, struggled to run the economy.
President Machel, a communist, nationalised government assets. But the policy did not promote State-led development and redistribution of wealth as was intended. The country's economy plunged, and inflation decimated the purchasing power of its currency, the metical.
Chataika, who was 23 at the time, had endured the ignominy of poverty.
"I wore trousers made from sacks," he said. "We just washed a sack and sewed trousers to cover ourselves."
With the war still on, Chataika, like thousands of his countrymen, sought refuge in nearby Zimbabwe.
Right after its independence from Britain in 1980, Zimbabwe had one of the most robust economies in Africa, anchored by strong manufacturing and agricultural sectors.
This appealed to Mozambican migrants in those days, according to Camilious Machingura, chair of the Zimbabwe Community Development Association, a non-profit involved in anti-human trafficking work in southern Africa.
"The Zimbabwean economy was very stable and jobs were available as opposed to the situation in Mozambique," he told Al Jazeera.
"Stability of an economy is a key factor people use when choosing a migration destination. People want certainty and always seek to improve their household incomes and tend to migrate to countries or territories that provide them that."
Even after Zimbabwe's economy began declining in the 1990s due to a succession of factors including drought — and even after new macroeconomic policies were exacerbated by a controversial land reform programme in 2000 — some migrants still remained in the country.
Indeed, the 2012 census data puts the number of individuals from Mozambique living in Zimbabwe at 17 000.
And according to the United Nations High Commissioner for Refugees, Zimbabwe was, in 2021, still home to approximately 8 000 Mozambican refugees and asylum seekers who fled the country due to political instability or for other reasons.
The week after the food truck stampede, Chataika went off to Zimbabwe in search of his brother Notice, who had migrated there in the 1950s. The two men had never met; Notice migrated more than a decade before Chataika was born in 1962.
"He was my only hope," said Chataika, whose sole evidence of his brother's existence was some rumpled letters that Notice had written with a forwarding address in Zimbabwe.
Chataika and two other friends left Beira by bus and made the journey to Chimoio, Mozambique's fifth-largest city. The town was in the Manica province, which shares borders with Mutare, an eastern city in Zimbabwe's Manicaland province.
"In Manica, we crossed into Zimbabwe via a railway line and we arrived in Mutare and sold a radio and some java cloth we had," Chataika said. "The money we raised was enough for transport."
The trio then boarded a train to Harare, Zimbabwe's capital, and took a bus to Mufakose, a high-density suburb south of the capital Harare where Chataika at last met his long-lost brother.
New realities
In Mufakose, Chataika got along well with his brother's family, who all spoke Portuguese. But when he stepped outside, the reality of being a stranger hit him.
"I felt lost and out of place," he told Al Jazeera.
"Language was the biggest challenge for me. I could neither speak Shona nor English — and no one knew Portuguese."
This was the biggest hurdle towards settling in Zimbabwe. When he took a statutory technical test in 1986, it was in English.
Although he had scored high in the technical sections and made first class, he said, it was downgraded to third class on account of his woeful language performance.
"They figured I would work closely with others at the Electricity Department [now Zesa Holdings] and I just couldn't communicate with others," he said.
So Chataika settled for being a general worker at Zesa despite four years of prior experience at Hidroelectrica de Carbora Bassa, the Mozambican power utility. But he was determined to succeed despite the odds.
He enrolled in an English class to integrate into his new community, where people made fun of his distinct Mozambican accent. With each passing year, his Shona improved, but English was tough.
"I found Shona to be easy to learn because it's not much different from how we write Portuguese," he said.
"It was very hard for me. After so many years, my English has improved. If I could speak English, I would have earned more money at Zesa."
His brother's presence helped cushion him from the many other difficulties of life as an immigrant.
In the mid-1980s, Zimbabwean authorities began arresting immigrants who had snuck into the country and deported them to Mozambique.
"Fellow immigrants had it rough and I was safe because I had a brother in the country and that shielded me from xenophobic tendencies in the country," Chataika said.
As years passed, his Shona improved and he gradually integrated into the community. But a decade away from Mozambique was taking an emotional toll on him.
Back home, the civil war had ended under the leadership of Joaquim Chissano, Machel's successor, who eventually steered the country to democracy.
The peace and relative economic stability appealed to Chataika, so feeling nostalgic and optimistic, he quit his job and returned to Beira in the early 1990s.
But the joys of homecoming were soon deflated. Mozambique was no longer plagued by violence, but the economy had not improved much. Jobs were hard to find.
"I thought I would work there, but they were not hiring," Chataika said. "I didn't want to be there anymore."
Feeling alienated in his country, he found his way back to Zimbabwe in 1996.
Staying in Zimbabwe
Upon his return, Chataika decided against rejoining formal employment, opting instead to work as an independent electrical contractor in newly constructed houses.
His entrepreneurial journey was not an easy one.
"I did not have customers [initially] …. it was a very hard job," he told Al Jazeera.
"Bit by bit, I continued working and people were happy with the work I was doing."
Back then, he would cycle to clients who lived in and around Mufakose.
Eventually, his clientele increased, thanks to word-of-mouth recommendations.
But business crashed when hyperinflation hit the country in the mid-2000s.
People were queueing up before dawn at banks to withdraw the equivalent of US$1, and carrying bundles of notes to buy loaves of bread.
That continued until 2009, when hyperinflation ended after the authorities adopted the use of United States dollars and other stronger currencies for payments.
Today, Chataika's business has recovered.
"I have a lot of big jobs now. It's mostly because of resilience and years of experience I put in," he said.
One time, a Harare-based heart surgeon originally from South Sudan contracted him to help with his property investments there, including hotels. But he only stayed there briefly.
In retrospect, he does not regret leaving Mozambique — or staying in Zimbabwe.
"It has been a good experience in so many ways," Chataika said. "And now I am not leaving Zimbabwe ever. My friends at Zesa said, 'Let's go to South Africa to work since the economy is better there.' [But] I didn't like the idea."
"I feel Zimbabwe is my home."
Related Topics