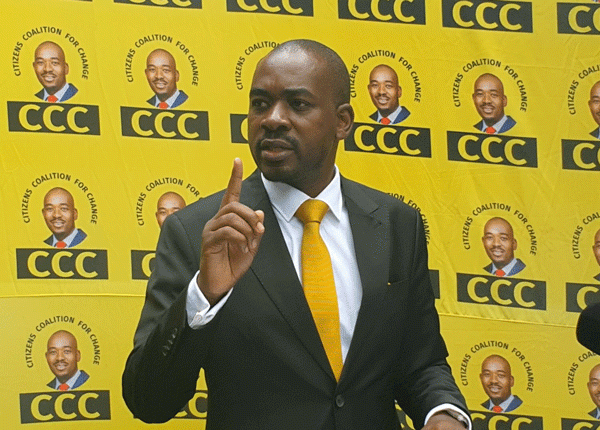 THE phrase "strategic ambiguity" has been flung into the Zimbabwean vocabulary recently and has been received with mixed feelings.
But let us try to put the phrase into context by unraveling its origins and why many see it at the centre of the chaos that has hit the Citizen Coalition for Change (CCC) party in recent weeks.
"Strategic ambiguity" is often used to refer to United States policy towards the relationship between the People's Republic of China (PRC) and Taiwan (which refers to itself as the Republic of China).
The PRC, through its One-China Policy, claims Taiwan is an integral part of China. Taiwan claims it is a sovereign state independent of China. China hopes to one day incorporate Taiwan into China like it did Hong Kong in 1997 after 100 years of British rule.
But the Western world, particularly the US, is averse to China's control of Taiwan for geopolitical reasons; it thinks if this happens the PRC will control the South Pacific and Southeast Asia, much to the detriment of US interests in the region.
Although the US recognises the PRC's One-China Policy it strongly opposes its takeover of Taiwan. The US's claim over Taiwan is that Taiwan is a democratic state and therefore should be protected from PRC totalitarianism. But many see the US's global push for "freedom and democracy" as a euphemism for its hegemonic interests.
But the US is in a catch; it cannot officially recognise Taiwan because that would be in breach of the One-China Policy which it also recognises.
So it has remained ambiguous in its policy towards Taiwan; it loves to have, through Taiwan, a foothold in the South Pacific but does not wish to have open conflict with the PRC, hence the "strategic ambiguity" policy.
The US's strategic ambiguity has been roundly criticised by political analysts and scholars; they argue the policy keeps people guessing what the US would do in the event the PRC invades Taiwan; will it militarily defend Taiwan or not?
In other words they want a clear policy which spells out what action the US will take. The mass uncertainty is all pervasive; there are Americans who are tired of war and would rather have the Taiwan issue solved in another way but there are also hawks in the military industrial complex that root for war.
Policy analysts also argue that "strategic ambiguity" is "an impediment to genuine policy planning". They say it "looks like a policy but unless it is underpinned by full assessment and planning it is a vacuum".
They say it often means absence of policy as demonstrated twice when President Joe Biden vowed that in the event of a PRC invasion the US would defend Taiwan but these utterances were quickly debunked by his government. Analysts argue that this was a clear absence of policy which may entail decisions would be made on the spur of the moment.
Back home many people are debating the merits and demerits of CCC's policy which its president Nelson Chamisa has dubbed "strategic ambiguity".
He must have, on the spur of the moment, picked up the phrase in the heated debate that followed former speaker of the US House of Representatives Nancy Pelosi's controversial visit to Taiwan on August 2 2022 and Biden's misspeaking about military intervention.
Chamisa himself has not clearly spelt out what his version of "strategic ambiguity" means but he has said that it was meant to avoid infiltration by the enemy; it would keep the enemy guessing. Indeed since its formation slightly over a year ago calls have been made from all over for the CCC to hold a congress, come up with a constitution and have structures.
Chamisa has vehemently refused to do so and has kept mum on his policies. Those in his corner say this is the right strategy because it indeed prevented infiltration of the party before June 21, the nomination day. But a lot did not come out right on the day.
Critics say "strategic ambiguity" is what caused the confusion that accompanied the nomination day chaos. CCC candidates had been exposed to some kind of primary election (bereka mwana) and vetting but it turned out in many cases the winners of the processes were not necessarily the preferred candidates.
This could explain the double and sometimes triple candidates. Some critics say Chamisa's attribution of the double candidates to the CIO is scapegoating; the buck stops at his feet.
It has now emerged that he also blames some members in his own party for sabotaging him. The Citizen's Daily Bulletin newsletter, a CCC publication, of July 4 reports that it has identified a third force in the double/triple candidature debacle.
The bulletin claimed to have the names of this third force. It said, "Investigations into the matter have revealed that [Freddy]Masarirevu, despite initially accepting the process, was later instructed to defy the party's decision by individuals whose names have been disclosed.
"These individuals, some of whom are members within and outside the party, are pushing an agenda aimed at weakening the CCC leading up to general elections."
This infighting in the party has been linked to the uncertainty that "strategic ambiguity" brought and also the nepotism and favouritism on display during the "bereka mwana'' primary elections which led to candidate imposition.
A report in NewsHub, an internet-based website, titled "Chamisa sucked into candidate imposition as CCC members allege nepotism" describes how CCC suffered major embarrassment in Masvingo Urban during the sitting of the nomination court on June 21, with some party leaders being roughed up in public for alleged corruption.
It reports that the fallout between candidates sucked in party leader Chamisa, whose relatives are alleged to have been imposed as nominees.
Jeffryson Chitando, a senior party leader in the province, who was one of the party's two signatories, was physically manhandled at the nomination court for allegedly helping his cronies to get nominated, according to the report.
Candidates came from different parts of the province but some of them were riled when their preferred candidates did not appear on the nomination lists for parliament and council, NewsHub reported.
Members accused the two signatories, Chitando and Margaret Chakabuda of being conflicted since their names appeared on the senatorial list yet they were party signatories in the nomination process.
Sources in the party alleged that Chakabuda, Chitando and the party's provincial administrator, Mandi Matutu, manipulated the nomination process which saw many highly-regarded Masvingo Urban prospective local government candidates overlooked.
Only three of the party's seven sitting councillors were retained, and these include Ward 5's Daniel Mberikunashe, who is Chamisa's uncle.
As a result of the opaque nomination process in the party, Ward 2 ended up with two CCC candidates getting nominated, namely Frank Chirairo and Chantel Chiwara, while Karimazonda filed as an independent candidate, NewsHub reported.
Chantel Chiwara is daughter to James Chiwara who was MDC-T Ward 3 Councillor and deputy mayor between 2013 and 2018. Chiwara and Chamisa are related, and they both hail from Chiwara communal lands of Gutu South.
Party members also complained that Evans Chamisa, who is the CCC leader's cousin, was nominated for a provincial council seat even though he did not have any notable history of service in the opposition.
Chakabuda denied rigging, saying the list of nominees came from Harare. "It happens in all elections. There are people who feel aggrieved but we did not have any control over who would get nominated and who wouldn't. We only got the list right at the nomination court and we did not have any prior knowledge of the candidates," said Chakabuda.
The Masvingo scenario replicated itself in most provinces including Harare and Bulawayo.
In the latter case all candidates may be disqualified from contesting the House of Assembly seats because they allegedly filed their nomination papers after the 16:00 hours deadline because the names arrived late from Harare.
Allegations of imposition of candidates also surfaced in Harare where for example Chamisa's brother Starman was unopposed in Mbare.
On Saturday, the CCC kick-starts its election campaign with the publicity of its manifesto in Bindura still without a constitution and without structures.
The same criticism that America's strategic ambiguity over Taiwan gets rings true for the CCC version: it keeps people guessing; creates genuine mass uncertainty; it has become an impediment to genuine policy planning; it points to an absence of policy; and it entails rushed decisions.
What the CCC needs right now, more than anything else, is clarity rather than ambiguity.
Related Topics