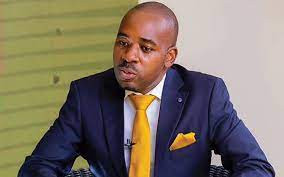 THE South African Broadcasting Corporation (SABC) has aired a documentary detailing opposition Citizens Coalition for Change (CCC) leader Nelson Chamisa's 2018 electoral campaign trail, after it was banned by the Zanu PF government last year.
In 2018, Chamisa contested the presidential elections as leader of the MDC Alliance party.
After he lost the party name and party headquarters to MDC-T leader Douglas Mwonzora, Chamisa then formed the CCC party.
The documentary, titled President and directed by Danish filmmaker Camilla Nielsson, was banned in the country on the basis that it had the potential to incite violence as the country heads for another round of elections.
In a letter dated June 16, 2022 to ban the airing of the documentary, Censorship and Entertainment Control Unit deputy director Oscar Mugomeri said: "Your documentary film President was not approved in terms of section 10(2)(b) of the Censorship and Entertainments Control Act, [Chapter 10:04], which states that the board shall not approve any film or film advertisement which in its opinion 'is likely to be contrary to public order'. Also take note that the 'notice for rejection' was made to the whole documentary film. The film has the potential to incite violence as the country is now preparing to go for elections in 2023."
The documentary was, however, filmed on SABC 3 on Monday night, before it went viral on various social media platforms.
The President documentary, which is one hour and 30 minutes long, is a sequel to Nielsson's Democrats, which chronicled the laborious construction of Zimbabwe's 2013 Constitution.
The documentary premiered at the Sundance Film Festival last year and won the World Cinema Documentary Special Jury Award.
It was released in the United States on the Public Broadcasting Service award-winning point-of-view shot documentary series on August 8, 2022.
Information deputy minister Kindness Paradza said: "According to the Censorship Board, the film does not meet the standards to be broadcast in the mainstream media in Zimbabwe. That it is now on social media is another story, which the Censorship Board has no control over. Zimbabwe is a free country and the Constitution guarantees freedom of expression."
Related Topics