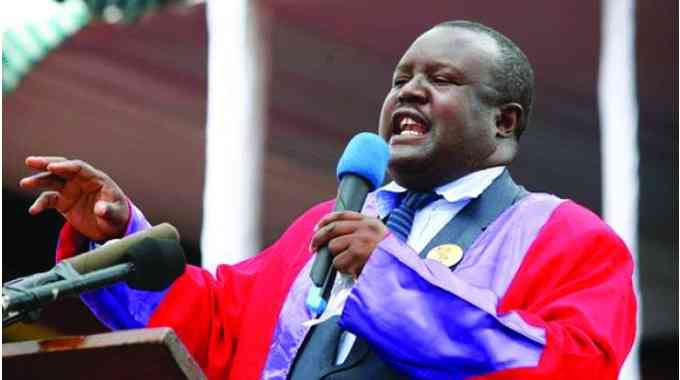 THE family of a 27-year-old Masvingo woman, who was allegedly sexually assaulted by president of the Chiefs Council, Fortune Charumbira, has demanded the former deputy minister's arrest.
The victim filed a case of sexual assault against Charumbira, who is also president of Pan-African Parliament (PAP), on Saturday last week at Masvingo Central Police Station under RRB 5457646.
Police said they would release a statement on the matter.
The victim is said to be Charumibra's niece.
In an exclusive interview with NewsDay, the father, who cannot be named to protect the identity of the victim, said: "My daughter is terrified.
"She feels intimidated. This is because of the communication that he has been receiving from the perpetrator."
Charumbira allegedly tried to influence his niece to drop the case, but did not succeed.
"She will not bow to any influence to withdraw the charges," the father said.
"But we want justice to prevail in this case. The law should take its course.
"We don't know whether because he is a high-profile person, who holds a top post, including that of PAP, is influencing authorities not to get arrested.
"But for the record, we are not engaging Chief Fortune on any platform apart from waiting for justice to take its course."
According to a police memo, Charumbira called the complainant on March 31 this year and invited her for lunch at a top hotel in Harare while she was on her way to Mazowe on school business.
At the hotel, Charumbira allegedly fondled the complainant's breasts.
He also put his hand in her dress and kissed her without her consent, part of the memo reads.
The father insisted that Charumbira made sexual advances fully aware that she was his niece.
"My daughter did not grow up in the Charumbira area," he said.
"She was raised by her mother elsewhere and would occasionally come to visit.
"Her first encounter with Charumbira was in January this year."
He added: "She wanted a piece of land in the Charumbira area for her horticultural projects.
"She asked me to accompany her to the chief to ask for the land on her behalf.
"But I said, 'No. I must not influence the chief to give you the land. Go on your own and introduce yourself and if he indeed can offer you the land, he can, even without my influence.'
"She went there and introduced herself to Charumbira, who acknowledged her as his daughter (niece)."
The father added: "From what my daughter told me, her encounter with him went well that first time, but was not really fruitful, because he asked her to come back another day."
Yesterday, Charumbira said his enemies were fabricating stories about him.
"It is very clear from your publications that someone is pushing an agenda against me. It's very clear," he said.
In responses via WhatsApp, the chief, who is a strong Zanu PF supporter, said he does not handle land issues.
"I refer all requests for land to a team, which is assigned for that purpose," Charumbira said.
"(The victim) never said she wanted to see me for land. Mind you, I never knew her properly.
"I have her texts leading to seeing me in Harare on March 31 and April 2. All is clear in the texts.
"I have been holding on to them for legal reasons now that there are such allegations.
"I have messages all the way through. You have one side of the narrative."
He later said the matter was now sub judice.
"Sharing too much is too prejudicial," the former Local Government and Public Works deputy minister said.
On Wednesday, Citizens Coalition for Change (CCC) deputy spokesperson Gift "Ostallos" Siziba said the law should take its course after Charumbira claimed the victim's family was being influenced by the country's main opposition party.
"How does CCC get involved in this case? We condemn any form of abuse and violence against women," Siziba said.
"If there was abuse of power, Charumbira, just like any other citizen, should face the wrath of the law.
"In other democratically progressive countries, Charumbira would have resigned both from PAP and Chiefs' Council, but because we are in Zimbabwe, he is still a free man."
Related Topics