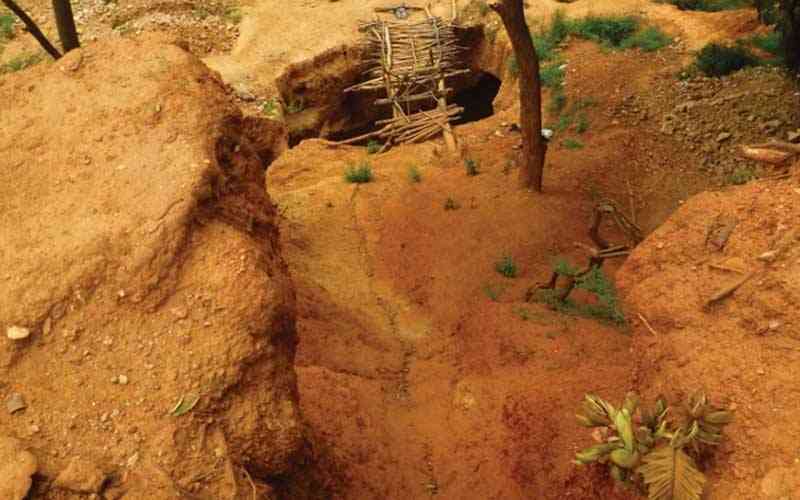 "I'm afraid to die, I don't want to think about it," said Collen Mugadura, an employee at Imperani Mine in Kadoma, Mashonaland West province.
He said this while explaining his area of work to journalists during a tour of the mine on Wednesday.
Mugadura, who has worked for 15 years at the mine, said he has to take extra caution when working with chemicals, especially cyanide.
With no formal training or schooling, but plenty of experience, he has mastered the art of working with the life-threatening chemicals.
"I never went to proper schools for that but was trained on the job," he said.
"The most important thing I was told during training was that cyanide kills. I have been very careful ever since. I don't want to die prematurely."
During the cyanide leach process, a solution or lixiviant is percolated through ore contained in vats, columns or heaps.
Gold is dissolved by the cyanide and then removed from the heap or columns.
At Imperani Mine, Mugadura uses this process which is known as gold cyanidation, a hydrometallurgical technique for extracting gold from low-grade ore by converting the gold to a water-soluble coordination complex.
It is the most commonly used leaching process for gold extraction.
Cyanidation is also widely used in the extraction of silver, usually after froth flotation.
The use of harmful chemicals in mining comes with its consequences, emanating from poor disposal of the harmful substances.
In most cases, this leads to people and animals being harmed.
Speaking during the tour, the Environmental Management Agency (EMA) said miners were exposed to harmful substances like cyanide.
EMA spokesperson Amkela Sidange said there was need for combined efforts to protect the likes of Mugadura whose lives are at risk on a daily basis.
She said Ema was strengthening surveillance and reviewing penalty systems against the improper use and disposal of harmful substances.
"We need an all government approach to deal with illegal miners and their harmful practices," Sidange said.
"We are talking of people that are not very formal. We usually go through structures to access them but it is difficult. It is for the good of those people hence the need to impress on them, the sound use of hazardous substances."
Follow us on Twitter @NewsDayZimbabwe
Related Topics