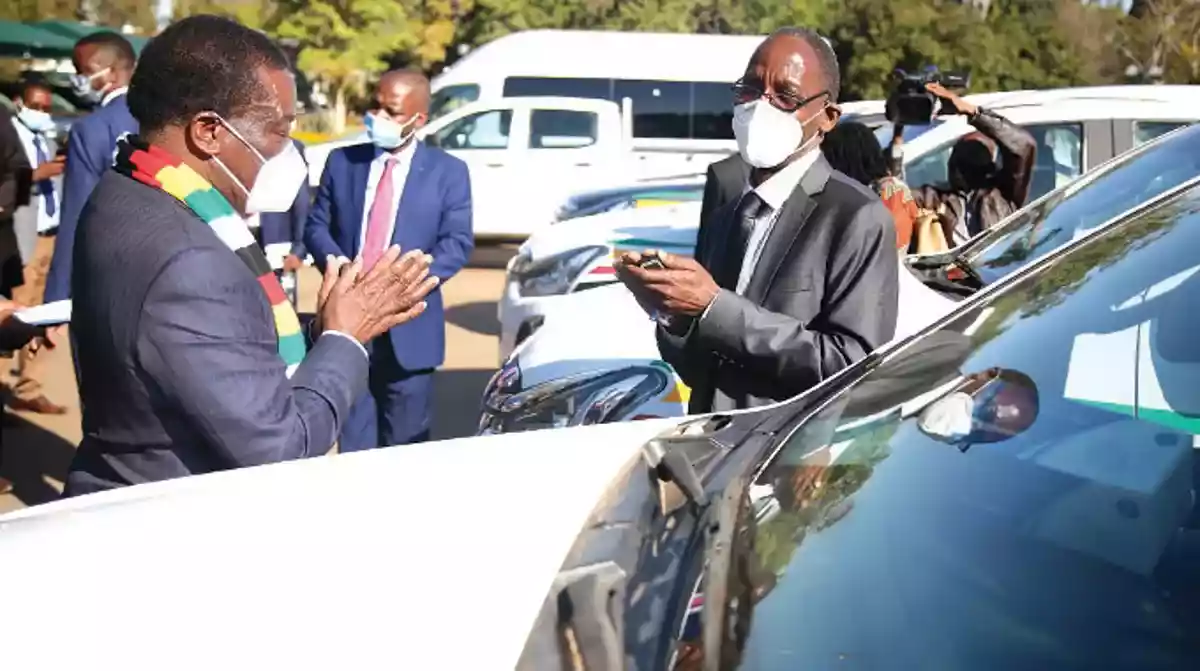 President Emmerson Mnangagwa's creation, the Political Actors Dialogue (Polad), hangs in the balance after gobbling millions of dollars in taxpayers' money as Zimbabwe hurtles towards make-or-break general elections in July or August.
Polad, which has broadly endorsed Mnangagwa's legitimacy, was formed in the aftermath of the disputed 2018 elections which the President won by a razor-thin margin against Citizens Coalition for Change (CCC) leader Nelson Chamisa.
Leveraging on his executive powers, Mnangagwa formed the outfit ostensibly to promote dialogue between himself and political opponents who lost the contested polls.
Mnangagwa's victory five years ago was upheld by the Constitutional Court (ConCourt) after an intriguing legal dispute in which the Zimbabwe Electoral Commission (Zec) was accused of vote rigging by the main opposition.
With the exception of Chamisa, Polad, which has controversially received significant funding from the government over the years, is constituted by over 23 losing presidential candidates.
In a reciprocal gesture, Polad, which also includes MDC Alliance leader Douglas Mwonzora and National Constitutional Alliance (NCA) principal Lovemore Madhuku has mellowed in its criticism of Mnangagwa and often praises him.
Despite garnering less than 2% of the vote during the last general elections, Polad members have been clamouring for funding, culminating in their request submitted to Mnangagwa in 2019 at his farm in Kwekwe for vehicles and sitting allowances. The funding, Polad members made their case at the time, would allow them to fund their opaque operations.
At that time, Mnangagwa manoeuvring to douse Chamisa's claims that his presidency was illegitimate, pledged to mobilise resources for Polad from strapped government coffers.
"In May thereabout when we created Polad, we had no direct funding. But now this is a platform which government must support because it brings harmony, it brings peace, it brings development to the country.
"Development, modernisation and industrialisation have a cost, so I am not averse to funding Polad because it brings a convergence of political and economic views for our country to move forward," the President said then.
However, with Zimbabwe set to stage watershed general elections in the coming five months, questions abound about whether Polad would be dissolved and how it will be funded in future. This stems from the fact that there is no Constitutional provision that allows for the creation of the obscure formation.
Multiple sources, in separate briefings, told the Independent this week that Zimbabwe is set to hold polls and "Polad was hanging on a thread and its fate depended on Mnangagwa's victory and his benevolence."
In the event of Mnangagwa losing this year's polls where he is expected to be fiercely contested by Chamisa, Polad could be dissolved, sources added.
"In the context of the forthcoming elections, Polad will likely be dissolved. Its continued existence in the future will depend on whether Mnangagwa wins at the polls," a source who spoke on condition of anonymity said.
In 2021, with Mnangagwa's administration battling to improve the conditions of service for civil servants amid spiking cost of living underpinned by three-digit inflation, the government splurged close to US$1 million buying vehicles for Polad principals.
Subsequently, Polad's mysterious expenditure triggered a flurry of criticism, with the main opposition threatening to slap the government with a lawsuit.
A year before, Polad members were also promised ZWL$80 million, then equivalent to about US$5 million, to travel to various nations in a bid to spruce up Zimbabwe's image while calling for the removal of sanctions slapped on the Southern African country by the United States in 2003 over allegations of violating human rights.
At that time, Polad members including Thokozani Khupe, Willard Mugadza, Kwanele Hlabangana, Aplonia Munzverengwi and Khaliphani Phugeni were expected to visit Washington, London, Brussels, Pretoria, Paris and London, on a mission to call for the scrapping of the embargo.
As uncertainty swirls around how Polad has been financing its activities, questions sent to Treasury spokesperson Clive Mphambela were not addressed at the time of going to print.
Among other questions, the Independent sought to understand how much Treasury has disbursed towards financing Polad and whether it would continue to do so after this year's polls.
CCC vice-president Tendai Biti told the Independent that Polad's days were numbered, highlighting that the outfit was a money-making scheme by the ruling political elite.
"Polad is just a money-making club. It will not exist after the upcoming polls. They have no chance of winning in the upcoming elections for them to earn the right to sit down and loot public funds on the pretext of Polad.
"This time, it is clear that CCC will win and under the new government there will be no Polad. It is just nothing but a boys' club to loot taxpayers' money," he told this publication this week
Responding to the same questions on whether Polad will subsist after this year's polls, Zanu PF secretary for administration Obert Mpofu noted the outfit would be in "existence when", the political party is in power.
"It is a policy decision by the political parties, the Polad members themselves, to decide whether the institution will continue existing or not. We cannot foretell what the outcome will be in the elections for us to say which party will be in Polad or not.
"Polad is in existence when Zanu PF is in power. The current status quo is that we are in power and since we are going to win in the next election, it will continue existing or the parties themselves will decide," Mpofu said.
Smarting from a contested election in 2008, Zimbabwe's former leader Robert Mugabe was nudged into a coalition government with the Movement for Democratic Change (MDC-T) then led by the late Morgan Tsvangirai.
In the power-sharing government that was brokered by Sadc after protracted negotiations presided over by former South African President Thabo Mbeki, Tsvangirai became Prime Minister while Mugabe remained President.
Related Topics