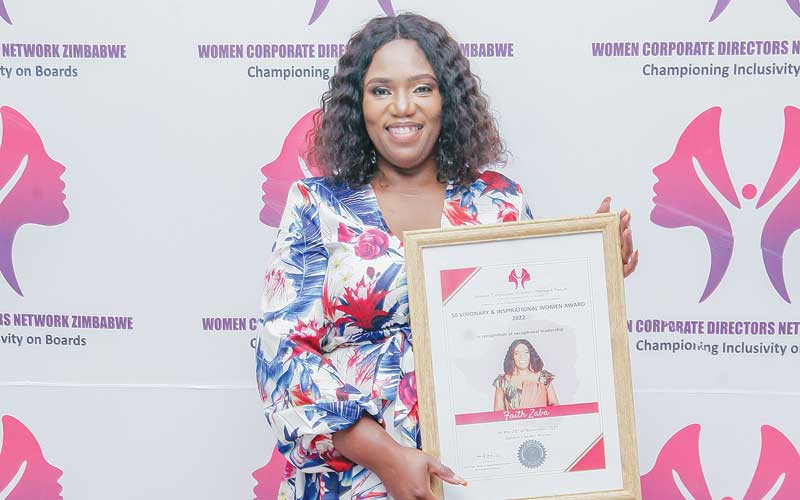 GENDER balance on board remains uneven according to the United Nations Development Programme (UNDP) resident representative Mia Seppo.
She said this at the Women Corporate Directors Network event organised by the Institute of Corporate Directors Zimbabwe (ICDZ) under the theme "The Forum, 50 Visionary and Inspirational Women and Gender Mainstreaming Awards 2022".
The event was organised to celebrate women and affirm that they can take key positions in the boardroom.
Statistics show that women's participation in leadership in the public sector in Zimbabwe is around 30%.
In 2019, out of the 103 chief executive officers (CEOs) of state-owned enterprises and parastatals, there were only 15 female bosses (14,6%).
Although there have been visible efforts to increase diversity, gender equality in the corporate world has remained slow.
"According to a 2021 study, globally, women hold only 19,7% of board seats, only 6,7% of board chair positions and only 5% being CEOs. In all countries, women are scandalously under-represented in the halls of power and boardrooms," Seppo said.
"Public and private institutions in Zimbabwe have made concerted efforts towards improving diversity in the workplace, through developing a strong legal, policy planning framework for creating an enabling environment to operationalise gender equality principles in the world of work. However, the door leading to the boardroom has largely remained closed.
"With global research showing that diverse boards in the corporate world have yielded more results financial benefits as well as benefits in the environmental, social and governance performance, it is important that the corporate world becomes accommodating for women.
"Unlocking the potential of Africa's successful transformation requires concurrently removing barriers to women's leadership and participation. Indeed, the development of the continent is inherently interlinked with the progress of its women", she said.
Seppo noted that the corporate space was critical for women because of their capability to make expedient contributions.
"The corporate space is even more critical not only because of the challenges women face entering this space but more importantly because women have shown their aptitude by making immense and cutthroat contributions in the boardrooms," she said.
"Women in corporate spaces should strive to lift others through networking. That is why through platforms such as these, it is pertinent to engage each other on how to pull each other up the corporate ladder. Sisters for sisters.
ZB Holdings chief executive Shepherd Fungura said: "When l joined Old Mutual in 2014, we had one lady in the ExCom but by the time l left we had about 16 or 15.
"We had more ladies than men. How was that achieved? It was a deliberate decision. And now whenever we have opportunities and there are competent ladies, let's take them. At ZB, we have one lady and we need to work on that and will be deliberate about it."
He said for women to climb the corporate ladder, they needed to get a mentor or a coach.
"At this stage, we're not at school, we are in real life just get the necessary help. Ask how others are doing it. After those few minutes, you are already different from what you were a few minutes ago. Get a mentor in organisations," Fungura said.
"Courage is doing what we fear. If you don't have courage all things l am talking about just fall flat. But if you are courageous," he said.
The Zimbabwe Independent editor Faith Zaba was among the top 50 visionary and inspirational women honoured for 2022.
Zimbabwe Revenue Authority Commissioner-General Regina Chinamasa, Old Mutual Insurance Company managing director Gloria Zvaravanhu, Commissioner of the Insurance and Pensions Commission Grace Muradzikwa, Sunday Mail editor Victoria Ruzvidzo and top lawyer Vimbai Nyemba were among the women that received the award at the ceremony.
Related Topics