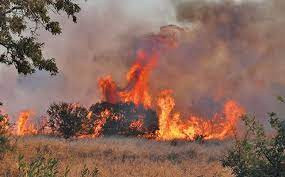 BEFORE the fateful afternoon of October 10 2022, Zimbabwe and the world at large had never heard of 20-year-olds, England Moyo and Menelisi Ngwenya, two farm workers who died while trying to extinguish a raging veld fire at Rodrose Farm in Esigodini, Matabeleland South province.
As the Zimbabwe Republic Police (ZRP) announced the victims of the inferno the next morning, the whole world was gripped by news of the tragic incident that claimed 10 lives in just a few minutes.
Jolted by the accident, the government announced a raft of measures to strongly and effectively reduce the risk of veld fires.
This followed an upsurge in uncontrolled incidents of veld fires and rising deaths recorded during the current fire season.
Addressing a post-Cabinet press briefing, Information, Publicity and Broadcasting Services minister Monica Mutsvangwa said the upsurge was threatening the gains realised in the past.
At least 18 people died in veld fires in the season observed from July 31 to October 31 each year. However, due to climate change and global warming, this season is said to have gone beyond the set period.
"As of October 12 2022, a total of 5 386 fire incidents were reported and burnt 1 244 227,34 hectares of land. The majority of the fires were recorded in A1 and A2 resettlement areas, protected areas such as safari areas, national parks and gazetted forests.
"The area burnt increased by 58,6% from the same period in 2021. The nation has lost 18 precious lives this year from these fires," Mutsvangwa said. She added that the government would establish fire coordination teams at district, provincial and national levels while also establishing rapid response teams in villages and wards across Zimbabwe.
"The fire coordinating teams will work with Agricultural Technical and Extension Services (Agrites) to facilitate localised training, education and awareness of fire management," she said. Mutsvangwa said the Environmental Management Agency (Ema) and the Forestry Commission of Zimbabwe would also conduct fire-fighting refresher courses in Rural District Councils (RDCs).
Government, she said, would also introduce stiffer penalties for offenders.However, in an interview with the Zimbabwe Independent, environmentalist and Reyna Trust executive director Sydney Chisi said the government should take note of warm and dry climatic conditions prevailing in the country which makes fires to break out.
"The challenge that we have within our agricultural setup or our farming communities is whether the farmers have got enough information about that reality that they are more susceptible to veld fires than before because it's getting hotter than we anticipated," Chisi said. Chisi said there was a need for enhanced agroecological capacity to assist farmers in achieving sustainable food security to avoid minimal experiments with fire when hunting for protein.
"Zimbabwe has become hotter and dryer. This year has been signified by the addition of two agroecological regions, 2B and 5B, which also speaks to the need for communities to adapt to those changes," he said, adding that climate change was becoming a global catastrophe.
"The phenomena is still the same even at a global level. We have seen catastrophic droughts in Madagascar, something which has not been seen in the last 50 years; we have seen occasional but now intense veld fires in Australia and in California," Chisi added.
Climate change mitigation expert in the Ministry of Environment, Climate, Tourism and Hospitality Industry Lawrence Mashungu concurred with Chisi linking veld fires to climate change.
"The ingredients of fire are fuel. So if we stack up a pile of wood in the cold nothing will happen unless there is fuel, which might be grass or firewood and then oxygen is also needed. Temperature is also high which makes veld fires a possibility.
"In Zimbabwe, you can also attest to the fact that we are in October but we still have windy conditions, which is unusual. This is a result of climate change and also unprecedented high temperatures which make conditions ripe for fire," Mashungu said.
Mashungu said Zimbabwe's compliance document to the United Nations Framework Convention on Climate Change for Reducing Emissions categorically mentioned the reduction of fires as one of the key climate change mitigation actions. Archieford Mhondera, a doctoral student at the University of Zimbabwe focusing on climate change governance in the context of the Paris Agreement, said veld fires have been a problem even in the past but their geographical spread is now linked to climate change.
"In the past, streams, small rivers and vlei used to hold water so that in cases of fire outbreak they would help. So, in Zimbabwe, due to extreme temperatures, it is possible that climate change is contributing to the incidents.
"The human factor also becomes another cause for such through hunting activities, honey harvesting, uncontrolled crop residue burning, irresponsible behaviour like throwing of cigarette butts, negligence at household level where people can dump hot ashes in open pits, charcoal burning," Mhondera said. He called for demonstrative awareness for people to participate in fire prevention activities. Mhondera also called for the need to take Statutory Instruments on veld fires such as the SI7 of 2007 Environmental Management (Environmental Impact Assessment and Ecosystem Protection) Regulations to the ordinary people
Meanwhile, Ema spokesperson, Amkela Sidange said the veld fires escalated in September and October with most of them becoming a cause for concern. "This time, we looked at veld fires as a consequence of climate change because the heavy winds are usually prevalent during July and August but they stretched up to October. This could also be an indication of the shifting seasons.
"That, again, should inform our fire prevention or rather our preparedness against veld fires. Yes, we talk of starting fires outside residential or business premises, which we know is punishable by law, so other than that we all need to look at how it can be avoided," Sidange said. She said Zimbabwe has, of late, experienced fires that jump 18-metre wide fire guards.
"In some instances, in Mashonaland Central and Matabeleland South, for example, fires jumped rivers. It's no longer just business as usual because of the heavy winds, the intensity of the fires as well as the magnitude of destruction from these fires," she said. Sidange added that Ema teams are proceeding with awareness campaigns which includes traditional leaders while enforcing laws governing the prevention of veld fires.
Related Topics