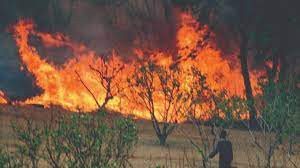 GOVERNMENT has announced plans to amend the Environmental Management Act with a view to introduce stiffer penalties against perpetrators of veld fires in order to safeguard the environment and livelihoods.
This comes after 10 people perished while trying to extinguish a veld fire at Rodrose Farm in Esigodini, Matabeleland South province on Monday.
Information minister Monica Mutsvangwa told Senate on Thursday that government was considering enactment of stiffer penalties for would-be-offenders.
"I understood what the chief said that traditional courts deal with these cases but when cases like those of arson are brought to the magistrates courts, they are not dealt with in a just manner, especially considering that such people would have destroyed people's lives and property.
"This Act will have to be looked into so that it comes back to the august House to ascertain whether the law is prohibitive, but we need to ascertain whether the law is punitive enough so that when people have participated in arson, then they will be deterred by heavy sentences," she said.
"I am going to engage the Minister of Justice, Legal and Parliamentary Affairs, Honourable (Ziyambi) Ziyambi so that the Act should be looked at. Even the Attorney-General should look at the law and the law will be brought to this august House so that it is reviewed or amended. Cabinet is really seized with the matter.
"We spoke at length concerning the issue and the suggestion will be taken up to Cabinet but we emphasise and we understand this issue," Mutsvangwa added.
Related Topics