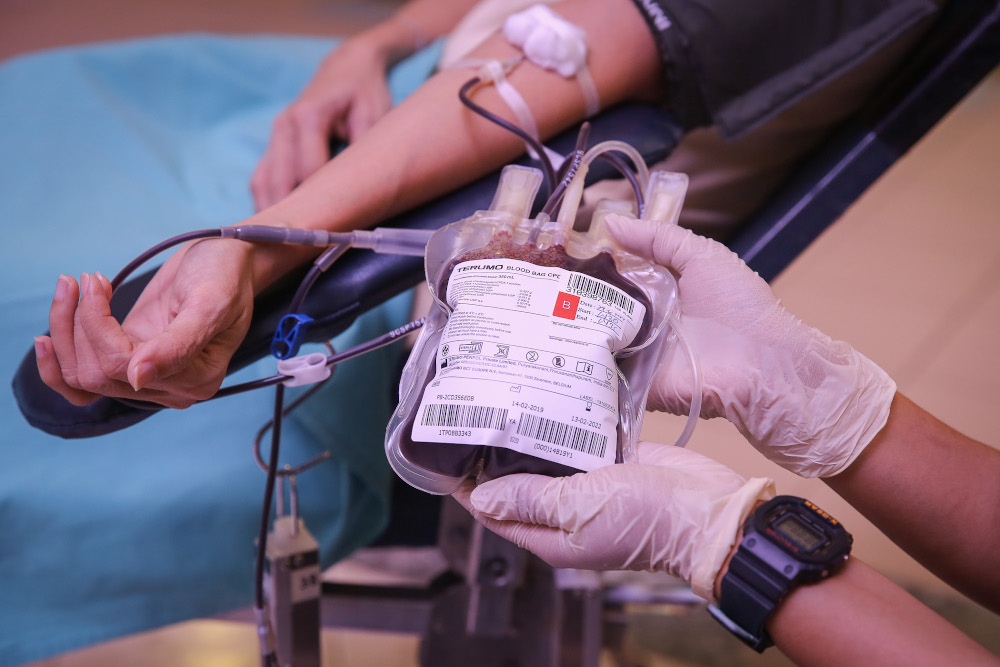 Blood cannot be manufactured outside the body so everyone who needs a blood transfusion depends on blood donors for their survival. This makes donating blood important as it helps save lives.
Every year World Blood Donor Day (WBDD) is observed on 14 June, which is next Tuesday. It is a day to remind people of the importance of donating blood and to encourage those between the ages of 16 and 65 who are eligible to donate blood to do so and do so regularly.
The 2022 slogan for WBDD is "Donating blood is an act of solidarity. Join the effort and save lives". The aim is to draw attention to the roles that voluntary blood donations play in saving lives and enhancing solidarity within communities.
Other objectives include showing appreciation for the important role that blood donors around the world play and creating wider public awareness of the need for regular blood donations.
The day recognises and promotes the values of voluntary blood donation in enhancing community solidarity and social cohesion.
Blood stock levels in Zimbabwe are low so there is a need for more people to make a commitment for year-round blood donations to maintain adequate supplies and achieve universal and timely access to safe blood transfusion.
National Blood Services Zimbabwe (NBSZ) will be hosting commemorations across the country with the national commemorations expected to be held in Manicaland on June 18. Awards will be presented to donors as a way of showing appreciation for the lifesaving blood donations they make.
Young people who might be nervous or unsure about giving blood are encouraged to sign up and start donating so that the donor population does not decline but stays strong.
A blood service that gives patients access to sufficient safe blood and blood products is a key component of an effective health system.
Benefits of donating blood Donating blood benefits not only those in need of a blood transfusion but the blood donor as well. The most important aspect of donating blood and the key motivation for doing so is helping to save lives. However, donating blood can be good for you as well.
Not only does the knowledge that your blood may help save a life tend to make you feel good but donating blood may reveal potential health problems you may be unaware of. While it is not the same thing as going to visit your doctor, donating blood can be another way to keep an eye on your cardiovascular health.
In most cases you will be given a mini-physical check-up prior to the blood draw, in which someone will check your pulse, blood pressure, body temperature and haemoglobin among other things. This can sometimes shed light on issues you didn't even know affected you.
If your blood is too low in iron, the NBSZ will tell you and will not draw your blood. You will also be informed of any other blood issues that have been noticed or if anything seems unusual. An occasional check up on your blood quality could be the key to spotting a health issue before it becomes serious.
Giving blood can reduce harmful iron stores. Many people across the world are affected by a condition called haemochromatosis but most do not know it. Haemochromatosis is a disease that causes an iron overload.
Donating blood is medically recommended as a way to reduce the body's extra iron stores. The removal of red blood cells by donating blood is the preferred treatment for patients with excess iron in their blood.
Donating blood may also lower your risk of suffering a heart attack. According to a study conducted by the American Journal of Epidemiology, donating blood at least once a year could reduce your risk of a heart attack by 88%.
This also relates to the iron issue as high levels of iron in the blood constrict your blood vessels and increase the risk of a heart attack. Depleting those extra iron deposits by donating blood gives your blood vessels more room to operate.
Donating blood may reduce your risk of developing cancer. In an average, completely healthy person, the link between giving blood and decreased cancer risk is slim. However, research does support a reduced risk of cancer for blood donors with certain illnesses, one of which is haemochromatosis.
Drawing blood was found to be an iron-reduction method that is associated with lower cancer risk and mortality, according to a study published by the Journal of the National Cancer Institute published by Oxford University Press.
The study focused on patients affected by peripheral arterial disease (PAD), which is described as a common circulatory problem. PAD patients who regularly donate blood were found to have a lower risk of developing cancer than those who do not.
Your liver can be helped to stay healthy by donating blood. Another danger of iron overload is the health of your liver.
Research has linked too much iron with non-alcoholic fatty liver disease, Hepatitis C and other liver diseases and infections. Although there are many other factors involved in these problems, donating blood can help reduce some of those iron stores and avoid extra issues in your liver.
While there are several physical benefits to donating blood, the most powerful health benefit is arguably psychological. Donating blood means that someone or multiple people somewhere will be getting the help they desperately need.
Donating blood, especially on a regular basis, can be similar to volunteer work. You give of your time together with your literal blood to help strangers in need.
When you roll up your sleeve and sit down in the chair to prepare to give blood, you know you are making a difference and that in itself makes you feel good.
Blood donations in Zimbabwe have decreased. There is a pressing need for more donors. Why not consider being one of these. You never know when you may need a blood transfusion yourself or someone close to you may need one. It will only be possible because of the generosity of blood donors.
The information in this article is provided as a public service by the Cimas iGo Wellness programme, which is designed to promote good health. It is provided for general information only and should not be construed as medical advice. Readers should consult their doctor or clinic on any matter related to their health or the treatment of any health problem. — [email protected] or WhatsApp 0772 161 829 or phone 024-2773 0663