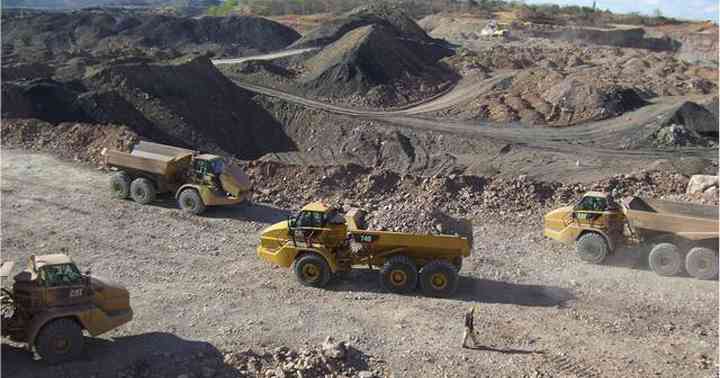 ZIMBABWE'S economy bears enormous potential for growth and sustained development that can deliver good standards of living for its citizens.
The country has vast investment opportunities in almost every sector from tourism, mining, manufacturing, agriculture, media, public utilities, information technology, real estate, transport, and financial services, among others.
Zimbabwe has a highly diversified mineral resource base of over 60 commercially exploitable minerals dominated by two prominent geological features namely the Great Dyke and the ancient Greenstone Belts. These geological formations are home to the world's second largest resource of platinum and largest lithium reserves in Africa (5th largest in the world). The features also bear billions worth of reserves in nickel, gold, copper, iron, chrome, diamond, and rare earth elements (REE), which fetch high prices on the world market.
In agriculture, the country has 167 000 km2 of arable, flat, and fertile land, which can be utilised all year round for a diverse range of farming business from cereals, cotton, tobacco, sugar, horticulture, livestock, tea, coffee and timber.
Zimbabwe is the largest grower of tobacco in Africa and the 6th largest grower in the world with an average of 230 million kilogrammes of output. The country is also a top travel destination in tourism boasting of five Unesco World Heritage Sites in the Victoria Falls, Mana Pools, Great Zimbabwe, Khami Ruins and Matopos.
These world-famous tourist hotspots add to the over 26 game parks and very hospitable personnel. In terms of labour, the country boasts of a workforce regarded as one of the most literate in Africa.
Despite all the above resource endowments and potential, the economy has grown by less than US$20 billion since independence from colonial rule in 1980. Poverty levels in the country continue to increase, with Zimbabweans living in extreme poverty increasing to 41% in 2022.
In 1980, Zimbabwe had the 10th highest gross national income (GNI) per capita in Sub-Saharan Africa. As of 2021, the country was 33 rd out of the 48 countries with only 30% of the population having access to clean water and 40% having access to electricity.
Access to basic health care, education and employment have also deteriorated over the last few years. The statistics paint a picture of how economic stagnation and instability has dragged the country downhill. Rebuilding the economy would require priority to be placed on the following institutions.
Good governance
The utmost necessity for economic development in any nation is good governance, underpinned by long term policy consistency. Zimbabwe's policy flip flows on foreign exchange controls, legal tender, mining laws (EPOs and licensing), land tenure (title deeds), energy regulation and grain marketing regulations have dented investor sentiment.
Policies are motivated by the desire to serve a selected group of businesses and persons. Policy blueprints and what prevails on the ground being worlds apart with the legislature playing a ceremonial role to statutory instruments.
To rebuild the economy, parliamentary oversight would be a necessity to attain efficient use of public resources, improve transparency in government and provide checks to executive authority. Other missing pieces to the puzzle include inclusive governance, meritocracy, and pragmatism in the appointment of leaders in government.
The Auditor-General reports dating as far back as 2014 have highlighted various aspects of mismanagement of public funds and corruption at all levels of local or central government. The starting point in good governance is to take the audit reports seriously and implement the governance reforms stated in them.
Good governance in Zimbabwe will also entail devolution of power to provinces to ensure equitable distribution of wealth across the country. Reforms are also long overdue to ensure the judiciary effectively deals with corruption (free from political interference) and tax revenues are efficiently directed towards public service delivery with no deficit financing required.
Rule of law
Rule of law provides economic stability and certainty in economic transactions backed by the country's judicial institutions. Key on rule of law are guarantees to property rights for local or foreign investors. Zimbabwe's history is littered with violations of property rights and inadequacies hence confidence has sunk to the lowest levels.
The arbitrary suspension of trading on the Zimbabwe Stock Exchange (ZSE) cases, such as the raiding of foreign currency accounts (FCA) by the central bank in 2009, incessant and arbitrary
acquisition of land, or mining claims belonging to private investors by the government tarnished the image of the country.
Without the rule of law and guarantees to property rights, there is limited trust in government policy or any publicised call for investment. Rule of law also means closure to land tenure issues for bankable title to landowners and effective enforcement of contracts by the judiciary.
There are immense benefits to the government, business and citizens in respecting or supporting the rule of law. Where the rule of law is weak or politicised, it is harder for responsible businesses or citizens to function while meeting their legal obligations at the same time.
Currency stability
Currency instability has been one of the persistent features of the Zimbabwean economy. The country entered economic history books for hyperinflation in November 2008 when annual inflation reached 89,7 sextillion (79,6 billion percent month on month) and still tops the world on annual inflation to this day.
The major driver to inflation in Zimbabwe and source of economic instability is money printing by the central bank to fund quasi fiscal operations. These operations include consumption subsidies for basic goods and services, funding mining and agricultural activities in the guise of boosting export receipts.
These payments have a direct effect on increasing money supply growth and creating artificial demand for foreign currency on and off the formal markets which depreciates the local currency. Central bank operations are largely motivated by political motives; hence it is difficult to separate monetary policy and political objectives.
Economic growth would require low and stable inflation, stable and managed floating exchange system, banking sector stability and market confidence.
Public-private sector corporation
The state of public infrastructure in Zimbabwe is now deplorable due to several years of neglect and underinvestment. The country's infrastructure gap in railway, roads, energy, sports facilities, border posts, accommodation, public health care, water, and sanitation is now huge.
Poor infrastructure adds to the cost of doing business in the country, threatens business viability and potential investment.
The current power shortages that go for 6-18 hours per day are leaving a trail of disaster in the economy.
A 2019 report by the African Development Bank (AfDB) pointed out that Zimbabwe needs over US$34 billion from 2020 to 2030 (US$3,4 billion per year) to upgrade its infrastructure to achieve sustainable levels of economic growth to keep up pace with developments on the continent, especially the Sadc region.
However, the government lacks enough resources to invest even a 10 th of the required amount every year. To close the gap and improve public-private partnerships (PPPs), Zimbabwe requires a PPP Act, which is clear on foreign exchange concerns for investor returns. So far, PPPs are not ideal due to high country and credit risk, economic and financial instability, political interference for rent-seeking behaviour, and inconsistent policy framework.
Investment, free markets
Apart from the high levels of inflation that emanate from policy induced economic shocks, investment in the country has also been hampered by the hostile business environment. The prevailing foreign exchange controls, especially restrictions on repatriating dividends, moving capital and conversion to local currency using a pegged exchange rate have proved to be a nightmare for local and foreign investors alike.
In the end, potential investors go elsewhere in the region where exchange rate losses are minimal and capital movement is less restricted. New investments in key sectors, such as mining, media and agriculture are politicised.
In terms of free markets, the biggest constraint emanates from State Enterprises and Parastatals (SEPs) especially regulatory authorities.
Rebuilding Zimbabwe requires free market policies that provide incentives to businesses while the government concentrates on tax collection for its primary responsibility of providing a safe and stable economic environment, public service delivery and managing the negative externalities of economic growth.
Access to credit, interest rates and access to public utilities remain challenges for new businesses. The current taxation regime has multiple tax heads, levies, permits, licenses, and statutory fees that do not add value to competitiveness for formal economic players.
The unpredictability of the government's economic policies and the unstable political and economic climate in recent years has eroded confidence in the economy. The Zimbabwean government needs to do away with its obsession for control through temporary legislation and allow free market policies to shape private sector investment in the economy.
This will help fight the cancer of corruption that has torn apart the economic fabric and tainted the culture of governance.
Genuine reforms to the country's institutions can correct the negative impact of decades long misgovernance and mismanagement of public resources in a very short period of time.
Above all Zimbabwe's economy will stand above individuals or organisations of the day and be guided by principles, policies and systems that are perpetual.
Bhoroma is an economic analyst. He holds an MBA from the University of Zimbabwe. — Email [email protected] or Twitter @VictorBhoroma1.
Related Topics