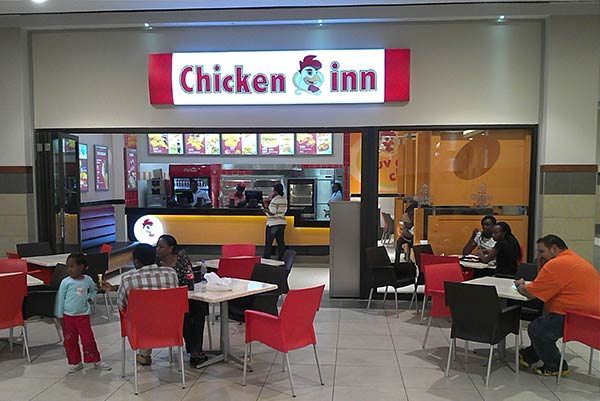 Piggy's Trading & Investing Tips YOU may be grumbling to your friends about inflation, but higher prices have not stopped you from not paying ZW$700 (US$5) for a two-piecer from Chicken Inn.
Simbisa Brands is the Quick Service Restaurants (QSR) group which runs Chicken Inn, Pizza Inn, Bakers Inn and Creamy Inn, Nando's, Steers and Ocean Basket, amongst many others.
The company is listed on the Zimbabwe Stock Exchange (ZSE) and is currently trading on a historic price-to-earnings ratio of 88.4x.
The natural inclination for any analyst would be to quickly dismiss the stock as a sell given that the historic metrics are on the expensive side.
However, there is more that should be considered when estimating the prospective earnings.
Simbisa Brands' FY 2021 results show a 450% in revenues to ZW$17,1 billion (US$141,6 million) driven by a 34% increase in consumer spend and an 8% increase in customer count. Aggressive cost containment measures resulted in a 446% increase in EBITDA.
The investment thesis in the stock lies in the pursuit of local and regional expansion that will capture more customers with additional product varieties.
We think the business will benefit from economies of scale and remain cognisant of positive GDP growth expectations in the region which warrants positive performance from Simbisa Brands.
The share price has out-performed market benchmarks as illustrated in the graph.
An important observation is that Simbisa Brands has turned itself into a digital pioneer.
Instead of hunkering down during the pandemic, it has embraced new ways of doing business.
In recent years, Simbisa has invested heavily in installing state of the art kiosks, online delivery platforms (Dial a Delivery) and making other improvements such as drive-throughs.
That is because Simbisa Brands has used the crisis to step up the pace of its transformation, resulting in big sales surges.
Recent reports indicate that the group is looking to invest a further US$10 million in retail outlets expansion across the country as it seeks to consolidate its market share in the fast-food segment.
According to management, Simbisa Brands will add at least 40 outlets in the next six months, 15 of them in Harare.
The group will also target outlets along main highways particularly Bulawayo, Mutare, and Masvingo roads.
The company is also looking at broadening its promotions as an incentive to grow its customer base.
More recently, the business launched a mobile online payment platform, InnBucks.
In our view, this is clearly a major disruption in that it can considerably change the behaviour of consumers.
The platform seeks to solve USD change shortages at its outlets and allows customers to purchase food for their families and colleagues from anywhere in the country.
Overall, the biggest bull point is that Simbisa Brands makes use of Big Data Analytics in its processes.
Big Data is basically the science of collecting massive amounts of data and converting it into smaller chunks of manageable information that can be used to gain extensive and relevant insights on a subject.
In order not to be left behind while keeping pace with the fickle eating tastes of the consumer which vary according to the season, time of the day, weather, or their moods, Simbisa Brands mines for big data and converts it into meaningful information which in turn is employed for enhancing management decisions and improving overall sales performances.
In conclusion, big data is paving its way to revolutionise the food industry as firms are incorporating it to interpret customer feedback and food preferences for boosting their customer experience and sales.
Simbisa Brands is well-positioned in this regard given its various platforms such as mobile apps that enable the business to capture important data.
Piggy likes Simbisa Brands and thinks investors should keep it.
Get more tidbits on the stock market by joining a PiggyBankAdvisor WhatsApp Group (+263 78 358 4745)
Matsika is the head of research at Morgan & Co and founder of piggybankadvisor.com. —  +263 78 358 4745 or batanai@morganzim.com/batanai@piggybankadvisor.com.