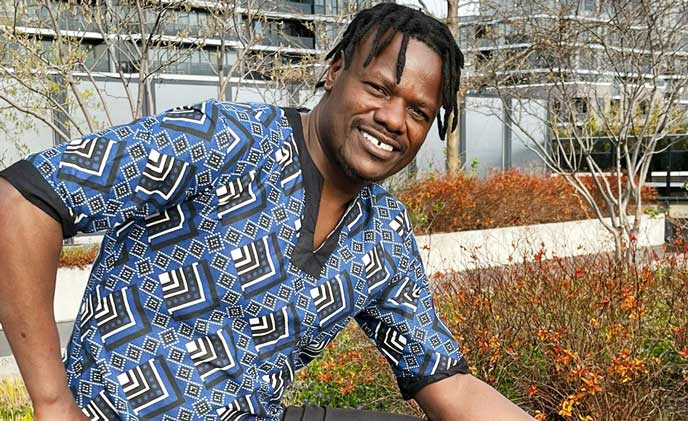 By Takemore Mazuruse
Afro-traditional musician Mambo Chivero, born Osman Gambiza is on a mission to take mbira music to the world and he has pledged to continue churning out quality productions that represents the authentic Zimbabwean sound and culture.
The 43-year old Canada-based crooner recently released a 10-track album titled Mavambo — the beginning and he believes he has what it takes to carry the mbira music torch forward.
"Mbira music is my first love and I am happy to be playing my part in promoting it as an Afro-traditional musician," said Mambo Chivero.
"I was born in Mhondoro and raised in Harare.
"Growing up my life was not all rainbow and sunshine.
"We had lots of challenges based on our family dynamics that impacted my sisters and I negatively.
"I am happy that the Lord has been faithful and I am not only earning a living through my work but also playing my part in moulding society through well-thought music."
The musician said while he is encouraged by the strides that local music is making, he is more inclined to produce quality, well-composed and well-arranged music that reflects Zimbabwean culture and values hence his love for mbira music.
"The mbira instrument is a part of our history and it was used in the fight against colonialism," he said.
"In addition, when I hold a mbira in my hands, my creative eyes are open and lyrics flow easily.
"I would say mbira is more like my auto-tune.
"Most of my inspiration comes from all genres of music.
"However, listening to artiste such as Dr Thomas Mapfumo, Oliver Mtukudzi, Zexie Manatsa, Leonard Dembo among others grew my passion and moulded my music acumen.
"On the international scene I idolise Salif Keita and Bob Marley plus many more talented artistes throughout our beautiful continent Africa.
"Bottomline, music is my lifeline and I am happy to play my part in this sector."
Growing up under difficult circumstances has moulded Mambo Chivero into the grounded person and musician and he reckons he was taught to play mbira at the age of six.
"I am the only boy in a family of seven and I grew under a military style discipline as my dad was a top cop and no-nonsense guy," he said.
"At the age of six years, I was taught to play the mbira by my uncle and since then I fell in love with the instrument.
"Even-though I loved the instrument and wanted to spend all my time playing it; my father would emphasise that I must focus on obtaining a good education.
"My father had his own mbiras in the house; however, they were not assessable to me which piqued interest even more.
"So, whenever, my dad was away I would hide and play his instrument and when he found out I would be in big trouble.
"I am, however, grateful that the emphasis on education gave me a good launchpad to life."
Though music is first love, Mambo Chivero is employed by a fuel company, but his long-term plan is to venture into music full-time and relocate back home so that he can focus on what he loves and treasures.
"I already have considered myself a full-time musician," he said.
"However, to claim title I would have to implement strategies and measures to ensure that I am able to survive in an ever changing music environment.
"My long-term plan when it comes to my music career is to relocate back to home to Zimbabwe within a few years."
Consistency, passion, hard work and professionalism are the cornerstones of Mambo Chivero's music career and he believes he has what it takes to stay in the game and make a lasting impression.
His first production was in 2021 and this year he released an album with plans for another one early next year.
"I am in this industry to stay and I will continue to give my all," he said.
"I released my first single Caro Chikende in October 2021 on all music streaming platforms.
"It also came with a video which was shot in Jamaica and  is available on YouTube.
"Fast-forward to April 2022, I release my first studio album titled Mavambo (The Beginning).
"The album comprises of 10 tracks, which is now available on all music streaming platforms.
"I am also working on my second album, which I am hoping to release on my birthday in January 2023."
The mbira crooner said he will be visiting Zimbabwe in August for some video productions and charity events as a way to give back to the motherland.
"My aim is to be in Zimbabwe in August to conduct video shoots for the upcoming album as well as participating in charity events," Mambo Chivero said.
"I strongly believe we are blessed for others and our culture demands regard for others in all we do.
"We also have a few projects we are working on such as the Mambo Chivero merchandise and other long-term charity projects."
Mambo Chivero, is married to a Jamaican, and was grateful for the support from family. He is happy to promote the authentic Zimbabwe-African sound given his current location in the West.
"I am blessed to have a supportive family, especially my wife who has always encouraged me to be proud of who I am and to carry the mbira music instrument with pride," he said.
"I have always been promoting the music and culture of Zimbabwe in the form of wearing the traditional attire and participated in festivals that showcase various cultures from around the world.
"For the month of July, I will be performing at several of these festivals and once again showcasing that our Zimbabwean music and culture is alive and well."
Mambo Chivero said he was in awe of the depth of talent in Zimbabwe and will be happy to collaborate with the likes of Mapfumo, Jah Prayzah, Alick Macheso Nicholas Zakaria and any other artiste that is willing to join their sound with the sound of the mbira.
His wife also loves Tocky Vibes and hinted on a collaboration with the popular artist.
Related Topics