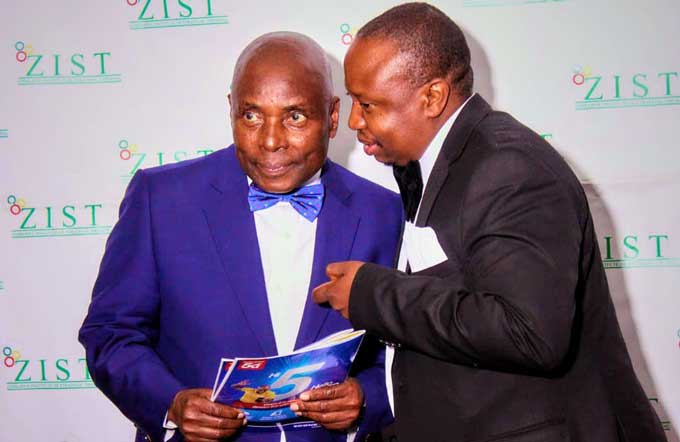 By Albert Masaka GETTING the nod to interview one of the country's most accomplished specialist doctors at his house, somehow activated a knee-jerk anticipation of learning more about the inner workings of his revered profession.
I must confess that I even did a quick rehearsal on how to pronounce the word 'ophthalmology'.
The tongue-twisting title of Dr Solomon Guramatunhu's profession, has embarrassed many at public fora.
However, I was in for a huge surprise, an intriguing one for that matter.
The good doctor is a larger-than-life character, so is his majestic mansion, a towering work of architectural art in the upmarket suburb of Borrowdale.
His trailblazing journey is one of a hard-driving achiever.
The renowned eye surgeon is also an art collector of first generation sculptures, modern sculptures and paintings.
Not only is he inspired by issues that directly advance his career, his focus is also on higher principles for the common good.
"My interest basically is in health and education, but philanthropy is a big part of my life.
"I like to change lives, to see black people in this country live better, which defines me," he said.
"A person can't be poor because another is rich or wants to be the only one who is rich, it's possible for most people to become rich at the same time.
"We want people who think not only of themselves, who care for others, you see Albert.
"Fine I stay here, but why can't we have a society where the poorest of the poor enjoy all the basic needs, by getting adequate health care, good schools and  three meals a day?"
The jolly good doctor believes that Zimbabwe, is trapped in leadership-imposed limitations and needs to be mentally accomplished before it can be transformed.
"It about the mindset Albert, if you and I can't convince each other, let us convince our children, so that they grow up thinking better, not to mortgage our country," said Guramatunhu.
"We are busy selling all our mines to others. We sell a lithium mine for an amount the mine will realise in a day once fully operational, can you imagine?
"Our poor self-image is the major obstacle to success.
"We have a deeply embedded inferiority complex. We think we are less than other races. We even think their hair is better than ours. That's not true."
In order, to come out of its economic mess, a country's wealth grows when it is distributed, he adds.
Setting an overall economic vision and strategy that efficiently provides  supportive infrastructure and services, is  a key function for any  progressive government.
For that reason, a government should not limit its citizens' awareness of their potential, to that end it should maintain a regulatory environment that is conducive to entrepreneurial activity
"A country's leadership creates opportunities for its citizens rather than making them victims or at worst enemies of the state," he said.
This is not without any basis, the rapid economic transformation of China backs up his argument.
Since opening up to foreign trade and investment and implementing free-market reforms in 1979, China has been among the world's fastest-growing economies.
"China was very poor 30 years ago until it changed that, the transformative leadership didn't care about the colour of the cat as long as it caught mice," Dr Guramatunhu said.
Rwanda, Cuba, Finland and Singapore bolster his good models of how to transform economies.
"Singapore is a small island, they have no single mineral, no agriculture, fresh water comes from Malaysia, but their strategies developed the country within 25 years," he said.
Striking, is his uncompromising urge to help others with the knowledge and experiences amassed over the years.
"We can't justify this poverty, fine, I live well, but  right now every child should have a computer, all our schools should have solar, is this is not from God?," he said.
'Nations will also progress when they invest in education, in doctors, lawyers, teachers, from ECD level he says, as a parting shot."
To the youths, his advice is simple. There is no short cut to hard work, and focus and they should honour their parents.
But it is at the macro level, were a country's leadership has a moral duty to provide opportunities for its young people, he stresses again,
Background
Born in 1954 in Nyazura, Dr Guramatunhu is the second born of seven siblings.
After being educated in Nyazura, he obtained a scholarship to do his A Levels at Waterford Kamhlaba School in Swaziland before coming back home  to study medicine at the University of  Rhodesia (now Zimbabwe).
After graduating in 1979, he went to specialise in Ophthalmology in the United Kingdom.
Achievements
When he came back to Zimbabwe, he was to head the Sekuru Kaguvi Eye Hospital and through his leadership it was upgraded to a referral tertiary and training centre.
After 37 years of independence he started the country's first school of optometry at Bindura University of Science Education School of Optometry through a private-public partnership between his company Optinova Eye Care and the tertiary institution.
He is founder and chairman of Eyes for Africa programme that offers free cataract surgeries in rural elderly folks.
As patron of the Zimbabwe Rural School Library Trust he constructed the Solomon Guramatunhu Library and ICT Centre at his primary school.
He is also founder and chairman of the Guramatunhu Family Trust Scholarship funds which vulnerable students.
Hobbies
Latino dancing, scuba diving, dressage, art collection and yoga are some of his hobbies
Related Topics