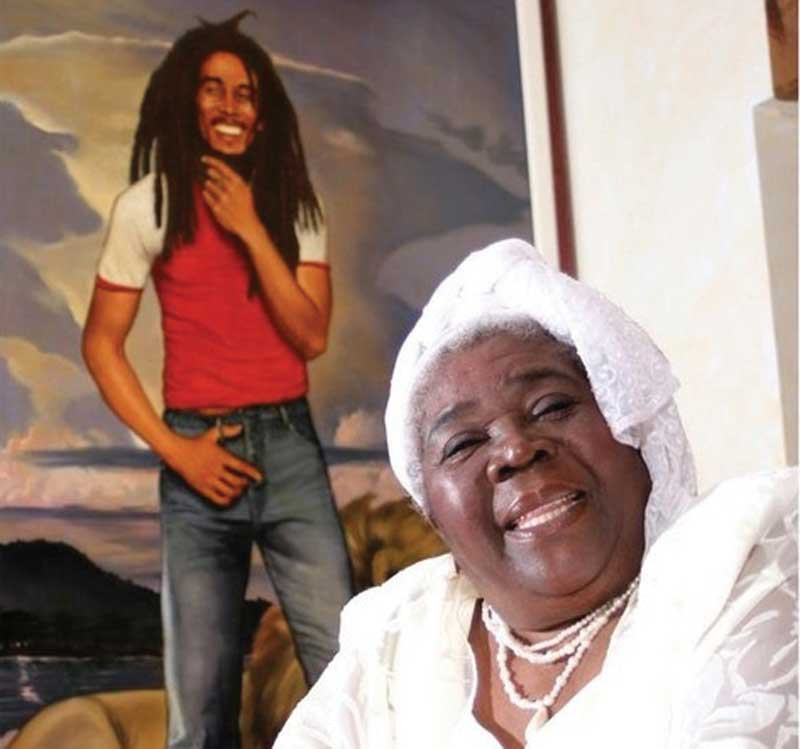 We often talk about Bob Marley and Rita Marley but we hardly talk about Cedella, Bob Marley's mother who died in 2008, aged 81. She is not to be confused with Cedella Marley, Bob Marley's daughter named after her.
Not many people know that Cedella Booker, Bob Marley's mother, was a musician in her own right and she was a great inspiration to her son, Bob Marley.
Many people know her as Cedella Booker and not Cedella Marley. There is a bit of history to it. She grew up as Cedella Malcolm and briefly changed to Cedella Marley. After that she became Cedella Livingston. Finally she was called by what we all know her today as, Cedella Booker.
How did all the name changes come about?
Cedella lived in the humble community of Rhoden Hall and later moved to close by Nine Miles , St. Ann, Jamaica, for 17 years.
She was a shy, unassuming Christian young girl, who was known for her lovely singing voice. Her singing had unknowingly captured the imagination of one Captain Norval Marley.
Captain Marley was a white-skinned overseer of the West India Regiment.
During the day he was the 'bockra massa' that brokered deals with the poorer residents concerning farming contracts or resettlement to get more land.
After settling in at Nine Miles, he had successfully sought tenancy at the Malcolm's family residence, popularly called the Big House. It is here that he initiated a sexual relationship with Cedella, his landlord's 17-year-old daughter.
His actions were reminiscent of those of his slavery days ancestors who had carried on with many innocent and not so innocent young black girls, with most of these relationships ending with pregnancy and the social scorn of illegitimacy.
Early one Tuesday morning in February of 1945 Bob Marley was born and Cedella "Ciddy" Malcolm had come to the climax of what had been a tedious journey,and the beginning of the journey of Cedella Booker and Bob Marley.
Her unborn child had caused her to be in a state of constant morning sickness and several hours of labour spanning almost two whole days.
In the period of two years, now 19, Cedella had experienced love, child bearing and a broken promise of a happy ending and lasting marriage.
Prior to giving birth to a 6 ½ pounds baby boy that would later become "the reggae king of the world", none other than Robert Nesta Marley, Cedella experienced rejection from the Marley family.
It must have been rather challenging (financially and psychologically) for a young mother who had to now face the reality of raising a boy child without a father.
She, however, received great assistance from her immediate and extended family members in the upbringing of young Nesta.
Her brother, aunts and especially her father Omeriah had stood by her through the toughest of times although they were disappointed by her actions.
Similarly, the Marley family were equally disappointed due to the fact that their "superior" white son had spent time with a black woman.
As we already know, Cedella Booker was the mother of reggae music icon, the famous Bob Marley.
She was born Cedilla Editha Malcolm in Rhoden Hall on July 23, 1926 in Saint Ann Parish, Jamaica. She was the daughter of Albertha Whilby and Omeriah Malcolm, a farmer, "bush doctor", and one of the most respected residents of Nine Mile.
Her paternal grandfather was Robert "Uncle Day" Malcolm, who descended from the Coromantee (or Akan) slaves shipped to Jamaica from the Gold Coast, today known as Ghana, in the late seventeenth and early eighteenth centuries. Cedella Malcolm married Norval Sinclair Marley, a white Jamaican of English and rumoured Syrian Jewish descent, whose father's family came from England; the family of his mother, Ellen Marley (née Bloomfield), came from the Levant.
She became pregnant with his son, Robert Nesta (whose second given name "Nesta" means "wise messenger"). Norval Marley was an officer as well as the plantation overseer.
His family applied constant pressure for support, however, and although he provided financial support for them, the Captain seldom saw his wife and son. Bob Marley was ten years old when his father, Norval, died of a heart attack in 1955 at age 70.
Cedella Booker and Bob then moved to Trenchtown, a slum neighborhood in Kingston. This was the only place Booker could afford to live at the time, being a young woman moving from the country to the big city on her own. Being the roughest part of Kingston, Bob Marley and his mother had a rough time. I am sure this is what inspired songs like Talking Blues, part of the lyrics go something like this: Cold ground was my bed last night
And rock was my pillow too.
He had obviously experienced sleeping rough out in the cold and used rocks as his pillow.
While living in Trenchtown, his mother, Booker gave birth to a daughter, Claudette Pearl, with Taddeus Livingston, the father of Bunny Wailer, who formed the original Wailers trio with Bob Marley and Peter Tosh in 1963. Not many people know that Bunny Wailer and Bob Marley were half-brothers.
After Taddeus Livingston, Cedella then married Edward Booker, an American civil servant, and resided first in Delaware, where she gave birth to two more sons, Bob's half brothers, Richard and Anthony, with Booker.
After Edward Booker's death in 1976, Cedella moved to Miami, Florida, where she was present at the deathbed of her famous son, who died from cancer in 1981.
In 1990, Anthony was killed in a shootout with Miami police, after walking through a shopping mall with a 12 ga. shotgun and opening fire on responding police.
Booker lived in Miami for the remainder of her life. She is survived by her son Richard Booker and his children Princess Booker, Crystal Booker and Zaya Booker. After Bob Marley's death we hardly hear of Cedella, but she is the one who was instrumental in keeping his name alive.
In 1993, Cedella Booker, in order to keep the memory of her son alive, conceived and created what is today called the 9 Mile Music Festival, an annual music event held every year since in Miami to help keep alive Bob Marley's message of peace, love, and harmony. As part of the admission fee to the one-day music festival, attendees were asked to bring canned goods that were collected and donated to help feed the needy in the Miami area through various local charities.
Called "the keeper of the flame," Booker grew voluminous dreadlocks, adopted her grandson Rohan Marley, (Bob Marley's son by Janet Hunt), and occasionally performed live with Marley's children, Sharon Marley , Ky-Mani Marley, Ziggy Marley, Cedella Marley, Stephen Marley, Damian Marley and Julian Marley.
Later, she released the albums Awake Zion and Smilin' Island of Song. Cedella Booker participated in the festivities in Addis Ababa, Ethiopia, commemorating Marley's 60th birthday in 2005. She also wrote two Marley biographies. Which are based on the subject of her son, Bob Marley.
Bob Marley: An Intimate Portrait by His Mother, which was published in 1997[1] by Penguin Books. and
Bob Marley, My Son, which was published in 2003[1] by Taylor Trade Publishing, .
Bob Marley's mother, Cedella Booker, died in her sleep from natural causes in Miami on April 8, 2008. She was 81.
The above are the trials and tribulations Bob Marley's mother experienced in her lifetime.
Feedback: [email protected]
Related Topics