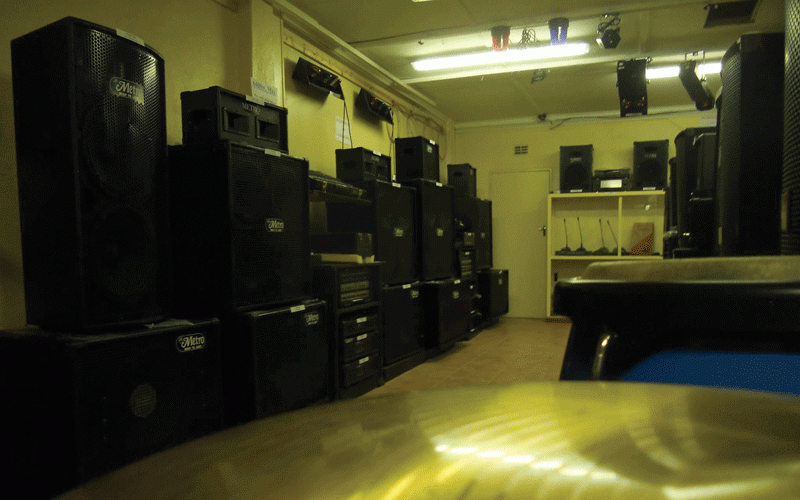 Bob Marley came to Zimbabwe in April, 1980 to celebrate Zimbabwe's independence from colonial rule.
With him, came a chartered Boeing 707 from London to Harare which was loaded with 21 tonnes of equipment; a full 35-thousand (35 000) watt P.A. system plus backline equipment.
It was one of the most extraordinary logistics operations. Mick Cater, from Alec Leslie Entertainments who was the sound technician and team leader, flew down the night before the independence celebrations with the stage crew and the equipment and then set himself the problem of building a stage in time for the independence celebrations.
By Wednesday, when the 12-strong road crew had arrived in Zimbabwe, Mick Cater had six hours in which to construct the stage and find sufficient power for the P.A.
By the time the independence ceremony had started, the stage was ready.
At Rufaro Stadium, Zimbabwe Television (ZTV) found its best camera positions while the seating arrangements for the world's dignitaries including Prince Charles (Now King Charles) and Lord Carrington of Britain, were being decided.
To one side of the stadium a construction crew completed work on a massive stage. This was for Bob Marley and the Wailers. Now, 'massive', of course, is a relative word.
It's the kind of stage accepted as par for the course at most European and American music festivals. In Zimbabwe, it became one of the greatest music stage construction jobs ever seen. And it was built in something like six hours.
The country had never seen such massive musical equipment before.
Heaps and heaps of speakers similar to those displayed during Woodstock festival were at Rufaro Stadium on April 18, 1980.
Everyone present, was impressed by this display of massive equipment.
Come 1982, Parliament decided that Zimbabwe should match the massive display of a musical show shown by Bob Marley and the Wailers.
The only problem was that there was no P.A. system in the country which could deliver the same amount of sound power to thousands of people in Rufaro Stadium.
The government then started looking for people who had the technical know-how of how such massive P.A. systems like the one brought into the country by Bob Marley work.
The task was given to the ministry of Youth, Sport and Culture run by Ernest Kadungure. He then asked Steve Roskilly and Cyprian Mandala to fly to London in order to purchase such equipment to make sure that it arrived before independence celebrations in 1982.
Cyprian Mandala who was now working with the ministry of Youth, Sport and Culture had had experience with the Stars of Liberty Band in 1979 where he was the percussionist and sound engineer.
Steve Roskilly had a lot of technical skills in sound production. He was the producer and principle music engineer at Blackberry Studios and later became the CEO of Shed Recording Studios in Zimbabwe.
He was later instrumental in arranging the Paul Simon Graceland African Concert in 1987 with Neil Dunn, then acted as technical manager for subsequent international concerts. Bruce Springsteen, Eric Clapton, UB 40, Randy Crawford, Sting, Peter Gabriel and others. He is also well known for producing The Bhundu Boys to some acclaim in UK.
Together, Steve and Cyprian brought the 40 000 watt P.A. system and its backline equipment to Harare in 1982, ready for independence celebrations that year.
The P.A. system was under the custody of the (now defunct) ministry of National Supplies and was the responsibility of the ministry of Youth Sport and Culture. The P.A. system was the most important piece of equipment to musicians in Zimbabwe in the 1980's.
At independence celebrations in 1982, local bands were lined up to perform in Rufaro Stadium.
Misty-in-Roots, a reggae band from London was also invited to these celebrations. It seemed the government wanted a repetition of the Bob Marley event in 1980. This went down well.
After the celebrations, with Cyprian Mandala in charge, Misty-in-Roots were allowed to arrange their own shows throughout Zimbabwe using the government P.A. system.
They stayed in the country for six months and it was during this period that the system began to disintegrate. Members of local bands who acted as supporting acts at some of these functions began to take advantage of the P.A. system.
I remember at Barbourfields Stadium in Bulawayo, two band members of a Harare-based group trying to extract a fifteen inch JBL speaker from the P.A. system while it was playing.
Someone noticed what was going on and informed security. The two men ran away.
After Misty-in-Roots left the country, the government decided that the P.A. system would now be under the custody of the ministry of Primary and Secondary Education which was under minister Fay Chung.
A meeting of local promoters with the minister was held and it was decided that Debbie Metcalfe of Frontline Studios would run the disintegrated P.A. system.
However, some local musicians who were starved of band equipment would go to the storage where the system was kept and would help themselves to some bits and pieces to the extent that the system was eventually rendered useless.
When the government realised that there was no longer a viable P.A. system in the country and due to the scarcity of foreign currency in the country to purchase another one, they opened up to private players to bring in their own P.A. systems.
Initially several music promoters were hiring equipment from Pro-Sound in South Africa. There were hassles at the border in clearing the equipment because customs officers were not trained to identify the several parts such as the multicore, eliminator B, Front of house, monitor mixer and so forth which came with the equipment.
Sometimes equipment for a scheduled concert would arrive two to three days after the scheduled date of the proposed concert due to delays at customs. This became a big loss for the concert promoters.
In 1985, when Jamaican born Cedric Steele heard about the lack of P.A. systems in Zimbabwe, he decided to get into a business venture by shipping into the country a whole concert equipment. He called it Black Giant P.A. system and would hire it out to local and international acts.
Two years later, The Bhundu Boys who were making a name for themselves in the U.K. also decided to ship into the country a massive P.A. system which was being run by Debbie Metcalfe. They called it the Frontline Sound. This is the P.A. system which was a source of dispute between Rise Kagona and Biggie Tembo before the Bhundu Boys split as each claimed to have invested in the massive equipment.
Come early 1990's with Jonathan Moyo as minister of Information, he allowed musicians who could afford it, to bring into the country, their musical equipment duty-free. Webster Shamu, who also became minister with the same portfolio continued with this gesture.
Through Webster Shamu's efforts, one P.A. system was even donated to the Zimbabwe Union of Musicians. The last time I heard about that system,was when it was stored at the late Michael Sekerani's home.
A lot of gospel musicians, taking advantage of the duty-free window, brought P.A. systems which varied in sound and sizes.
Waking up to the fact that there is a shortage of P.A. systems and musical equipment in Zimbabwe, local business people began to build their own P.A. systems and other musical equipment.
One such example is a Mr. Sibindi of Metro Systems based in Msasa whose business was established in 1995.
He manufactures P.A. systems and musical instruments and distributes them throughout Southern Africa and other destinations.
A lot of local churches which house bands and musical acts go to Metro Systems to buy band equipment.
As to what happened to the government's P.A. system, please don't ask me. I am not in government. Put it this way, I have not seen it being used anywhere. In my opinion, The National Arts Council of Zimbabwe would be the appropriate institution to house this equipment.
Feedback: [email protected]
Related Topics