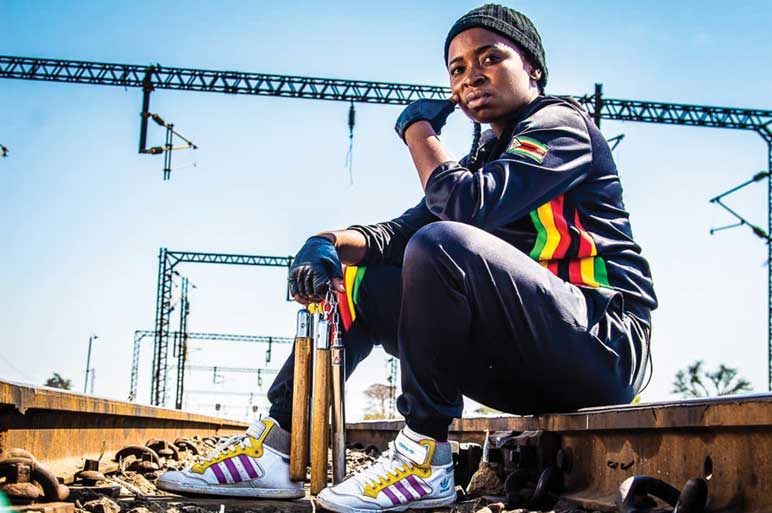 BY MUNYARADZI MADZOKERE MULTI-TALENTED female karateka Mitchell Rudanda only took up the sport in 2019 and has already won about 30 medals in virtual tournaments, the bulk of them gold.
An architectural designer by profession, Rudanda was already thriving in a male-dominated construction industry by that time but still felt inadequate.
In her heart of hearts, she felt a heavy burden for women who gave up their lives for marriage and bad things such as crime, drugs and prostitution for the simple reason that they are not academically gifted.
"I noticed that there are many girls out there who are disadvantaged academically and some of them are giving up and getting married early while others end up giving themselves to bad things like drugs and prostitution. I wanted to show the girl child that you can actually use your talent to earn a living," the Norton-born star told The Sports Hub.
"I am a woman in a male-dominated industry, construction and I was already an inspiration to those who are doing well academically. I started karate in 2019 towards the end of the year.
"During the Covid-19 lockdown, we were participating in virtual international and regional tournaments. I managed to pick up a few medals. Right now I have 30 medals and 20 are gold, seven silver and three bronze medals all acquired on virtual tournaments," Rudanda said.
The karateka who turns 30 this week is a student of the Zim Ninja Academy under the country's former Sportsperson of the year Wilfred Mashaya.
Rudanda specialises in five different karate techniques namely Kyokushin, Kobudo, Ninjutsu, Nunchaku and self-defence.
"I have big dreams. I wish to go to world-famed martial arts academies outside the country where I can advance my knowledge. I would love to even visit Okinawa Japan where karate began.
"The dream is to be recognised internationally and enter the hall of fame for karate. I want to go places to lift my country's flag and I want the world to know that in Zimbabwe there is Mitchell the weapon warrior," she said.
The karateka has been invited to compete in Poland in a couple of months, which will be her first physical event since she took up the sport if she manages to go.
Rudanda speaks about the challenges she has faced as a woman in karate.
"We live in a patriarchal society and it's very difficult for society to quickly accept that a woman can pursue karate as a sport. People start saying you will be beating your husband. But people are accepting bit by bit and I am very grateful
"Another challenge is that sponsorship is hard to come by because not many people know about me and what I am doing in karate, especially as a woman. Right now, we have an invitation that we got from Poland to come and represent Zimbabwe in Kobudo, which is an ancient Japanese weapon event.
"We are supposed to go in September and the team has 10 people including four women, one of us is a young girl, so that we can go and represent the country. As women, we also experience natural monthly cycles and I am very grateful to our teachers because they understand us," she said.
Interestingly Rudanda's childhood dream was to become a lawyer and yet she turned out to be an architectural designer, a karateka and an actress.
Inspired by US-based Zimbabwe actress Danai Gurira and American female martial artist and actor Cynthia Rothrock, Rudanda has already been part of three film projects.
Smoking Gun is already showing on ZBC TV while she was also part of a short film as well as Center of Trouble which is yet to be released.
Related Topics