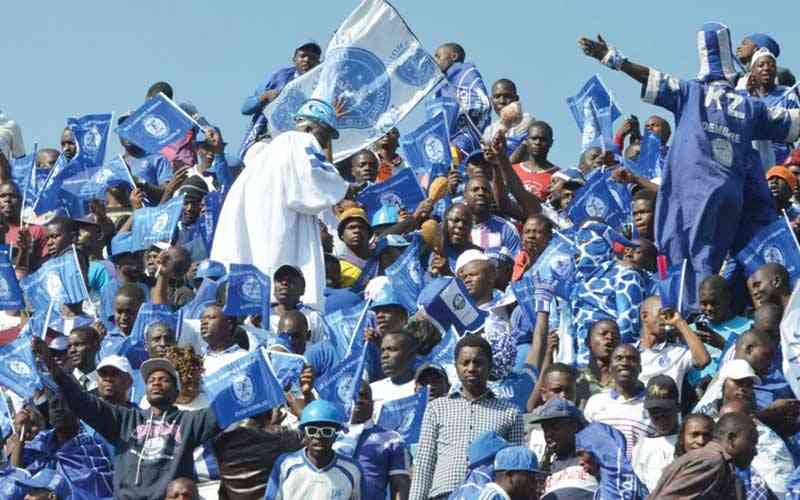 ZIMBABWEAN football has over the years suffered due to dwindling crowd attendances at stadiums due to various factors.
Some have pointed to the harsh economic climate, others to the advent of European football while some argue that generally football standards have gone down forcing fans to stay away.
Matches involving small teams are being played in virtually empty stadiums with the most recognizable people being journalists and club officials but no paying fans.
Even crowd pullers like Caps United, Dynamos, and Highlanders, have also suffered and have witnessed a dramatic if not a heavy fall in paying supporters.
Ironically, at the same time, few clubs from mining teams, notably FC Platinum and Ngezi Platinum Stars are realizing good crowds at their home matches at Mandava and Baobab Stadiums.
While in the past Dynamos and Highlanders attracted between 20 000 - 30 000 fans when playing at home, today, these high profile teams would be lucky to have 10 000 people even when playing between themselves.
Yet in the past even matches between Black Aces and Wankie at Gwanzura Stadium could draw around 20 000 people with some of them coming to the stadium as early as 10 in the morning.
Sadly, though, even at a modest $3 the game has failed to bring back the fans, who in the past filled stadiums especially in matches involving Makepekepe, Dembare and Bosso.
Only last weekend did Zimbabwean football witness a crowd worth talking about in the game between Highlanders' Bosso and FC Platinum's Kugona Kunenge Kudada at Barbourfields Stadium.
Although figures have not been released on the attendance for that particular match, it could well be estimated that the game attracted more than 25 000 people.
Although the nature of the game itself was the attraction, the end was was evidence enough to show that Zimbabweans still love their local football should there be the right ingredients to quench their football thirst.
Although matches like this do not come everyday, it, however, showed that fans are willing to forget everything around them — even EPL football — to watch the current generation of Zimbabwean football stars in action.
It should be noted that the game at Barbourfields Stadium coincided with the Manchester Derby between Man City and Man U which was being played at the same time yet there was a huge house at the Zimbabwean game.
One thing that was also evident and — has always been a talking point— is that the fans love their beer and that is the reason why most of them smuggled it or smuggle it into the stadium.
Absurd it might sound, beer is something that the Premier Soccer League in conjunction with their sponsors, Delta Beverages, could take advantage of to attract more fans to the stadiums.
Alcohol could surely be an added attraction and the suggestion is for Delta Beverages as the league sponsor to consider selling beer at stadiums at a modest price and in plastic containers and see whether this won't help.
It could turn out to be a double entertainment for the fans who will be enjoying their beer while watching their favourite teams in the same way they do in bars and sports clubs when watching international football.
For the sponsors, their brand would become more visible, while at the same time, using football as a profit making tool.
It happens all over the world and in the few escapades some of us have made in foreign lands, we have witnessed no violence at football matches despite the availability of alcohol in abundance at the stadiums.
Even at rugby matches in this country, alcohol is the order of the day as the spectators enjoy their favourite beverages while at the same time, cheering the team that is at the centre of their heart.
It would also be dishonest to ignore the connection between the good attendances at Mandava and Baobab stadiums, and the too many drinking places at the shopping centers adjacent the stadiums.
Even during the days of Rufaro Stadium, fans could be seen early at a bar close-by quenching their thirst in time for football's kick off time.
Surely, how many times have some of you been asked whether beer would be available at a football match at the stadium. Hasn't this question repeated itself over and over again and for that matter coming from too many different people ?
'Kunenge kuchitengeswa doro here (Do they sell beer there)?" has always been the question.
For the record, there are musical galas - most notably at the City Sports Centre - which attract far bigger crowds than some big football matches but are incident free despite a huge flow of alcohol.
Football followers love their Lager but they end smuggling into the stadium all sorts of alcoholic liquids because their lagers are not available at the venue and those liquids are easier to smuggle through the entry points.
What probably Zimbabwean football needs are better crowd control measures and let beer flow to those who need it while watching their favourite teams.
Every experiment has its results in terms of success or failure but there is no harm in experimenting with alcohol sales at football matches and seeing how far Zimbabwean football can go - attendance wise.
For your comments, views and suggestions [email protected] or WhatApp on 0773 266 779.
Related Topics