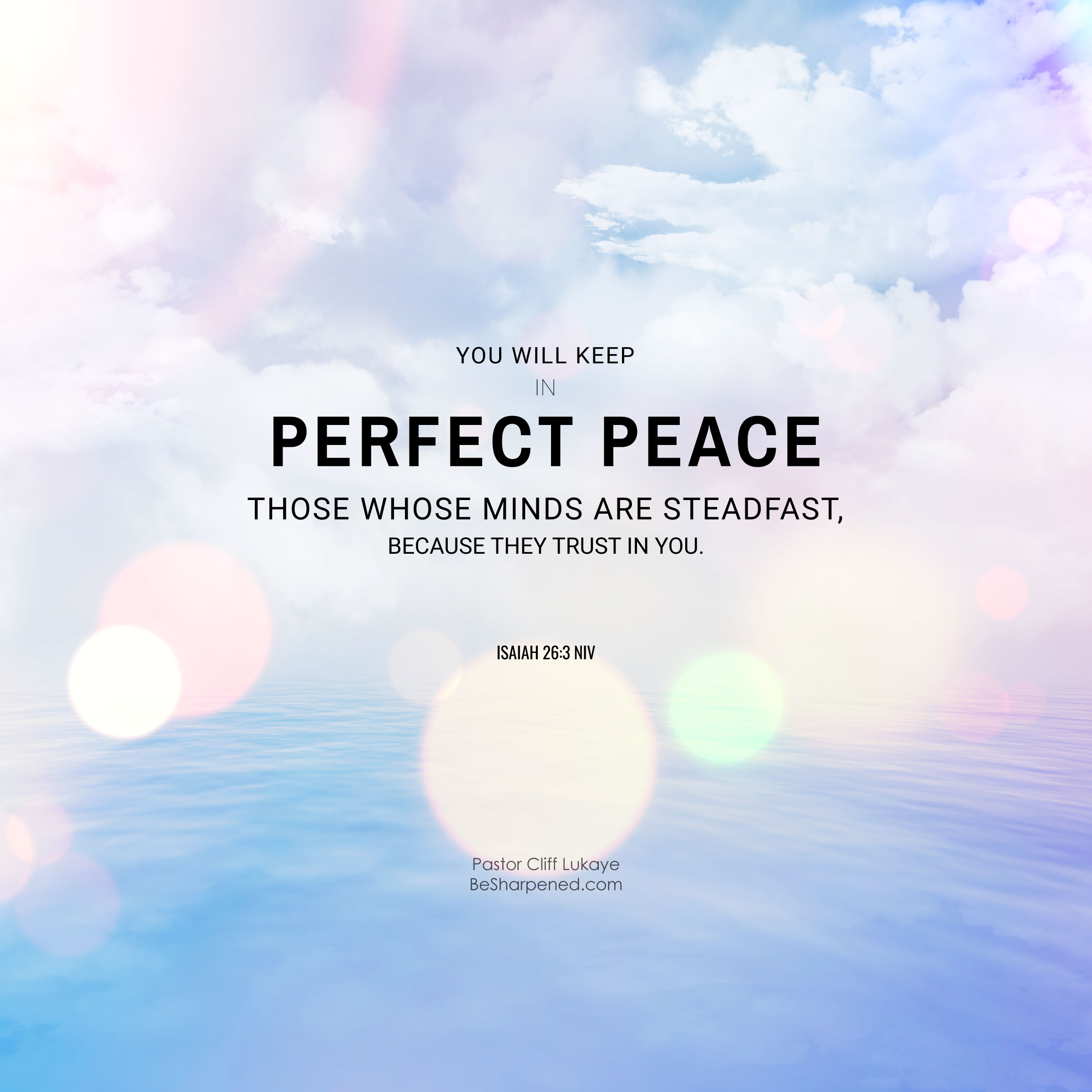 BY HUMPHREY MTANDWA "Thou wilt keep him in perfect peace, whose mind is stayed on thee: because he trusteth in thee" (Isaiah 26:3)
The human mind has a habit of wandering and at times a person can be caught up in their thoughts that they lose focus of their outside environment. This act can at times be harmless, but if the thoughts are negative it can lead to anxiety and depression. During anxiety attacks or any form of mind drift one is advised to create an anchor maybe through breathing in and out and some others say the best way to create this anchor is by being more conscious of your environment. Though these are all proven methods of dealing with any form of anxiety attack, the bible gives us the best solution. Let your mind be focused on God and then God himself will keep you in perfect peace.
No matter how much you think on that issue or reflect on the problems you're going through, it will never edify you but will only destroy you from within. Inner victory gives birth to outward accomplishments. The bible gives us further recommendation on what we need to do when we are going through difficult moments. In the book of Peter the word says "casting all your care upon Him, for He cares for you." We are supposed to cast all our cares on him and have confidence in his ability to bring solutions for us or create ways out of difficult situations.
It's not easy to trust in God and at times the situations may seem to outweigh his word, especially if one feels that they have been trusting God for a long time, but their situations seem not to be changing. In the bible, many lived such experiences where they had pressed on and it seemed like God had forsaken them. But like what the psalmist said "I have been young, and now am old; yet have I not seen the righteous forsaken, nor his seed begging for bread."  God always comes through and at times we may feel like giving up or giving in to the negative influences around us. We must consider what his word says and how others who believed him ended up being victorious. God is faithful and his word is true. I commend you to him today and I guarantee you that he has a solution and a way out of that situation.
In one of my teachings, I mentioned that a storm you cannot sleep through is a storm you can not quieten down and I emphasized why Jesus was able to quieten down the storm was because he could sleep through the storm. Don't let your present situation steal your rest and peace. No matter what you are going through God has a way out and a solution.
It's time to walk in perfect peace by allowing God to be an anchor in our minds. Victory starts first in the mind by having trust that God will help you out of the situation. An anchor is a device normally made of metal, which is connected to a vessel to prevent the vessel from drifting when in a body of water. Anchors can hold these vessels into place even when there are storms and waves. Without an anchor, the vessel drifts away with the slightest movement in the water. God's Word acts as an anchor and you need his word to firmly plant your mind and position you for victory. Many people wonder off and are carried off by depressive thoughts which worsen their situations. It is time to have victory in your life by first having victory in your thoughts. God Bless you.
Humphrey Mtandwa is an Apostolic teacher of the word of God and founder of Believers Voice of Triumph Ministries. He has authored many books, including The Enoch Generation, Truthfulness, Night Parables and Theophany. If you want to connect with him or have any questions, get in touch on www.apostlehumphrey.com
Related Topics