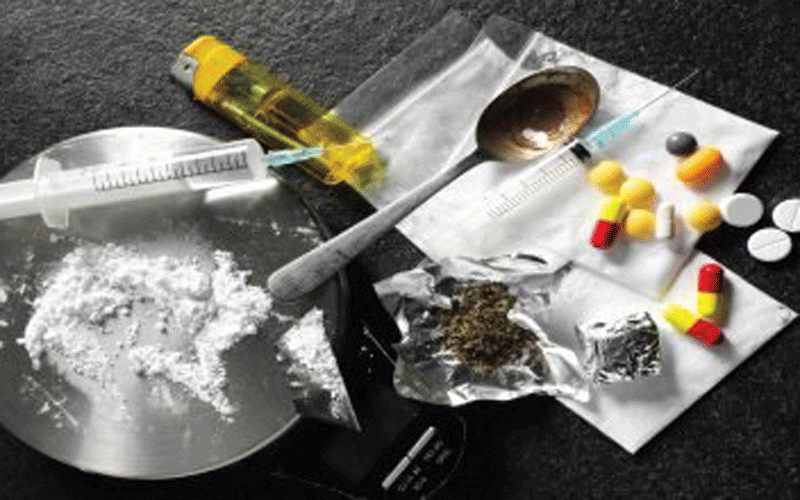 Recent revelations from a prominent Harare private school that learners were caught on the wrong side of the school's drug policy serves as a tip of an iceberg insofar as the prevalence of drugs and substance abuse is concerned in Zimbabwe.
This silent "pandemic" whose pervasive impact has cut across all social strata like a hot knife cutting through butter has affected the nation at a time Covid-19 and related composite threats to emerge out of it are slowing the growth trajectory of the nation.
Drug abuse is an asymmetric threat that needs introspective action to nip in the bud. It is the most pervasive threat currently being faced by the youths of Zimbabwe yet it seems besides the rhetoric about or against it, nothing is being done to obliterate to smithereens this menace whose opportunity cost is exponentially escalating by the day, especially amongst our youths.
Current interventions in place are simply aimed at disrupting the supply-side factors but then in the absence of demand-based measures, abuse is always guaranteed to be continued. This is so since demand for drugs fuels trafficking activities which always escalate levels of violence and crime. Definitely, no sane Zimbabwean wants the country to witness the horrors presently being witnessed in known drug-affected havens such as Mexico and Columbia.
This means all hands ought to be on the deck to face and defeat, comprehensively, this scourge before it spirals out of control.
To this end, prevention, treatment and law enforcement strategies must be comprehensively instituted and enforced without fear and/or favour. This means collaboration among multiple stakeholders, specifically, law enforcement , social services and health has to be enhanced if ever the hope of extinguishing the cancer afflicting our society is to be realised.
Approaches to prevention of drugs and substance abuse has to be driven by a pragmatic and nuanced thrust aimed at handling the issue of demand. For instance, spreading information as to the dangers of drug abuse can be aimed at behavioural modification whilst the provision of youths with alternative developmental initiatives will address the issue of them becoming susceptible to drugs and substance abuse. Community-based approaches must be considered as an option where, for instance, prominent personalities and members of the society such as church elders take the lead in giving enlightenment as to the dangers of drugs and substance abuse. This initiative must be driven by resource mobilisation so that requisite campaigns permeate all societal strata.
It has to be noted that the primary source of socialisation, the classroom, and broadly, schools, play a prominent role in early detection of possible red flags and hence a powerful role in prevention.
Targeting schools to ensure that they conceive programmes of action aimed at the development of personal and social skills, management of stress and social interaction can go a long way in developing their ability to resist peer pressure and ultimately exposure to drugs and substance abuse. Anti-drug strategies will have to be developed to ensure kids are prevented, at an early stage, from being initiated into drugs and substance abuse.
The aspect of treatment plays a vital piece in the jigsaw puzzle that is aimed at defeating drugs and substance abuse. Treatment enables those victims who are hooked to be productive and be able to be productive members of the society. Initiatives aimed at reducing craving for drugs are needed for the cure to be successful.
Exposed individuals can be taken into care homes for long periods such that rehabilitation efforts are a success, whilst medical stabilisation, abstinence and lifestyle changes can be short-term interventions whose efficiency is useful both in the medium-to-long term in the fight against drugs and substance abuse.
The law enforcement approach must be centred around coming up with robust community-centred interventions that neutralise the dangers of drug abuse. I was disappointed to notice that on the schedule of banned substances in the local statute, Crystal Methamphetamine is not included despite the fact that it is one drug that has wreaked havoc in our society, of course, amongst a cocktail of other drugs. The courts and prosecutors have to consider taking programmes that mix sanctions with accountability to ensure miscreants that deal in drugs and substance abuse are catered for.
Numerous models can be adopted. The shoot to kill policy on armed robbers can be extended to drug peddlers. Duterte, the former president of the Philippines, implemented this approach with encouraging levels of success.
This of course has issues with human rights activists but the fact that these activists have so far not been able to stop school kids from accessing drugs at school shows that they actually have failed themselves in addressing this scourge. In Indonesia , drug traffickers are given death sentences whilst the ongoing drug war in Mexico is a reflection of failure to institute prevention, treatment and law enforcement approaches to drug abuse.
It is not surprising to hear that one music genre has been at the forefront of promoting drug abuse in Zimbabwe. Whilst the veracity of this assertion can be debated, the role of propaganda in countering drug abuse cannot be ignored.
There is no need to politicise the fight against drug and substance abuse, nor is there any use in using institutions to solve personal vendettas under the guise of fighting drug and substance abuse.
Powerful people are able to use institutions to their own advantage and cover up for instances of drug abuse. Sinaloa boss, the incarcerated El Chapo Guzman escaped jail on two occasions in Mexico with the help of powerful personalities including politicians and prison officials. This example is indicative of how dangerous corruption as a composite threat in this Covid-19 ravaged era can prove to be detrimental in the fight against drugs and substance abuse.
Schools must never be intimidated into silence for exposing this menace but instead must be given all the support they need. School heads have to be encouraged to take a zero tolerance approach to drugs and substance abuse and simultaneously work in tandem with stakeholders to ensure early detection of miscreants is successful and interventions that thwart the scourge from proliferating unabated are successful.
The bust at Dominican Convent was just a mere tip of the iceberg. Similar such acts of vigilance are needed across the board. The Ministry of Youth must be seen to be leading the fight against drugs and substance abuse.
Rhetoric alone will not stop a drug peddler from contaminating our kids and thus damaging their future. Pragmatism is what is needed and as we go into the political season, it is incumbent upon politicians to sell to the electorate their counter drug and substance abuse thrusts. Gone are the days of kongonya and trinkets. We are faced with real problems that need real solutions...
Politicians have been suspected and/or accused of being the biggest benefactors insofar as drugs and substance abuse is concerned. This means they can play a positive role in the fight against the cancer to prove that the allegations of their complicity are not true. For starters, outside of legislative interventions, politicians can use their community development funds to build rehabilitation facilities to help augment the available ones which have been stretched beyond their capacity.
They can use their structures to send messages of deterrence as to the negative effects of the scourge whilst, as part of their corporate social responsibility, can donate part of their earnings to help in the fight against drugs and substance abuse
Sapien is a trade and security analyst
Related Topics