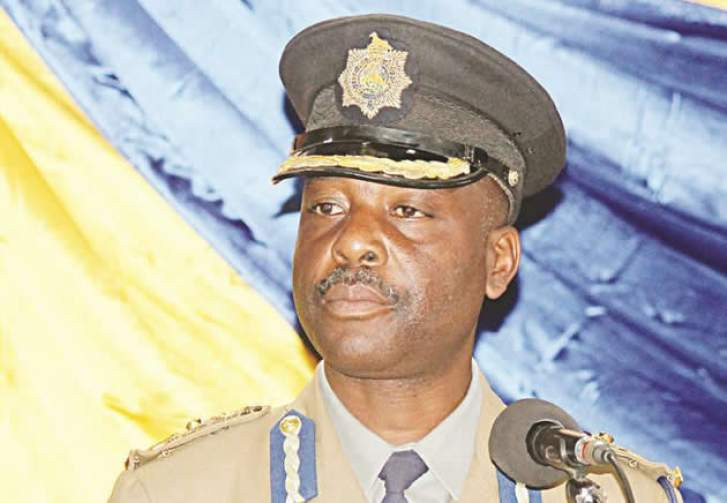 POLICE deputy commissioner Stephen Mutamba was added to the list of individuals reeling under the United States (US) sanctions in a move that bolstered the long-held view that the Zimbabwe Republic Police (ZRP) is an appendage of Zanu PF and has been complicit in stifling the country's march towards democracy.
As part of its annual review process against individuals, mostly public officials by the US, Mutamba became the latest individual to be added to the list, ever since Washington imposed sanctions on Harare in 2003.
At least 11 individuals, most of whom are now dead, were scraped from list of "Specially Designated Nationals" perceived by the US as responsible for undermining "Zimbabwe's democratic processes and institutions".
Broadly, the embargo, which, since its imposition has triggered intense debate on how it has derailed Zimbabwe's efforts to revive its floundering economy, is meant to foster democracy, according to the US.
In the eyes of Washington, the penalties are also meant to push Harare to uphold human rights as well as curtail rampant corruption.
In a sense, Mutamba's addition to the list dealt a heavy blow to President Emmerson Mnangagwa's re-engagement efforts.
Since 2017, when Mnangagwa took over power from long-time ruler Robert Mugabe through a military coup, his administration has expressed its desire to mend its frosty relations with the US.
However, the latest sanctions review process casts scrutiny on the conduct and track record of the ZRP towards the opposition and the civic society, with critics accusing it of being partisan, and a vital cog in Mnangagwa's machinery to thwart political opponents.
"Pro lege, pro patria, pro populo," the ZRP's founding motto, which translates to: "For the law, for the country, for the people." Critics contend this no longer reflects in the conduct of the force, particularly towards the opposition's democratic quest to unseat Zanu PF from the government.
The heavy-handed and brutal approach of the ZRP towards dissent was brought to the fore in 2007, when in a poignant scene, former opposition leader Morgan Tsvangirai, alongside other activists, was beaten up by police officers at Machipisa police station in the high-density suburb of Highfield.
Tsvangirai's party, the Movement for Democratic Change (MDC) wanted to stage a rally in Highfield, which ZRP said was not sanctioned.
At that time, scenes of a bloodied Tsvangirai with swollen eyes dominated global media outlets, and a boastful Mugabe was quoted saying his police: "will hit harder" defiant activists.
A year before Zimbabwe's violent election in 2008, police were also accused of shooting dead activist Gift Tandare and temporarily seizing his body.
In recent times, ZRP, led by commissioner general Godwin Matanga, himself also placed under US sanctions, has been accused of conducting its duties in a partisan way and deploying unconstitutional means to thwart Zanu PF's political opponents, largely the Citizens Coalition for Change (CCC) party led by Nelson Chamisa.
In 2019, the Movement for Democratic Change (MDC) claimed that: "a team of eight henchmen," claiming to be "from police Law and Order section . . . snatched Johanna Mamombe . . .Boko Haram style" and whisked her away to an unknown destination. Mamombe, who is the Harare West legislator, at that time was allegedly abducted by suspected state security agents, alongside two other activists.
In a matter that is still pending in the courts, the state is accusing the trio of stage-managing their own abduction.
ZRP, as an entity has also drawn criticism for folding hands and turning a blind eye when suspected Zanu PF activists mete out violence against members of the opposition.
As Zimbabwe hurtles towards elections, which are due next year, worrying trends of escalating violence and the police's force inaction are beginning to resurface.
This month, Zanu PF officials, namely former State Security minister Owen Ncube and Local Government and Public Works minister July Moyo allegedly chased away, movie style, Chamisa's convoy from Gokwe where he planned to address a rally. No arrests were made, though police officers are said to have been present.
Tshwane university public affairs associate professor Ricky Mukonza contends that Mutamba's addition to the sanctions list reflected the ZRP's brutal approach toward the opposition.
"It discredits the ZRP as an important component of the state that is charged with the responsibility of maintaining law and order in the country," he said.
"This is because they are supposed to execute this mandate with impartiality and professionalism. This development puts both to question. ZRP has not been impartial in the execution of its duties, particularly where the cases are political."
However, political analyst Alexander Rusero argues that the US-imposed sanctions emboldened Harare's authoritarian regime to dig in their heels, and slowed the momentum of the country's quest to embrace democracy.
"Sanctions are just a foreign policy tool. Claims of sanctions [bringing democracy] are not only false but hypocritical. You do not impose sanctions to entrench democracy. It has never happened anywhere in the world," Rusero said.
"Sanctions have in essence achieved the reverse effect; they give credence to Zanu PF's authoritarianism."
He added that Mutamba will wear the sanctions tag as a badge of honour, as it demonstrates his loyalty to the system and his capacity to take "authoritarian orders diligently".
However, University of London Professor of Politics Stephen Chan underscored that the US embargo was impotent but only carried "symbolic value."
"Sanctions no longer serve any useful purpose except as a symbolic measure, precisely in the case of the Police Deputy Commissioner that the police are acting as an obstacle to democratic expression and free speech and that this will continue to attract individual sanctions from the US," Chan said.
Related Topics