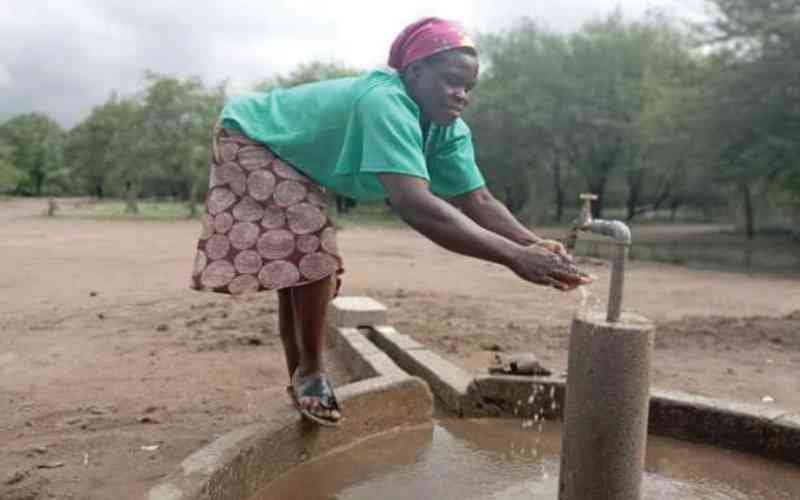 It's a rainy and windy day in ward 23 in Nyangambe Village 2, Chiredzi and Svodai Musaingira (46) stands at the centre of a newly commissioned water point narrating the impending disaster the community faces due to unpredictable weather patterns.
Musaingira and fellow community members are likely to starve if they do not receive urgent help and attention from donors.
Musaingira told the Southern Eye on Sunday that hunger was staring them straight in the face and their survival will depend on Good Samaritans.
"This year our crops have been badly scorched, we received very little rainfall," she said.
"We had sown small grains which consisted of sorghum, millet and maize.
"We might survive for a maximum of three months and we will die of starvation if there is no immediate intervention.
"There is nowhere we expect to get assistance from.
"There is a social welfare donor that came to our area and assisted our elderly, orphans and the disabled."
Musaingira, however, said donors have managed to assist only a small population.
"We are kindly asking if there are any donors willing to assist us in our communities," she pleaded.
"The change of weather patterns have affected us greatly.
"This messed with our agricultural systems as we did not receiving adequate rainfall, which has led to the wilting of our crops by the sun."
According to the International Livestock Research Institute (ILRI), between 2050 and 2100, Africa's population will double, eventually climbing to over four billion by the end of the century and feeding this growing population will require significant advancements in Africa's food systems.
However, agricultural advances may be difficult to achieve if African farmers are at the mercy of increasingly severe climate impacts.
The institute reiterated that hunger already affected 240 million Africans daily and by 2050, warming of just 1.2 to 1.9°C, well within the range of current IPCC projections, is likely to increase the number of the malnourished in Africa by 25% to 95% — 25% in central Africa, 50%in East Africa, 85% in southern Africa and 95 % in west Africa.
Musaingira, however, is not the only one who faces the threat of hunger due to climate change, other households and community members are equally exposed.
Another community member and the Nyangambe wildlife conservancy vice chairman Joram Mutovo said because of climate change they had to adjust how they planted and harvested.
"We have great difficulties now in adequately preparing our farming seasons, the seasons come and go unplanned and this greatly affects our crops," said Mutovo.
"We have had to survive the adverse effects of climate change through other strategies such as the irrigation scheme.
"The rearing of animals both wild and domestic and farming sustains us also."
Mutovo, however, said despite the intervention of some Good Samaritans, the situation remained dire.
"We receive food from the office of the (district development coordinator), but the help is selective and for a few," he said.
"They only assist the elderly, the sick and orphans but if there are any leftovers they expand to other households."
Climate change expert Christopher Mabeza said climate change was one of the biggest threats to humanity, especially in Africa..
"In terms of Africa and Zimbabwe, we are mostly impacted by climate change in terms of floods and drought," Mabeza said.
"So what is important to recognise is that climate change basically exacerbates extreme weather events such as droughts and, therefore, it affects the people in terms of food security.
"Zimbabwe in most cases in terms of agriculture, we practice what we call rain-fed agriculture and without rain we cannot harvest."
Mabeza also said in arid and semi-arid Africa the rainfall season starts and ends early because of climate change and people's livelihoods are terribly affected as they are left without adequate food.
Green Building Council of Zimbabwe director Mike Juru added: "The effect of things that are happening in Europe, we are feeling the heat here in Africa and vice versa, so climate change is a global challenge.
"This is the time we have to talk about climate adaptation, which will map a way forward.
"The adaptation is about us planting short season varieties and drought resistant varieties where we note that we no longer have adequate rainfall.
"We need plants that are resilient to droughts and to be exposed to erratic rainfalls."
Juru said farmers and communities should now be conscious of the type of seeds and plants to use.
"We now need to know how to harness water systems, triggering us into dam construction," he added.
"We should also know the damaging effects of excessive rains and start investing in climate resilient infrastructure."
Related Topics