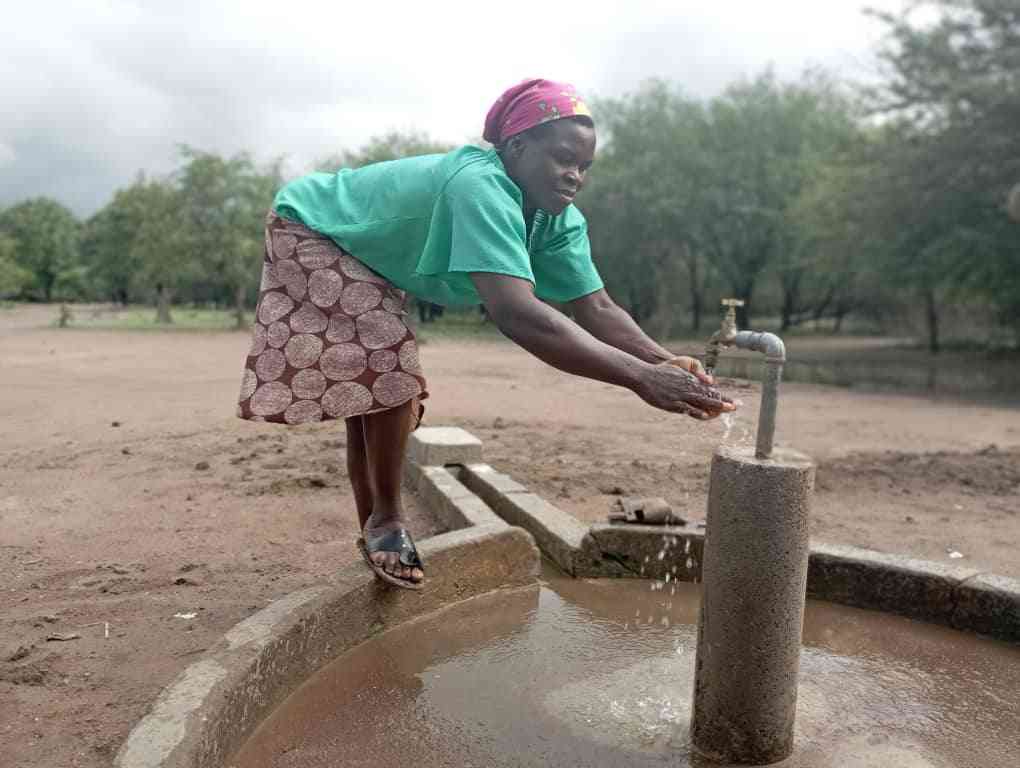 For Svodai Musaingira (46) of Ward 23 in Nyangambe village 2, Chiredzi, the adage "Life is water" came to fruition the day her village got a clean water point.
Musaingira and fellow community members had been struggling to access safe and potable water for household chores.
Musaingira, who came into the dry and arid community of Nyangambe valley conservancy as a bride many years ago, is one of the more than 600 inhabitants who over the years have been exposed to attacks by wildlife due to the long distances they have to trek in search of safe water sources while some households had resorted to fetching water from open ponds, exposing them to water borne diseases.
This saw the intervention of the USAID Resilience Anchors that established a solar-powered water point for the community as part of efforts to improve access to water for multi-purpose use and reduce human wildlife conflict.
"Before the start of this project, we had to walk over 5km in the early hours of the morning in search of water. We would come back with large buckets of water on our heads so we would be able to sustain our families," Musaingira said.
"We have also been prone to attacks by wildlife within the conservancy as they would come out in their numbers to terrorise us. But looking at it from another angle they would also be in search of clean water to drink."
Not only has the water challenges exposed the community to attacks from wildlife, but to water borne diseases such as cholera and typhoid.
"We were frequently exposed to cholera because we would get water from dirty ponds, which animals such as dogs also relied on.
"We now have access to clean water therefore we no longer have cases of cholera outbreaks"
Musaingira is not the only one who is grateful for the intervention as the whole community has been suffering from lack of water.
Canias Chikamhi (53) who is the chairperson of the Nyangambe water point said they had a huge water challenge, which made it difficult for households to access water.
"The water situation in our community was so bad that it was difficult for someone to access at least 20 litres of water. We were happy when the Resilience Anchors came in and offered to help out with our situation.
"Parents had to walk as for long as 5km in search of water. Those distances could only be accessed by those with scotch carts. Children would also misbehave with those scotch carts leading to accidents," added Chikamhi.
Chikamhi also confirmed that medieval diseases such as cholera were now a thing of the past.
"Since we now have access to clean and potable water, we have not yet come across cases of cholera in the present day. I cannot specifically remember how many years it has been since we experienced cholera, maybe six years back."
According to latest statistics by the World Health Organisation, Africa is greatly at risk of cholera especially for people living in places with poor sanitation and unsafe drinking water.
Nyangambe Wildlife conservancy vice chairperson Joram Mutovo told Sunday Southern Eye that reserving land for animals to freely roam on and projects such as the water point had greatly reduced human and wildlife altercations.
"We are now able to live in harmony because most of the conflicts would arise at water points and on the farms," Mutovo said.
"It is now rare to experience attacks since we have reserved adequate land for our animals and we have also established projects such as the water point."
Related Topics