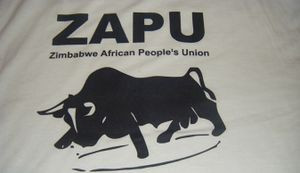 Political parties in Matabeleland have bemoaned the deliberate impoverishment of the region after it emerged that most of the farms that are owned by ex-Zipra, Zapu cadres and some locals were being invaded.
They also expressed concern over the takeover of mining claims and major projects by people who are from outside the region.
The parties further claimed that Zimbabweans from the region were being subjected to bureaucratic processes that frustrate their efforts to acquire documents to occupy land and mining claims.
Farms belonging to several renowned Zapu and Zipra war veterans were invaded over the past year.
Some of these belong to the late former Zapu leader Dumiso Dabengwa, ex-Zipra war veteran John Gazi, human rights defender Siphosami Malunga, who is son of late national hero Sydney Malunga, and former national healing minister Moses Mzila Ndlovu.
Zapu Bulawayo provincial secretary Vivian Siziba told Southern Eye that Matabeleland was becoming a punching bag as anyone who wants an opportunity is referred to the region.
"Look at squabbles raging within Citizens Coalition for Change. It's all about deployment of elected public office bearers to this region from other regions. That's why Zanu PF doesn't want to return Nitram properties to Zapu," Siziba said.
"It is deliberate and designed to impoverish its members to death. There could be a few Ndebeles subjected to harassment and evictions before the results of the audit commissions are communicated to the public. Evictions should be the strength of findings and recommendations of those land commissions."
Siziba also bemoaned weak legislative representation from the region saying all legislators from Matabeleland irrespective of their political affiliation should stand up and be counted.
"Zanu PF has never considered Zapu/Zipra as fellow struggle partners and the contribution made by this formidable liberation movement is considered insignificant.
"As a result, fruits of independence are to be enjoyed by Zanu PF or Zanla cadres to the exclusion of the rest of the population including Zapu and ex-Zipra activists," he said.
He called on people from the region to unite under one political party, preferably Zapu, which begrudges Zanu PF over Gukurahundi genocide and seizure of its properties.
Freedom Alliance spokesperson Nhlanhla Ncube said the invasions of Zipra farms and mining claims in Matabeleland showed that Gukurahundi was still in progress.
"They are clearly an insult if you consider that Zipra and Zapu were the only ones who unequivocally fought for the land in Zimbabwe.
"Zapu properties have not been returned despite the Unity Accord of 1987. The fake unity is being revealed to all those who can see. The so-called new dispensation doesn't seem committed to respecting Zipra and Zapu.
"The affected Zipra [cadres] should stand up against the madness. The farms are mostly invaded by people linked to the ruling party because war veterans from Matabeleland are scared to talk or act against Zanu PF.
"Those from Mashonaland have realised that there is fertile ground if you do anything against Zipra in the name of Zanu PF. It is both tribalism and ethnic politics at play."
He said the land issue was contentious in Matabeleland and the invasion of the region was about the land and natural resources.
"The people of Matabeleland should unite as they did at Gadade and Pupu. We have to come together from the whole of diversity as people from Matabeleland.
"The government should walk the talk. The land issue will never be resolved by imposing the people of Mashonaland on the land in Matabeleland. Government should not view itself as a Shona government only," Ncube said.
Zipra Veterans Association secretary-general Petros Sibanda said there were quite a number of arguments around the land issue.
He said the land issue was supposed to be a national agenda but was politicised hence the party in government used the land to settle political battles.
"Those in power use the land to keep the people on their side. Those who appear or are perceived as working against the ruling party are punished by taking land from them. Unfortunately, people of Matabeleland have been viewed as opponents of the ruling party," Sibanda said.
Responding to the allegations, Matabeleland South provincial and devolution affairs minister Evelyne Ndlovu played down the allegations.
She also said she was not aware of the farms belonging to Zipra or Zapu being targeted in the region.
"I do not know anything about that and these are issues dealt with by land committees. Even if you go to Matabeleland North or South, the land committees are the ones who deal with land issues. It is not an individual matter and I cannot talk about it," she said.
Efforts to get a comment from the lands and agriculture minister Anxious Masuka were in vain as his mobile number was not going through.
Matabeleland North provincial minister Richard Moyo's mobile number was not reachable at the time of going to print.
Related Topics