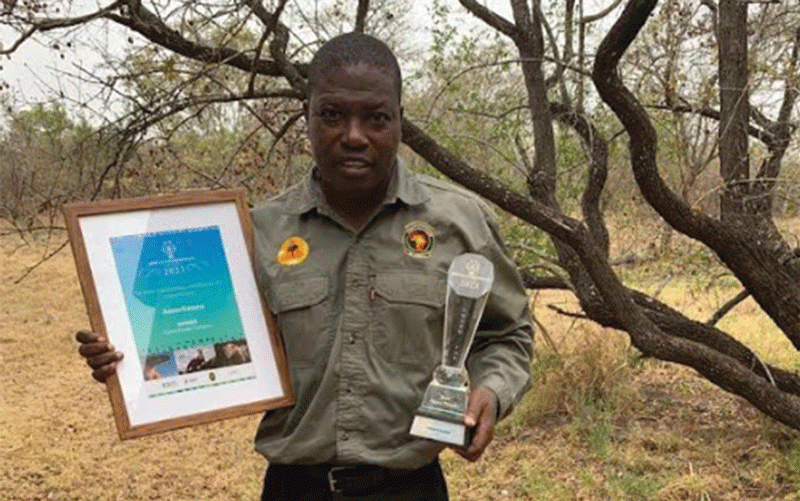 ZIMBABWEAN ranger Amos Gwema was over the weekend named Best Game Ranger during the African Conservation Awards 2023 held at the Southern African Wildlife College, South Africa.
The prestigious event was hosted by the Game Rangers' Association of Africa and sponsored by CNEI.
In a Press statement, African Conservation Awards said the awards were meant to honour individuals who demonstrated exceptional determination to overcome formidable challenges in the game and wildlife industry.
"Often faced with daunting odds, they have showcased an unwavering commitment to their conservation missions. The African Conservation Awards serves as the vital stage where their exceptional efforts are rightfully acknowledged and celebrated," the statement read.
Awards founder Larry Hansen said there are very few people willing to sacrifice their lives to save wildlife.
"The expanded awards have this year attracted nominations from 11 countries and incredible candidates. I wish to congratulate the winners and all of those nominated, they are true heroes and among the last protectors of the planet," Hansen said.
In an interview with Southern Eye, Gwema said he was elated for being recognised for his management role and contribution towards wildlife conservation.
"This is a special moment in my career and life and I feel motivated to work extra hard in the conservation field, especially working with the community," he said.
"I was nominated by a nominator who should have been impressed by my community wildlife outreach projects. I feel that conservationists should not fight the community to conserve wildlife, but we should employ the TREE method that is Teach, Rehabilitate or Reform ex-wildlife convicts, Engage and Educate the community.
Gwema recently embarked on a wildlife conservation drive in ward 17, Matopo district, to help fight poaching and wildlife crime in the area.
"I have been involved in community projects like distribution of books to schoolchildren, distributing solar lights, assisting some community members who pick live pangolins and hand them to authorities, among other initiatives.
"I have been working in the conservation field for the last 16 years and, through my working experience for these years, have arrested a total of 1 221 suspects with 95% of those arrests being in the communal areas. I realised that most community members are actually tricked to commit wildlife crimes and in the end left alone to cover legal fees," Gwema said.
He bemoaned how Zimbabwe has not been recognising the work of wildlife personnel.
"I think this award is good for Zimbabwe in terms of conservation efforts at a global scale, but the opportunity is not being noticed. This is not an individual award, but a Zimbabwean award. I will be featured in international media, for example, SABC but locally, there will be nothing," he added.
Gwema was also nominated the 2020 Tusk African Ranger of the year, 2019 African Ranger of year in Rhino Conservation Awards and 2018 First Runner-up African Ranger of the year.
Related Topics