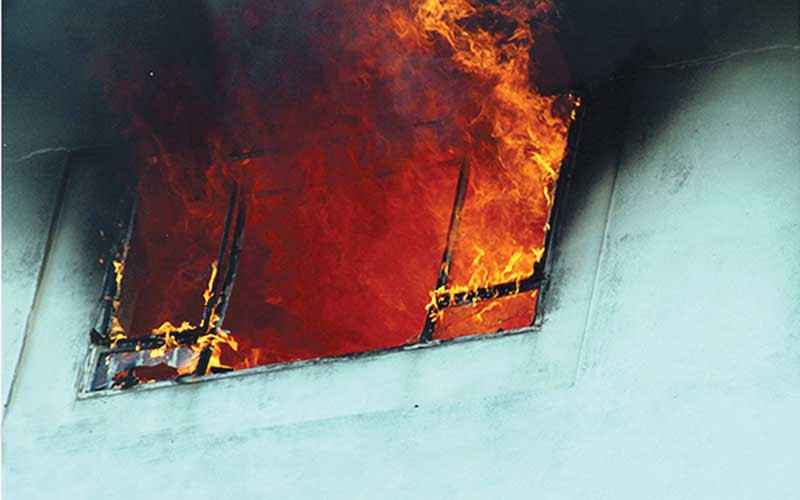 A FAMILY living at one of Bulawayo's oldest flats, Sotshangane, is appealing for help after its apartment was gutted by a fire sparked by faulty electrical wiring.
The fire almost destroyed the entire block of flats, but residents said it was put out before it caused more damage.
Kudakwashe Mashinya and Constance Mahachi, occupants of the apartment where the fire started, said they were lucky to escape the inferno alive.
"I am shocked and traumatised by what happened. Nobody could have anticipated this at any time. We could have easily died in our sleep. The fire started when a bulb burst and a spark fell on the sofa. We assume that is what actually happened," Mashinya told Southern Eye.
He suffered minor burns and injuries from the incident.
"I got burnt on my hands as I jumped from the first floor to the ground. My knees were also hurt," he said.
Bulawayo acting chief fire officer Lynos Phiri confirmed the incident.
"We observed that the fire was mainly concentrated in the living room/kitchen near the stove and a whole sofa was reduced to ashes. The occupants had escaped the fire," Phiri said.
Mashinya and Mahachi are appealing for donations from well-wishers after they lost all their property in the fire.
"We lost everything. We are also looking for a four-roomed house to rent. If someone wants to get in touch, they can call on+263 78 269 6207," he said.
Details of the total cost of the property lost could not be established yesterday.
Related Topics