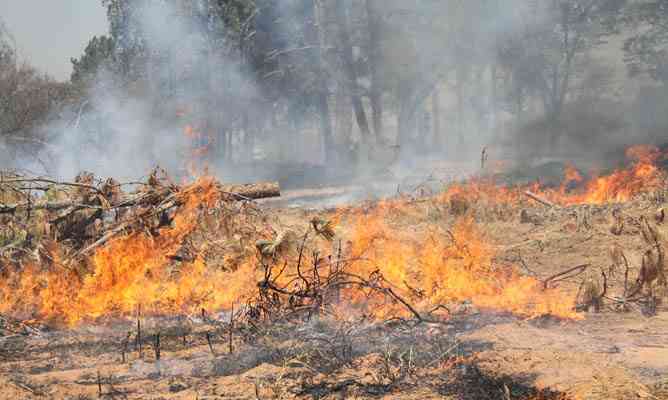 BULAWAYO Metropolitan province has lost close to 1 600ha of grassland to veldfires resulting in the Environmental Management Agency (Ema) initiating awareness campaigns to reduce wildfire incidents.
This was revealed by Ema Bulawayo provincial manager Sithembisiwe Ndlovu during the launch of the National Fire Season at Hyde Park Primary School on Friday last week.
The launch was held under the theme: Prevent veldfires to protect the environment! Our natural heritage.
"We are launching the start of the awareness programme of veldfire in terms of fire management so that we are able to prevent fire during the coming veldfire season Ndlovu said.
"If you compare with last year, we have lost 1 604 hectares of grassland compared to 473ha in 2021. We want to up our game this time by engaging the community and stakeholders preparing them for the fire season so that we manage to reduce incidents of fire."
She said the fire season started from July 31 to November 30 every year, adding that Ema chose Bulawayo's peri-urban ward 17 where, according to history, a lot of veldfires have been recorded compared to other areas in the province.
Ndlovu said: "It is the obligation of every citizen to extinguish fire and that it is an offence not to report fire."
Speaking on the same occasion, Forestry Commission of Zimbabwe representative Bekithemba Ngwenya said causes of veldfire in the area were mainly smokers who are careless.
He also attributed the fires to children playing with fire.
Bulawayo Provincial Affairs and Devolution secretary Paul Nyoni called on residents to work together to curb veldfires which he said were human induced.
"This is not its context, because each season from the time vegetation gets dry, fire is triggered across the country including urban areas with no one spared,'' Nyoni said.
"Fire ends when the season receives the first effective rains to break the circle, but the period has not differed significantly in reality despite the effects of climate change."
Related Topics