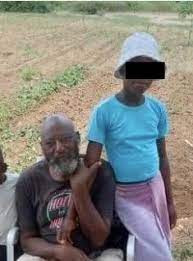 POLICE in Chiredzi have re-arrested an apostolic sect member Never Muzorora (65) of village 7, Matedzi, accusing him of taking in his wife's 10-year-old niece as his seventh wife.
Muzorora and his first wife (name not available) both appeared in court in Chiredzi on Monday charged with rape. Magistrate Judith Ziyu remanded them in custody to Friday.
Allegations are that the wife brought her niece from her rural home in Bocha so that she could become Muzorora's seventh wife and helped him to rape her.
The story of the marriage went public when Muzorora's picture with the girl was published on social media platforms two weeks ago.
Prosecutor Noel Muranda told the court that a medical examination of the girl showed that there was penetration, leading to the re-arrest of Muzorora.
Muzorora was initially arrested by Mkwasine Police on Sunday last week, but they could not locate the girl.
He was released to avoid detaining him for more than 48 hours.
He was ordered not to leave his homestead since the matter was being investigated.
Muzorora allegedly told the police that the girl had merely visited them and he did not marry her. Muzorora professed ignorance of the whereabouts of the girl.
The girl was found in Bocha a few days later after allegedly being sent back by Muzorora to avoid arrest. She was taken for medical examinations and kept in a safe house.
Related Topics