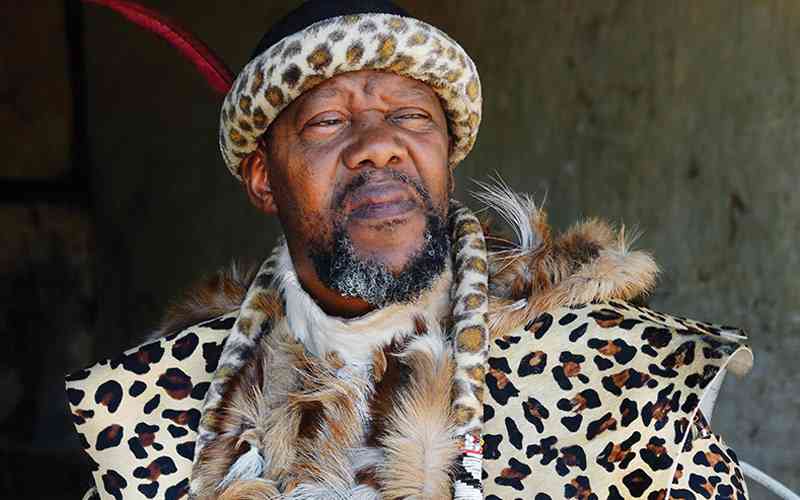 FORMER Ntabazinduna chief Nhlanhlayamangwe Ndiweni (pictured) has predicted a mass exodus of Zimbabwean nationals if the ruling Zanu PF wins the August general elections.
Ndiweni was dethroned by President Emmerson Mnangagwa's government in 2019 before he went into self-imposed exile in the United Kingdom.
The influential former traditional leader has been a critic of the Zanu PF government and continues to criticise it for maladministration and massive human rights violations.
Ndiweni told NewsDay that during the 2007 and 2008 economic meltdown, experts indicated that about one million Zimbabweans moved to South Africa.
"If the Zanu PF government once again steals these elections, we will see about two million Zimbabweans packing their bags and going to South Africa," he opined. "The biggest movement of people we have seen in the Southern African Development Community in our age. This movement will occur legally and illegally."
Ndiweni, through his pressure group, MyRight2Vote has been calling on government to allow the diaspora to vote and has since 2019 been pressuring the government to accord citizens based outside Zimbabwe this right considering they are the ones keeping the country running through their yearly remittances.
"We are still holding on to that and pushing the fundraising to do diaspora vote, so that whenever the President sets a date for elections in Zimbabwe, we can have a similar election, independent of Zimbabwe Electoral Commission," he said.
"So, wherever we look this matter is raising its head. What is certain is that this matter will cause a constitutional crisis come election time in Zimbabwe."
He said the government should address the diaspora vote issue because their exclusion in this year's election will further worsen the legitimacy crisis in the country after elections.
Ndiweni's organisation was also pushing for political prisoners to vote in Zimbabwe.
Ndiweni said their effort is to have a coalition of international governments coming together to call the Zimbabwean authorities to order, while he expressed confidence that the opposition would win this year's elections.
"I am 100% certain that the opposition will win the election this year. I am also 100% certain that the ruling Zanu PF will try and retain power through the use of arms this year. These two things will happen without a shadow of doubt," Ndiweni said.
Mnangagwa and Chamisa face off for the second time after the former narrowly won the contest in the 2018 polls.
More than five million Zimbabweans are reported to be living in the diaspora with the majority, believed to be approximately three million, domiciled in South Africa.
Mnangagwa is expected to proclaim the election date today.
Related Topics