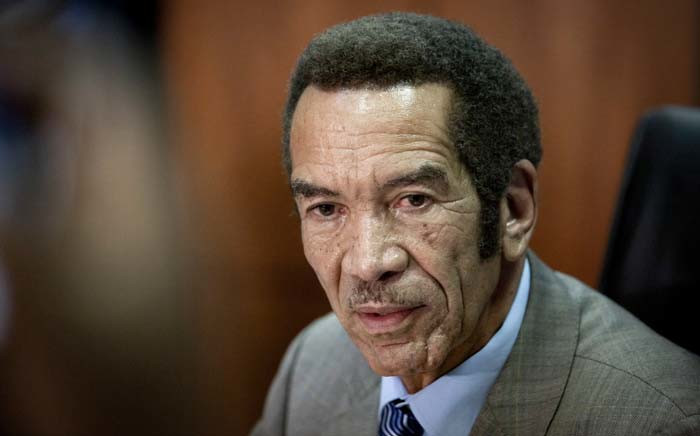 FORMER Botswana President Ian Khama has said he always spoke out on Zimbabwe because he believed the country's former leader Robert Mugabe had deviated from principles of democracy and become a hard core dictator.
Khama, who is currently in self-imposed exile in South Africa after fleeing political persecution by his successor, Mokgweetsi Masisi, said he openly chastised Mugabe's rule because it fostered a culture of greed, corruption and self-centredness, among other vices.
In a recent interview with Alpha Media Holdings chairman Trevor Ncube on the platform In Conversation with Trevor, Khama said he has always believed in democracy.
"We had Zimbabwe, a neighbour right next door, (and) Mugabe who was doing the opposite to what we believed in ... but there are certain fundamental basics that governments should follow if they call themselves democracies," Khama said.
He added: "You had a situation in Rhodesia (now Zimbabwe) whereby there were sanctions on the country and the majority were being persecuted and then in an independent Zimbabwe under Mugabe, Zimbabweans are still fleeing, they are still being persecuted. So we said what difference is there between then and the Mugabe's days?"
Shortly before Mugabe was ousted in a military coup in November 2017, Khama wrote urging him to resign over poor governance.
Part of the letter read: "The people of Zimbabwe have for a long time been subjected to untold suffering as a result of poor governance under your leadership.
"It is, therefore, my conviction that by vacating the Presidency, this will usher in a new political dispensation that will pave the way for the much-needed socio-economic recovery in Zimbabwe."
Turning to his self-imposed exile, Khama said: "I am here primarily because of persecution. We in Botswana have for a long time thought that we were immune from what we have seen in some parts of the continent, leaders who are driven by greed, corruption, self-interest, undermining democracy assuming that being in office or being in power is only about themselves and not thinking about the people they are supposed to lead.
"We have been hit with this tsunami in Botswana by this man, Masisi, who when he came into office, he completely overturned the decades of democracy and the reputation we had earned ourselves as a country.
"I was very much conscious of the fact that Botswana was a democracy and when we live in a global village, as we do, you cannot just limit yourself to within your own borders if you are trying to make the world a better place."
Khama accused Masisi of undermining all tenets of democracy that had characterised Botswana for a long time.
"The whole system, the law and order, use of the police, intelligence service, the anti-corruption agency have all been compromised and charges fabricated against people like myself. Our families have been detained and that is the order of the day," he said.
Khama, who left office in 2018 after two five-year terms, said he regretted handpicking Masisi as his successor and vowed to push him out in next year's presidential elections.
"We are humans and we make mistakes. I made a big mistake bigger than most people because this has affected the whole country and it is a mistake I regret," he said.
"I have admitted that publicly in Botswana, I have apologised to the nation for bringing this upon them and have said that I will do my utmost to ensure that I get them out of office at the next elections."
Khama has joined the opposition Botswana Patriotic Front, where he intends to stand as the party's presidential candidate after their elective congress this year.
He has been living in exile in South Africa since 2021.
Related Topics