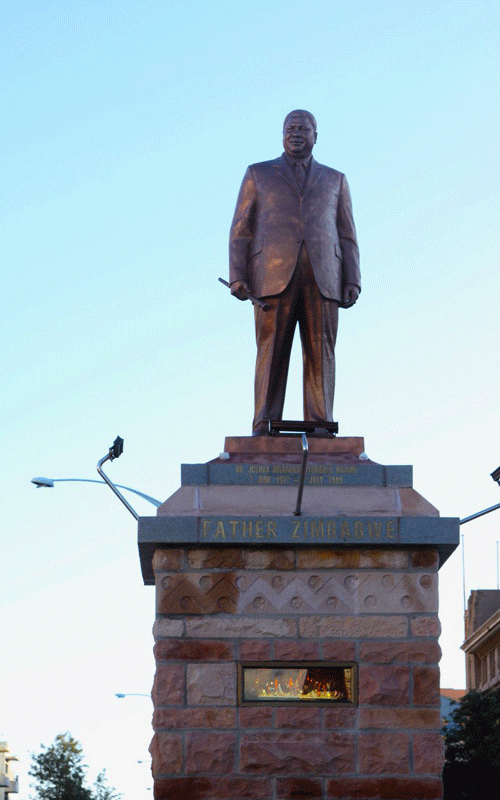 BULAWAYO residents have expressed concern over literbugs dumping waste at the late former Vice-President Joshua Nkomo's statue site, saying this amounts to disrespect of the late Father Zimbabwe.
The statue was erected in 2013 at the intersection of Joshua Nkomo Street and 8th Avenue in the city in honour of the late Vice-President who died in 1999. Human rights lawyer Brighton Ncube said the statue site had been turned into a "chilling spot" by people who sit there and throw trash after eating.
"People sit there like it's a chilling spot; bottles and trash are all over the ground and motorists keep on hitting the pillars surrounding the statue. If only we can just respect the place and keep it clean," Ncube said.
Deputy mayor Mlandu Ncube said the statue was owned by the National Museums and Monuments.
"We can only enforce laws discouraging illegal vending and any illegal activities as we do not own that statue as council. But we also wish for the statue to be protected and respected," Ncube said.
National Museums and Monuments of Zimbabwe executive director Godfery Mahachi said the management and protection of national heritage sites was everyone's responsibility.
"We all must ensure that national heritage is protected because it is about us, it reminds us about our history and is most often a source of inspiration to us all as we move into the future.
"The Nkomo statue in Bulawayo is a national monument protected by the law (National Museums and Monuments Act Chapter 25:11) and, more importantly, citizens," Mahachi said.
He urged all stakeholders such as the City of Bulawayo, the Ministry of Local Government, the Ministry of Transport, police and the Home Affairs ministry to work together to preserve national monuments.
Related Topics