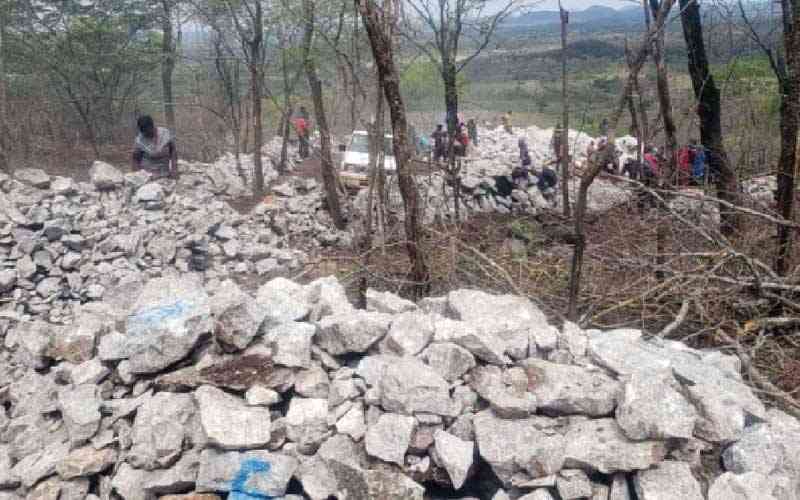 THE recent ban on raw lithium exports will see buyers losing millions of United States dollars as some had borrowed to tap into a lithium rush that has gripped Zimbabwe.
More than 5 000 artisanal miners and foreigners, mainly of Chinese origin, descended on the former Sandawana Mine in Mberengwa, Midlands province in search of lithium.
Lithium is a rare mineral, whose production is currently taking place in only eight countries, with 85% of the global supply coming from Australia, Chile and China.
Zimbabwe is the world's fifth largest Lithium producer whose lithium output has increased steadily in recent years, producing 1 200 metric tonnes of the battery metal in 2021.
The buyers have been selling the mineral in South Africa.
The artisanal miners were getting at most US$150 per tonne while investigations by the Zimbabwe Independent revealed that the "buyers" were selling at as high as US$800 per tonne in South Africa.
In a bid to curb illicit trade of the mineral, the government recently banned the export of raw lithium to drive value addition.
The new regulation was designed to "ensure that the vision of seeing the country becoming an upper-middle income economy is realised", according to a circular under the Base Minerals Export Control Act.
"We had borrowed millions from various international banks for buying lithium in Zimbabwe and the proceeds were good at first but the ban came at a time when we least expected it. We are now stuck with millions," a buyer, who spoke to the Independent, said.
The government recently barred the artisanal miners and lithium buyers from the Sandawana Mine and gave exclusive rights to the Zimbabwe Miners Federation (ZMF) through Kuvimba Mining House, who will buy the mineral while assisting the miners with equipment.
Contacted for a comment, ZMF chief executive officer Wellington Takavarasha said the organisation was meeting today to discuss the issue.
"We are going to meet on Friday as a sector and discuss the matter as well as charting the way forward," Takavarasha said.
The ban on raw lithium exports has triggered a rise in smuggling of the mineral by dealers who are taking advantage of lax security at the country's border posts.
Recently the Police intercepted trucks with lithium ore in Mutoko.
As the world shifts to clean energy, especially electric cars, lithium has become a critical component in high energy-density rechargeable battery manufacture due to its high electrochemical potential.
Related Topics