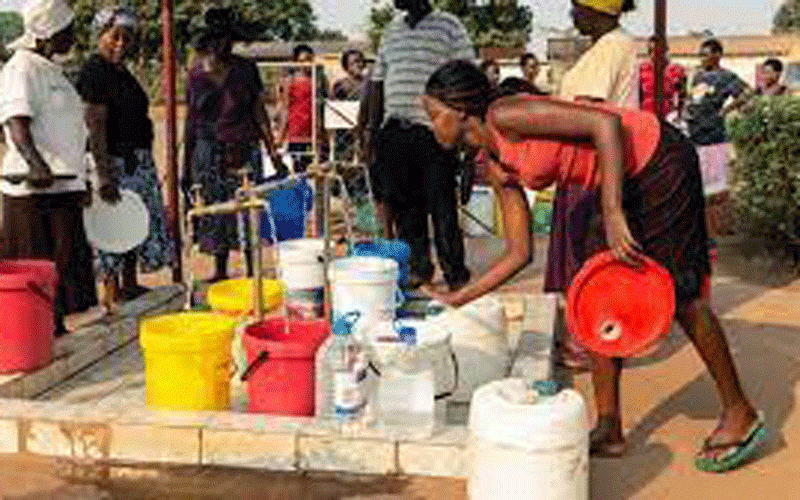 ZIMBABWEAN rural women are more exposed to "water point violence" than their male counterparts, according to the latest research on the impact of climate-change-induced drought.
Water point violence largely refers to conflicts that erupt when community members jostle for access to water, which has become scarce in Zimbabwe due to climate change.
The research is titled: "Drought and social conflict in rural Zimbabwe: Does the burden fall on women and girls?" was conducted by scholars Terrence Kairiza, Lloyd Chigusiwa and George Kembo.
In its key findings, the research also postulates that households are prone to water point violence due to the severity of drought shocks.
The research paper, published in the "Review of Development Economics Journal" reads: "Climate change–induced extreme weather events such as drought have occurred with increasing frequency and intensity in Zimbabwe over the past 30 years bringing about pressure on communally-owned water resources."
The research offers fresh insight on the impact of drought shocks, while investigating: "Gender dimensions of the impact of drought on inducing water point violence in rural Zimbabwe."
"The study offers three major findings. First, drought shock is associated with increased household propensity to experience water point violence. Second, the severity of the drought shock impact increases the probability of the household experiencing water point violence.
"Third, drought shock–induced water point violence is only statistically valid for households where the water-fetcher is a woman or girl," excerpts from the research paper read.
With statistical evidence showing that at least 64% of the population in Sub Saharan Africa have no access to water while global usage is set to surge by 1% annually, the region is forecast to, "to bear the biggest brunt of shortages."
As a result, water shortages will frustrate efforts by countries lying in the sub-Saharan region to attain the United Nations sustainable development goal number six which endeavours to achieve universal access to clean water and sanitation.
Broadly, this is expected to trigger water point violence in the region.
"The predicted increase in frequency and severity of climate anomalies like drought is perceived to likely accentuate future social conflict and instability.
"In the absence of formal distribution channels like local authorities, the resultant distributional burden of drought-induced water scarcity is marred with inefficiencies and is often skewed toward certain groups within societies that bestir disgruntlement thereby increasing the likelihood of violent confrontation and conflict at the water point," read the research paper.
The Zimbabwean scholars further argue that in the absence of formal institutional arrangements, there was a likelihood that violence would flare up as community members squabbled over the "governance and sharing of water."
The research paper proffers a range of policy measures that Zimbabwe can roll out to arrest water point violence that mostly affect women and girls.
"The findings highlight the need to prioritise women's needs when formulating drought mitigating and coping strategies, especially in communities where social norms dictate a patriarchal system.
"This may include the construction of protected water sources in central places, which minimises intercommunity sharing of water sources, and increasing the use of motorised water pumps as opposed to physically demanding bush pumps, thereby reducing waiting time at the water source that may reduce potentially explosive social interactions," the research paper reads.
Related Topics