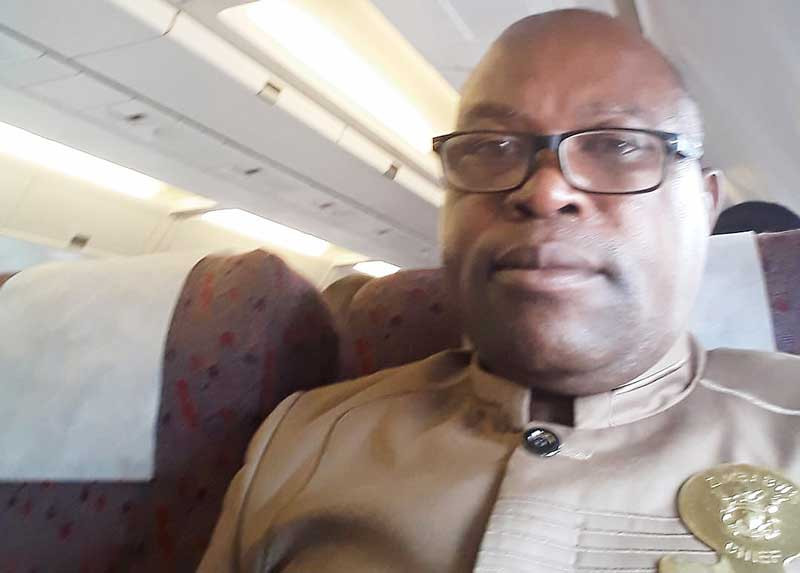 BY MIRIAM MANGWAYA
Z
imbabwe's rural areas have for decades been a Zanu PF stronghold, and are turned into no-go areas for the opposition during elections.
Previous Zanu PF election victories in the rural areas have been largely attributed to the role played by traditional leaders in intimidating their subjects to vote for the ruling party or risk being banished from their homes.
Chiefs, who occupy the highest positions in the traditional leadership hierarchy, have for long been indirectly regarded as part of the ruling party's campaign machinery.
But the constitution prohibits them from participating in politics.
The Zanu PF-led government has in the past pampered chiefs with vehicles, land and houses, among other benefits to buy their support.
In return, some chiefs have pledged their undying allegiance to the ruling party in fear of losing the freebies.
Section 281(2)(a) of the Zimbabwean constitution states that traditional leaders must not be members of any political party or in any way participate in partisan politics.
Section 281(2)(c) states that traditional leaders must not further the interests of any political party or cause.
Contrary to dictates of the constitution, chiefs have been spotted attending Zanu PF events and have in turn ordered their subjects to vote for the ruling party.
Some have barred opposition parties, mainly the Nelson Chamisa-led Citizens Coalition for Change (CCC) from campaigning in areas of their jurisdiction, giving Zanu PF an upper hand ahead of the 2023 polls.
Chiefs' Council president Fortune Charumbira attended a Zanu PF conference held in Bindura last year where he publicly declared that chiefs were the owners of the ruling Zanu PF party.
Such involvement of traditional leaders in politics has torched a storm among electoral stakeholders, who view it as a Zanu PF mechanism to steal votes and jeopardise elections.
This has prompted the Zimbabwe Human Rights Association to embark on a countrywide campaign to educate chiefs against the dangers of participating in politics as it would jeopardise the credibility of the 2023 polls.
But Chief Musarurwa of Chivhu, born Enos Masakwa, said although the constitution prohibited chiefs from participating in politics, there was nothing wrong with them dabbling in politics.
"The constitution says chiefs should not be partisan. I agree, but there are exceptions," Chief Musarurwa argued.
"As a chief, I advocate for the best living standards for my people.
"I want them to get good education, health, houses, jobs and any other service that you may think of.
"So whoever it is, be it a politician or a business person who wants to advance what I will be advocating for, I will take sides with him."
Musarurwa said chiefs were siding with Zanu PF to protect the gains of the liberation struggle and stop "unpatriotic" opposition parties from taking power.
"I can't fold my hands and let the gains of the liberation struggle go down into the drain," Musarurwa said.
"As chiefs, we should be neutral when it comes to politics. But we pay attention to what the politicians say.
"Let's say a politician goes and begs for sanctions and it comes to our attention, you expect us to remain quiet and pretend that we are okay with that when we know very well the impact of the sanctions on our people?
"If I ignore that I would have failed my people.
"I have all the right to castigate those politicians that enjoy seeing the suffering of our people by begging for sanctions."
In separate interviews, other chiefs said they were being intimidated to participate in partisan Zanu PF politics.
They indicated that they were fully aware of the dictates of the constitution, but were powerless to resist the external pressures from the state.
Chief Mutekedza of Chivhu, born Andrew Zhakata, told The Standard that politicians had become influencers of traditional leadership, leaving them "powerless."
"The constitution of Zimbabwe is very clear about the role of traditional leaders," Chief Mutekedza said.
"We must not involve ourselves in politics.
"Traditional leadership is very difficult to implement when you are involved in politics because our subjects support different political parties.
"If I become a politician on one hand, it then means that I have to choose those that are aligned to the same political party as mine.
"It means I will no longer be a leader. Politicians have, however, overtaken our jurisdiction.
"They dictate how we should govern.
"The relationship between politicians and traditional leaders should remain as such, not as that of a master and servant, in which we are told what to do."
Mutekedza said politicians must not interfere with traditional leadership.
"Some traditional leaders are facing pressure for them to participate in politics," he said.
"They are being intimidated. Some are told that their leadership will be stripped or they will not receive allowances.
"Politicians have stripped us of our powers. They tell us what to do.
"Instead of them being our subjects, we have turned out to be their servants."
Traditional leaders have often been victims of harassment and abuse if they act in a manner that does not conform with the ruling Zanu PF party ideology.
Chief Murinye, born Ephias Munodawafa of Masvingo, last year publicly castigated President Emmerson Mnangagwa for failing to rein in "rogue" associates "surrounding him".
Murinye said Mnangagwa risked losing the 2023 elections as a result and his comments ruffled the establishment and the ruling Zanu PF party.
Mnangagwa was forced to hold an emergency meeting with traditional leaders from across the country in the capital and called them to order.
At the meeting, Vice-President Constantino Chiwenga railed against traditional leaders for daring to be outspoken and called for Murinye to be investigated.
While Zanu PF has been using all manner of resources to maintain its rural stronghold, surveys even by the ruling party show that the opposition was making inroads.
A survey by the police in June exposed that the Zanu PF party's popularity was waning at the grassroots, especially in its rural strongholds following the ruling party's audit of its cell structures countrywide.
This has forced Zanu PF to tighten its screws on traditional leaders to retain their allegiance and maintain its support in the rural areas.
Zanu PF's second secretary Kembo Mohadi has been criss-crossing the country addressing traditional leaders and ordering them to support Zanu PF.
Mohadi visits Manicaland this week.
Chief Murinye said chiefs ought to respect the constitution and uphold their integrity despite pressure from Zanu PF politicians.
"The constitution in some way violated the rights of the traditional leaders," Chief Murinye said.
"Before democracy was enacted into law as it is today, traditional leaders were the epicentre of all economic, political and social processes so to take away the political aspect suddenly and tell the chief that you are not involved in politics, to me it's somewhat a violation of one's rights.
"But considering that the constitution was passed into law, it then becomes unlawful for traditional leaders to participate in politics.
"We are supposed to be apolitical because we are leaders to everyone, despite their political affiliation."
Murinye said chiefs must refuse to be intimidated by politicians.
"We are not voted into power, so no one should be threatening to vote us out of power," he said.
"The challenge is that traditional leaders who choose to stand by their principles as enshrined in the constitution are threatened.
"They will be denied benefits and some other packs that every other traditional leader will be benefiting from.
"We are being bastardised and it's so pathetic."
CCC leader Nelson Chamisa confessed that traditional leaders dabbling in partisan politics were a "big" problem.
"At the political front there is a huge problem with repression in the countryside where traditional leaders are being abused and commandeered into a command vote and regimented vote, forcing people to vote where if they do not vote in favour of Zanu PF certain privileges are going to be withdrawn by government," Chamisa said last week.
"It's a big challenge and we are fighting it. It's not insurmountable.
"We are ready for the task and we are providing leadership in the alternative to deal with that."
Zanu PF spokesperson Christopher Mutsvangwa had not responded to questions sent to him by the time of going to print.
Related Topics