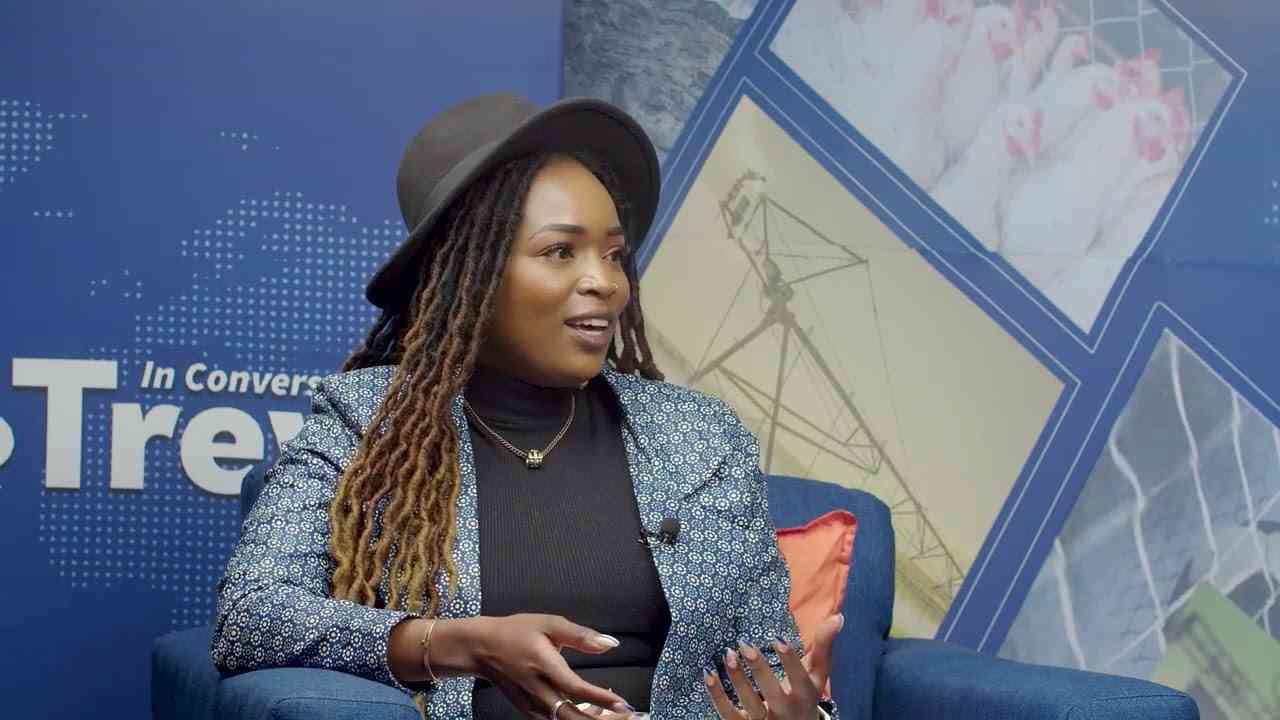 Zimbabwean YouTuber and lawyer Tashinga Bvekerwa says she returned home from abroad because she was "tired of being away, and it never felt like home".
Bvekerwa (TB) spoke to Alpha Media Holdings chairman Trevor Ncube (TN) on the platform In Conversation with Trevor on why she decided to return home after living in South Africa, Kenya, Singapore and the United Kingdom.
Below are excerpts from the interview.
TN: Tashinga, welcome to In Conversation With Trevor.
TB: Wow, thank you.
TN: So I decided that we needed to have this conversation Tashinga, for a number of reasons.
A lot of young people who are overseas, and some adults who are overseas usually call me and say Trevor is it safe to come home?
And I say it has always been safe. It is tough.
Come back home and let us work and make it what we want it to be.
So people say oh no I am going to wait until it is okay. You decided in 2018 to come back home?
TB: Yeah.
TN: Why?
TB: At the time...I think to understand why I came back you would need to understand how I grew up.
TN: Let's go there.
TB: I was born in Marondera, kwaSvosve.
My mum was 18 years old when she had me. I stayed with Gogo for a bit then when she started working we travelled so much.
So most of my life I spent it abroad. I lived in South Africa, lived in Singapore, UK, Kenya etcetera.
People would always ask what does your dad do and I would say no it is my mum.
After being away for so long I was tired of being away, and it never felt like home.
You always feel like you have to prove yourself or work against some stereotype or the other and I just said I am going to go home and at least work on being an attorney in my country and if it does not work out I have the option to go back to what I was doing before and move.
I came back home. It was, you know.
TN: Let us press the pause button there. You have just said quite a lot of stuff that I want us to unpack.
You were away, you got educated, you got qualified, it did not fit? You felt you were not settled?
TB: Yeah.
TN: Talk to me about that? There is a sense that the diaspora is all that we are to be aspiring for?
TB: Milk and honey...
TN: Exactly. But talk to me about that you feel you are a misfit.
You have got the education, but you still want to come home? Talk to me about that sense prior to you jumping onto the plane? What are you going through?
TB: I think there is not enough that is said about being in a place with people who are like you, and how much that affects just your mood, your way of being, your outlook on life and ultimately your happiness.
I cannot knock being in the diaspora because yes, there are opportunities, but at the same time I do not think the happiness factor can be compared to when you are at home.
That was really a driving point.
TN: I don't want us to knock being in the diaspora. I want us to describe being in the diaspora.
What it is that you are longing for? What it is that you do not have?
So we are not knocking it. I have been in the diaspora myself for 18 years.
So I want for us to help people who are out there, thinking of packing their bags to go into the diaspora.
Help people out there in the diaspora thinking of coming back home.
Using your lived experience, talk to me about what it is like?
You are describing what it is like wanting to come back home to people that are like you, but before we do that I want us to talk about being out there.
What it feels like? What it is that you don't have? What you need? What you crave for?
TB: I would say it feels like working towards living your life at some point in the future.
It feels like I will work hard right now so that in the future I can do this, and you are grinding on a day to day basis and there is no real breathing room or just the feeling of being settled.
I think that it feels temporary most of the time, and that is what then drives the wanting of being home, but the feeling of being there is...
TN: People have spoken about loneliness and not belonging?
TB: Yes.
TN: Has that been your experience?
TB: I felt that at some point because yes, I was in university, or I was working and it would be with other African people and there is a sense of commonality in that but maybe not as many Zimbabweans and you want to be with your people as well.
It is something I have not just experienced through myself because so many like most of us, my family members are also there.
Even in just the way of life you become ships in the night, you barely see each other even though you live in a 15km radius of each other, because when you are doing night shift I am doing day shift, when you are doing weekend I am doing something.
You are constantly in go, go, go mode, and that part is where you need to just settle down and bring it back.
TN: So this back move home, getting onto a plane and coming home.
I said to people a number of times that there is a certain joy I feel when the plane touches down in Harare, or in Bulawayo and I am at the airport, I feel a certain connection.
I cannot describe it to you, it would take me a PhD thesis to do that, but there is certain [feeling], I come alive, I feel something in me that I do not usually experience when I am away.
Then I get out of the airport and then reality hits, then the potholes and then the rubbish and everything else, but I am still happy to be home.
Talk to me about your experience?
TB: Well, it is the same. It is like being in a house with leaking toilets but it is your house, and you want you to be there and not be a visitor at someone else's house, saying please may I go to the toilet.
It is the comfort of it all.
I won't lie, obviously I used to visit a lot when I was away, and coming into Zimbabwe would always felt like going back in time a little bit, but you start to appreciate that feeling a bit.
TN: You hit a big hump, a big pothole when you came in.
You qualified as a lawyer. You couldn't get a job in London or you couldn't have a visa to allow you to do stuff?
Describe to us the experience of why you left the UK in terms of your professional life?
And then coming here and trying to do the right thing and practice as an attorney?
TB: When I left the UK I had in my mind done everything right.
I was the top student, I did my work experience, and I mean I was ticking all the boxes, right?
Then I was just not able to get a training contract.
It was at this time where everyone and their grandmother were trying to be a lawyer.
The competition was so stiff and now instead of having three years to get a job in the UK, you had three months after your exams and then after that you cannot have a visa.
So I am literally stuck because my idea and my life trajectory had meant I was going to qualify as a lawyer in the UK and work in the UK.
So that got disrupted and then I was like okay I am going to qualify and go be a lawyer in Zimbabwe.
I came to Zimbabwe and then the pothole was bigger than not being able to qualify in the UK.
It took me since 2018 until 2021.
I only got registered this year (2022), in order for me to be able to write my exams and do all that red tape to just be able to be registered. It really knocked me off.
TN: So you start off by the Law Society, or the examination board?
TB: Yes, the Council For Legal Education (CLE).
TN: It requires you to write an exam?
TB: Yes.
TN: Talk to us about that process?
TB: Since I was coming from the UK I had to write eight exams.
You have to apply to write the exams.
Unfortunately, when I had come they had been a new Statutory Instrument (SI), saying people from the UK have to be approved to write the exams.
That approval took two years for me to get to be allowed to write the exams. Then a year after that is when...
TN: Why does the approval take two years to come through?
TB: Well I would be the last person to know. Most people's come as soon as they apply, but it was just one of those things where you are continuously being told to go to the next person and the next person.
It was such a frustrating thing to go through, because I am thinking I really want to write these exams and start my life.
So only after two years was I allowed to write the exams.
Lo and behold we were then in 2020 and it was Covid and you do not know when you are going to write your exams, it could be next week, it could be three months down the line, but you have to prepare like it might be tomorrow.
So it was just a hectic time. I managed to write the exams and I passed after two tries.
I had eight exams. I wrote eight the first time, failed and thought I was superhuman.
I wrote the other four the second time and passed them and then this year in April 2022 I got registered.
TN: I watched your video clip...So you moved from one office to another? You think you have done everything but…
I like the way you described in the clip that we played, that you are made to feel like you do not know what you are doing?
You are made to feel like you are begging and you are told to come tomorrow to go to the other office and that kind of stuff.
Like I said, it reminds me of a book by Charles Dickens, where you get thrown from pillar to post and all you are looking for is to get a stamp, because without that stamp you will not be able to do anything.
Talk to us about that experience for you.
TB: It is crippling. It is one of those things where you feel like my life cannot start without this.
Again, I have done everything right, I have done my part, but you feel knocked back because of other forces that are completely out of your control.
It is paralysing really.
TN: What did that do to you?
TB: It was the biggest confidence knock I have ever experienced because I had always prided; my identity was based on the fact that I am an overachiever.
My identity was based on the fact that I am an "A" student and I am always the best.
When you feel like you are not the best anymore, especially after you come out of school, I do not think there is enough said about getting into the real world and realising you are not the best.
Related Topics