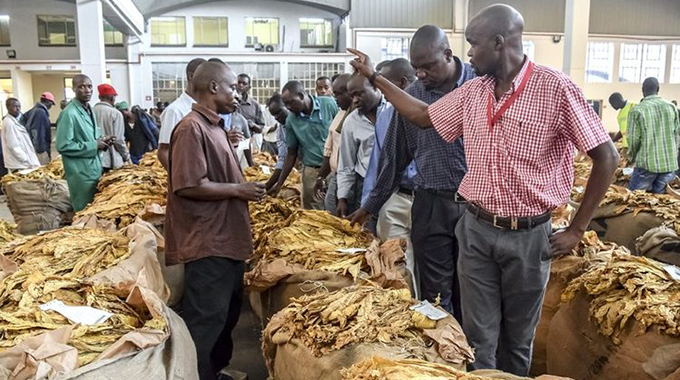 BY MIRIAM MANGWAYA ZIMBABWE'S major agricultural export, tobacco, is under threat as the World Health Organisation (WHO) intensifies its campaign to ban the cash crop globally for its health risks.
WHO argues that tobacco production is causing land degradation through massive cutting down of trees and groundwater pollution through hazardous chemicals used in its production.
Statistics released by WHO show that tobacco use has claimed eight million lives every year, while 600 million trees have been cut down on 20 000 hectares.
WHO also said 22 billion tonnes of water was lost to farming and processing of the golden leaf.
Tobacco is Zimbabwe's second largest export commodity after gold.
"Tobacco is one of the world's worst polluters causing deforestation, air pollution, water waste and litter beaches," WHO Zimbabwe said in a statement.
"There is only one earth. Let's protect it by saying no to tobacco. To produce it, the air is saturated with toxins. And when it is discarded, our environment is polluted in ways we can't afford."
Farmers told NewsDay that a ban on the cash crop would deal a major blow to the Zimbabwean economy as a significant proportion of the population survived on tobacco farming.
Tobacco Farmers Union of Zimbabwe president Believe Tevera said a serious campaign was now urgent to encourage farmers to move away from farming and production methods that destroy the environment.
"Most of the Western countries are campaigning for the ban of tobacco …But in Zimbabwe, tobacco growing is the backbone of our economy and we need to do campaigns as unions to promote environmentally smart tobacco production methods," Tevera said.
"Tobacco production leads to serious environmental degradation qualitatively and quantitatively, but there are remedies that can be employed to reduce the effects. We should counter the dangers in tobacco farming through sustainable farming methods. The responsible authority should embark on serious campaigns against poor farming and production methods that are destroying the environment such as the use of solar tobacco curing bans and afforestation, among others."
Zimbabwe Progressive Tobacco Farmers Union president Mutandwa Mutasa described the WHO campaign as an economic sabotage on African agrarian economies.
"I view it as a way of trying to disable economies that depend on tobacco sales such as Zimbabwe. Such campaigns come at a time when farmers have adopted various ways of conserving the environment. We have already embarked on a massive reforestation programme with fast-growing trees such as the eucalyptus that we will use for firewood," Mutasa said.
"We have also desisted from cutting down trees, but we are using twigs instead for curing tobacco. Given such strides we have made so far, banning tobacco would be economic sabotage on countries that depend on farming."
Follow us on Twitter @NewsDayZimbabwe